Saturday, October 28, 2023 • Jonesborough, TN • Course Map
The Haunted Half Marathon, on Halloween weekend, features a "wicked fast" course with very little elevation change. Now set for its 15th annual running — the race usually sees between 600 and 700 runners cross the finish line each year — the half marathon is all about fun with costume contests and music and spooky decorations along the course.
The course is centered in downtown Jonesborough (Kingsport before 2017) with a double loop course which takes the runners by all the sights and sounds at least twice. If you're not up for a half marathon you can form a 4-person relay team and enter the Boo to Brew Relay.
The race is tied into a downtown "pub crawl" which takes place in the evening after the half marathon with drink specials, bands, and even a Trunk or Treat for kids.
If you're looking for a "cozier" event without all the big city hassles, but with a big-time atmosphere, this is the half marathon for you. It's also a perfect race if you are chasing that half marathon PR. The course is flat and fast!
The organizers note also that the race features a "very spooky Halloween contest, with post-race entertainment, BBQ, Michelob Ultra and Goose Island beer for participants 21 and over."
Provided by Hank Brown of the Haunted Half Marathon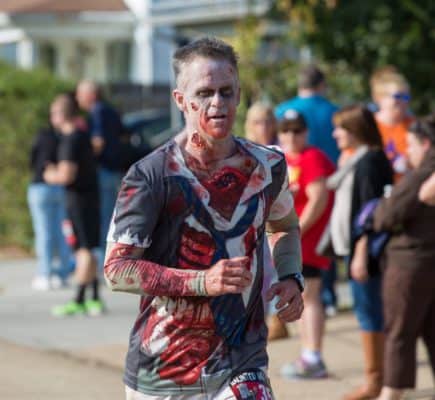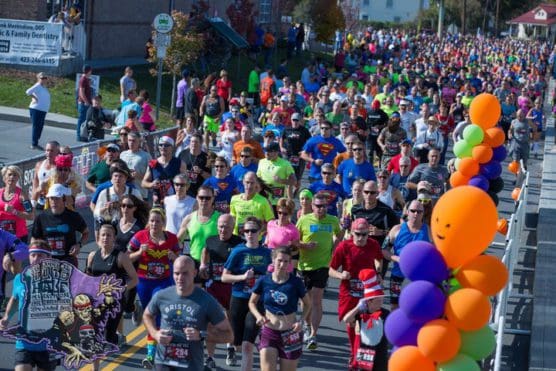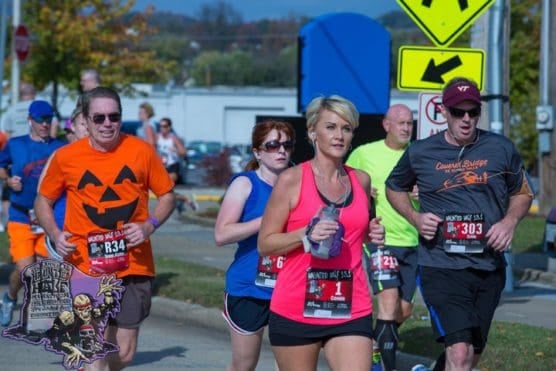 All photos courtesy Haunted Half Marathon
Race Weather & Climate
The city of Jonesborough, Tenn., is located in the northeastern corner of Tennessee. Even though the course is flat, the city is surrounded by mountains with a cool fall climate, especially in late October.
On race day (Oct. 28), the average low is 40ºF and the average high is 66ºF.
Past Results
Course Map
See the race route map for the Haunted Half Marathon here.
Starting Time
9:30 AM – early start
10:00 AM – half marathon start
Fees
$50 – $70 for the half marathon
Registration
To reserve your spot in the 2023 running of Jonesborough's Haunted Half Marathon or 4-person relay race, register online at ChronoTrack.com here.
Official Race Website
Comments
Ever run in the Haunted Half Marathon? Share your impressions here, or post your review in the Comments below.