Saturday, October 28, 2023 • Nashville, TN • Course Map
Looking for a Nashville half marathon? Look no further.
Set for its 12th annual running in the fall of 2023, the Nashville 1/2, Marathon & 5K — is part of the Run Nash series of running events held around Downtown Nashville throughout the year.  Run Nash events also include the Music City July 4th 5K and the Music City Turkey Trot 5K & 1 Mile in November.
The 13.1-mile race starts and finishes near Bicentennial Capitol Mall State Park an iconic and expansive urban park providing runners ample space to prepare for and cool down from their race.
From there, runners will get to see some of the city's urban sights including a run up and down its famed Music Row, through Downtown Nashville with views of the iconic Honky Tonk Highway before heading to the East Bank and around Nissan Stadium home of the Tennessee Titans. The course also shows off the cities lush park system taking runners through Shelby Park, as well as along stretches of the Nashville Greenways, the newly constructed system of linear parks and walking and running trails that connect its downtown areas with nearby residential areas, schools and parks, and often cross streams and bridges throughout the city along the river.
There are also several bits of history along the course, from the Tennessee State Capitol in the first mile to the Music City's historic Fort Nashborough, a replica of the first settlement along the river that eventually grew and became the city of Nashville,
Runners have four hours to complete the half marathon course, giving walkers time to cross the finish line.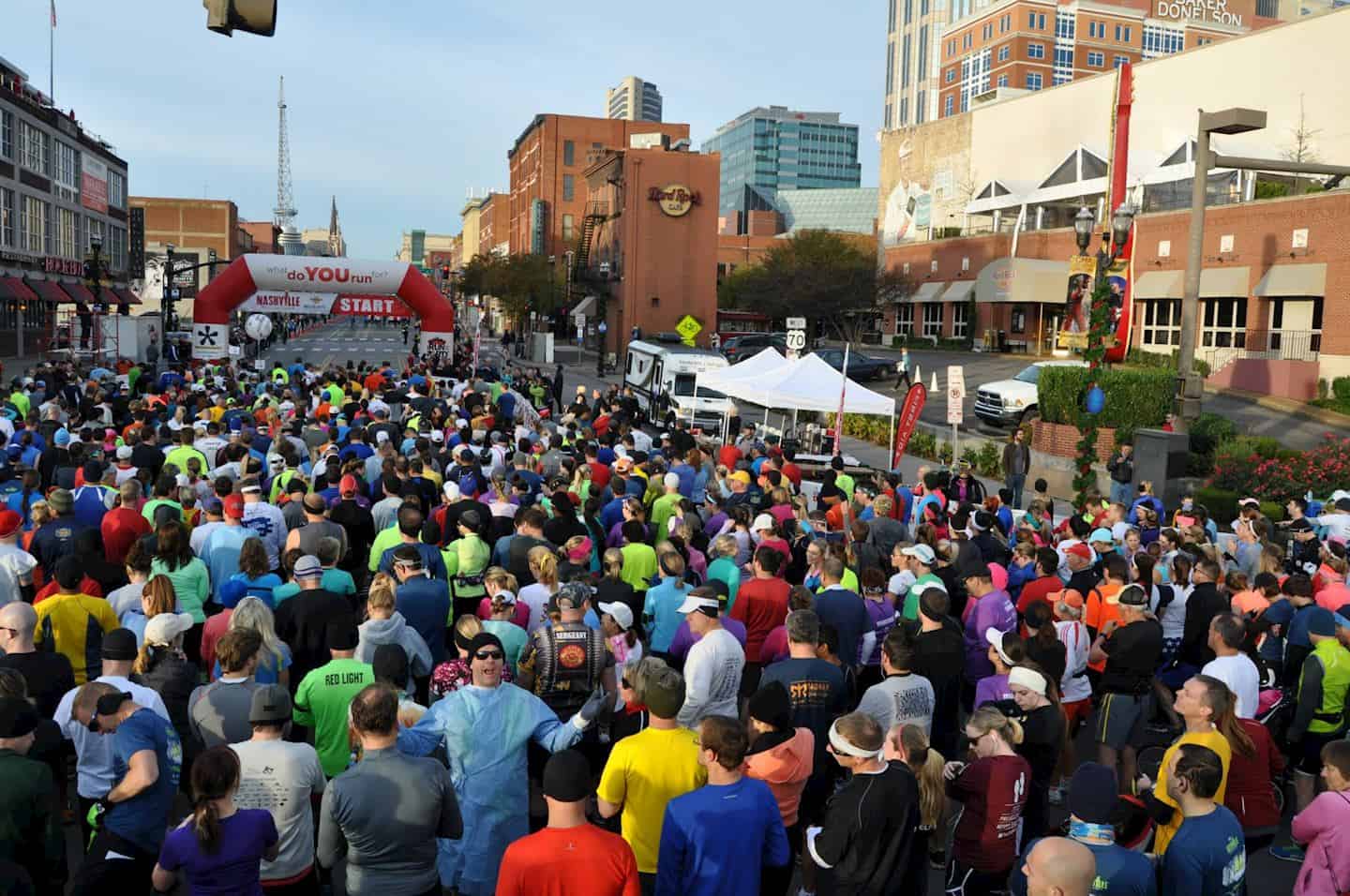 Race Weather & Climate
Located in the northern half of the state, about mid-way between its eastern and western borders, Nashville typically experiences mild to moderately cool and occasionally cold weather in the mid-fall. In October, temperatures average between 40°F and 59°F, while rainfall totals average just over 4.4 inches for the month.
On race day (Oct. 28), the average low is 41ºF and the average high is 61ºF.
Past Results
Course Map
See the race route map for the Nashville Half Marathon here.
Starting Time
7:00 AM – 5K
7:15 AM – half marathon, full marathon, relay
Fees
$69 – $129 for the half marathon
$79 – $139 for the full marathon
$69 – $119 for the half marathon relay per person
$29 – $79 for the 5K
Registration
To reserve your spot in the 2023 running of the Nashville 1/2, Marathon & 5K, register online at RaceRoster.com here.
Official Race Website