Saturday, October 27, 2018 • Nashville, TN • Course Map

Set for its 4th annual running through Music City on the weekend before Halloween, the Race 13.1 Nashville Half Marathon is one of three events in the series that will take place in Tennessee in this year, a series that bills itself as "big race perks with a local race feel."
Runners will start and finish the out-and-back course for the half at Nashville's Bicentennial Capitol Mall State Park, marked by giant state emblem surrounded by flags and which gives visitors a taste of the Volunteer State's history and natural wonders. The park commemorates Tennessee's Bicentennial celebration in 1996.
The mostly flat route will take runners past the historic Sulphur Dell area of downtown as well as the Nashville Farmer's Market, the new Nashville Sounds ballpark, the picturesque Cumberland River Greenway, and Baptist Sports Park, which serves as the headquarters for the Tennessee Titans.
The last five miles will treat runners to views of the Cumberland river which they will be running adjacent to starting around mile 8 all the way to the finish line.
The course is extremely flat with one somewhat significant hill at mile 2.25, followed by a rewarding downhill. Runners will then be treated to an extremely flat and fast course for the remainder of the race, so be ready to stretch your legs and get your next PR!
All half marathon finishers will be presented with this custom finisher medal that is in the spirit of and unique to Nashville, designed as a guitar pick.
Also, runners can expect to have a text message from Race 13.1 with a link to the live results waiting for them when they cross the finish line, along with a first class post-race party.
More than 1,500 runners are expected in the half marathon, so anyone thinking of signing up is encouraged to do so early.
— Race description provided by Race 13.1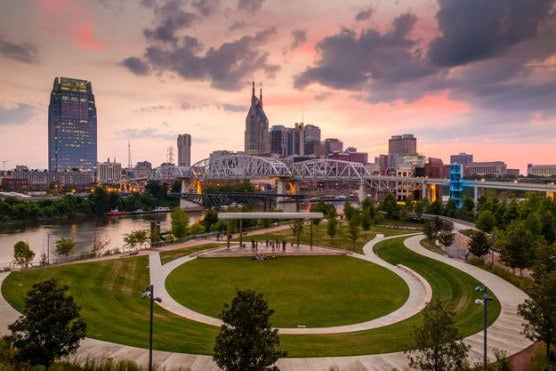 Race Weather & Climate
Located near the center of the state, about a two-hour drive north from Chattanooga, Nashville typically sees mild weather (and sometimes cool, especially in the early mornings) in late October, which has brought record temperatures here as low as 26ºF (in 1987) and as high as 94ºF (in 1953).
On race day (Oct. 27), the average low is 45°F and the average high is 67°F.
Course Map
See the race route map for the Race 13.1 Nashville Half Marathon here.
Starting Time
7:30 AM – half marathon
7:45 AM – 10K, 5K
Fees
$54 – $79 for the half marathon
$30 – $43 for the 10K
$20 – $33 for the Best Buddies 5K
Registration
To reserve your spot in the 2018 running of Race 13.1 Nashville, TN Half Marathon, 10k, and 5K race, register online at the event website here.

Official Race Website
Comments
Ever run in the Race 13.1 Nashville Half? Share your impressions here, or post your review in the Comments below.