Sunday, October 23, 2022 • Pflugerville, TX • Course Map

Note: The course description details the 2019 course. Race organizers are planning a change of course and location for 2022. We'll have details here when they're available.
Set for its sixth annual running this year on an all-new course at J. Lorraine Ghost Town, an Old West-styled theme park built to look like a real Western town that once stood just a few miles away, the Haunted Half Austin follows an out-and-back course that organizers say "is so flat, it's scary!"
The race begins on the grounds of the J. Lorraine Ghost Town, whose 4 1/2 acres have an interesting history of their own. When you drive past the Manor, Texas, theme town, it doesn't look like much at first — just one of many Texas towns you might drive past on the highway.
But when you take a tour around the spot, you learn there really was an old, 1800s-era town named J. Lorraine, that "was a neutral territory for outlaws and lawmen alike until it was burned by outraged moral citizens from nearby," the current owners say on their Facebook page.
To build the new town, the property owner dug up and used old wood planks and beams from the original J. Lorraine town, and reportedly strange things started happening in the new town shortly thereafter — "strange voices out of nowhere, noises, and the distinct smell of pipe smoke was noticed as if the townspeople had moved back in," according to the Austinot.
You'll get to take all of that in when you run the Haunted Half Austin, which starts and finishes right in the middle of the "ghost town." From there, the race heads out onto the country roads just to the east of Manor, which is home to about 5,300 residents and lies about a half-hour's drive from Austin.
Runners will make their way around Littig Road, Bitting School Road and Hogeye Road before heading back into J. Lorraine, passing by neighborhoods like Lockwood Farms and Parsons Meadows along the way.
The race finish line lies right where you started, in the heart of the Old West town, and runners are encouraged to run the race dressed in costume.
For look at some of last year's costumes, check out these photos from last year's Haunted Half Austin: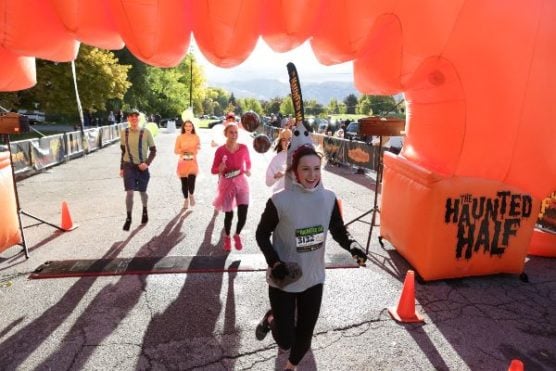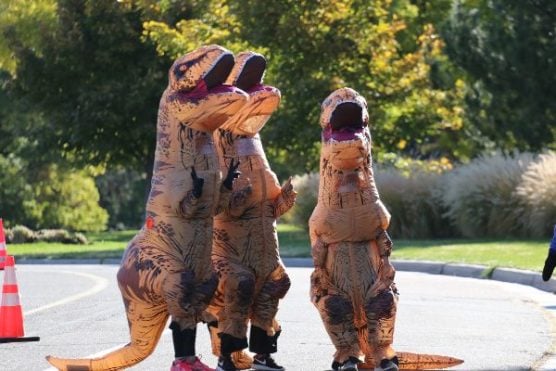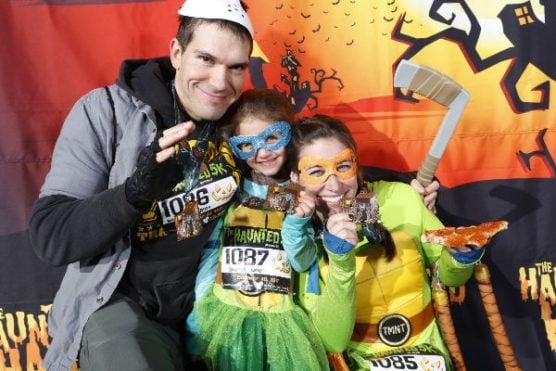 All photos courtesy The Haunted Half Austin
Race Weather & Climate
Located just over a dozen miles outside Austin here in the Texas hill country, the small town of Pflugerville typically sees mild to warm temperatures and its second-wettest month of the year in October, when it receives nearly 4 inches of rainfall.
Oct. 24 average low temp: 53ºF
Oct. 24 average high temp: 78ºF
Course Map
See the race route map for the Haunted Half Austin here.
Starting Time
8:00 AM – half marathon
8:30 AM – 5K
11:00 AM – kids' race
Fees
$85 and up for the half marathon
$36 and up for the 5K
$13 and up for the kids' race
Registration
To reserve your spot in the 2022 running of the Haunted Half Austin, 5K or Kids' Run, register online at RunSignUp.com here.
Official Race Website
Comments
Ever run in the Haunted Half Marathon Austin? Share your impressions here, as well as anything you learned about the race that you think other runners/walkers should know.