Saturday, September 17, 2022 • Richfield, UT • Course Map
Get ready for a run through the canyon country of southern Utah, a region known as "Panoramaland" for its stunning scenery of red rock formations, canyons and mountains, at the second annual Crimson Canyons Half Marathon, a race whose half marathon will actually be 25 kilometers and which also features a 10K and 50-kilometer race.
The area takes its name from the fact that it lies within short driving distance of several national parks and monuments, including Capitol Reef National Park (just over an hour's drive away) and Canyonlands National Park, which lies about a three-hour drive from Richfield.
It's also a familiar stopping point for driving between the west coast and Colorado, as it lies about halfway between Los Angeles and Denver.
Start at Lion's Park. Runners will start the out-and-back loop course for the race at the edge of the city in Richfield Lion's Park, which lies just off Highway 89. From there, the course first heads south on the trail alongside the highway, and then heads into the more remote stretches of the course, which will take you into several canyons along the Piaute ATV trail.
You'll need to be ready for some challenging technical trails when you sign up for this race, as there will be some big changes in elevation — especially some big climbs in the first half of the race, followed by equally dramatic descents in the second half.
Challenging, rocky terrain. The terrain itself is also challenging, ranging from packed dirt and clay to some rock obstacles that you'll have to climb and get over and around. There's also stretches with loose rocks and some streambed areas.
The half marathon unfolds through the area known as the "Red Hills" west of Richfield, and with the exception of an out-and-back stretch in the first half of its 13.4 miles, mostly stays on a loop that brings you back to the park.
You'll climb a ladder. In the part of the course known as the Dairy Hills, which all three races run through, there are a pair of rocks you'll need to climb over as well as a rock overhang and even a ladder you'll need to climb!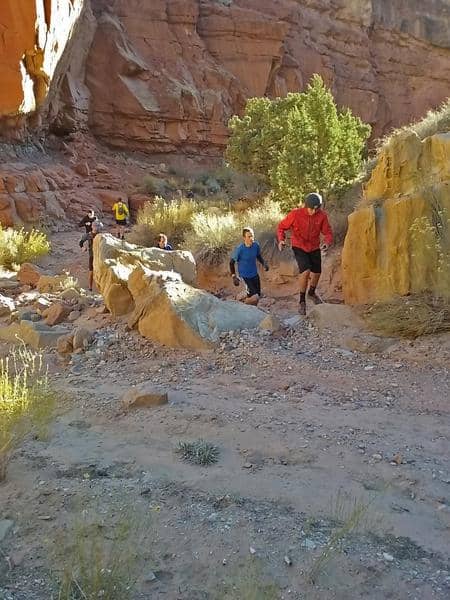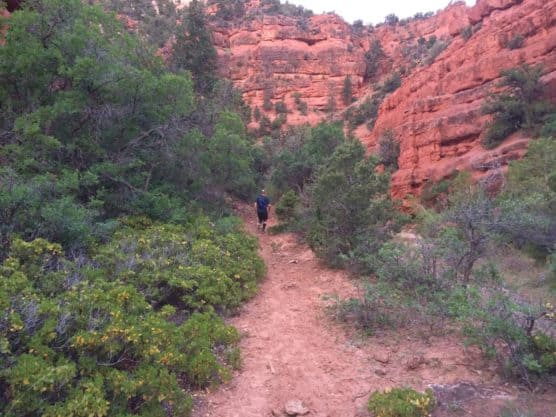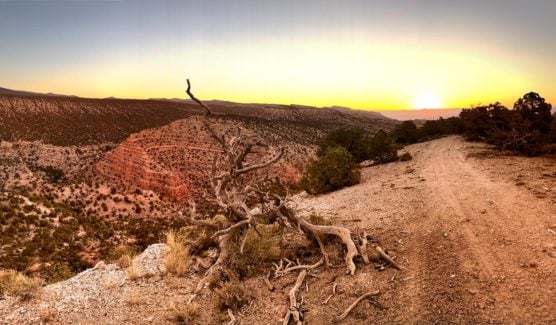 All photos courtesy Crimson Canyons Marathon
Race Weather & Climate
Nestled along the edge of the Fishlake National Forest in southern Utah, about 160 miles south of Salt Lake City, Richfield typically sees sometimes quite cold to very warm (and usually dry) weather in September, when temperatures average between the low 40s and about 80 degrees.
Sept. 17 average low temp: 48ºF
Sept. 17 average high temp: 76ºF
Course Map
See the race route map for the Crimson Canyons Half Marathon here.
Starting Time
7:00 AM – 50K
7:30 AM – 25K
8:00 AM – 10K
Course Time Limit
3 hours – 10K
8 hours – 25K
12 hours – 50K
Fees
$35 and up – 10K
$60 and up – 25K
$90 and up – 50K
Registration
To reserve your spot in the 2022 running of Richfield's Crimson Canyons 25K, 10K, or 50K race, register online at UltraSignUp.com here.
Official Race Website
Comments
Ever run in the Crimson Canyons Half Marathon? Share your impressions here, as well as anything you learned about the race that you think other runners/walkers should know.