Saturday, September 14, 2019 • Hurricane, UT • Course Map
Set for an end-of-summer run among the stunningly gorgeous canyon country of southern Utah, within a few hours' drive of the Grand Canyon and the Hoover Dam, the Hurricane Half Marathon takes runners on an out-and-back course that circles Sand Hollow Reservoir, in the 20,000-acre Sand Hollow State Park.
Runners will start the race at Sand Hollow Resort, which lies just over a mile from the park and less than half an hour from St. George, the nearest big city. Known for its gorgeous golf courses that wind around the red rock mesas surrounding the resort, Sand Hollow offers some of the most visually striking golf you can find anywhere, as seen in the photos below.
From the resort, the course starts at an elevation just above 3,000 feet, and then makes a loop along the trails that wind among the fairways out on the course. This nearly three-mile-long stretch brings runners back past the starting line, and then heads east toward the reservoir.
This stretch follows a counter-clockwise loop around the reservoir, skirting the edge of the state park, whose more than 15,000 acres of red sand dunes are one of its biggest draws.
All throughout the race, organizers note, you'll get to take in views of the Pine Mountains and Zion National Park off in the distance. Also, the race offers what organizers say is a "giant" finisher's medal and gender-specific race t-shirts when you cross the finish line.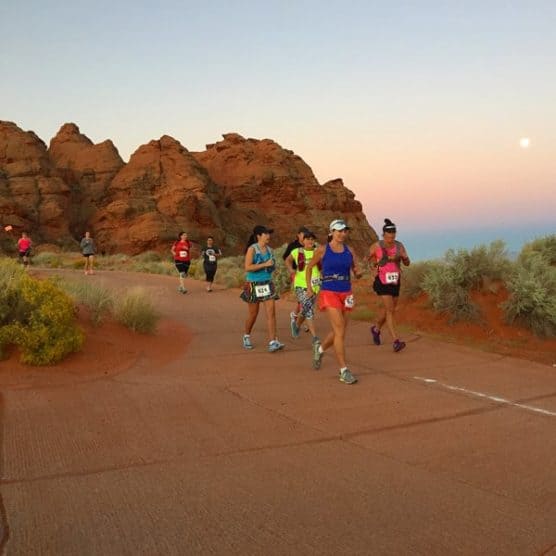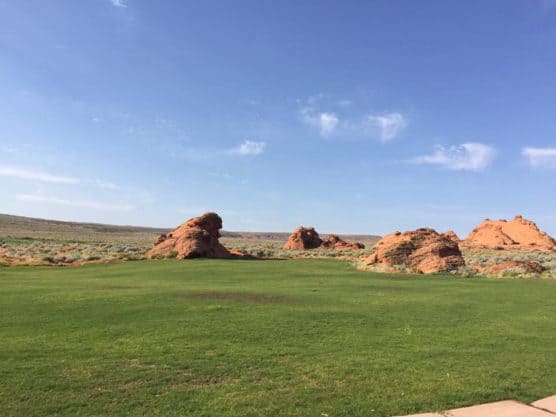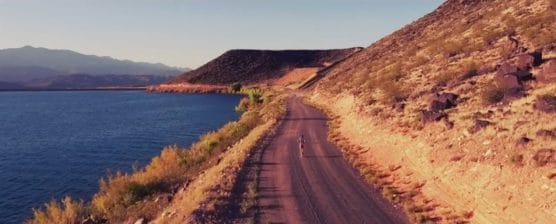 Photos courtesy Hurricane City Leisure & Recreation
Race Weather & Climate
Located in the southwestern corner of Utah, about 140 miles northeast of Las Vegas and roughly a 3 1/2 hour drive from Arizona's Grand Canyon, Hurricane typically sees warm (often hot), dry weather in September, averaging less than an inch of rainfall for the month.
On race day (Sept. 14), the average low is 57ºF and the average high is 90ºF.
Past Results
Course Map
See the race route map for the Hurricane Half Marathon here.
Starting Time
7:00 AM – half marathon
7:15 AM – 5K
Fees
$45 and up for the half marathon
$20 and up for the 5K
Registration
To reserve your spot in the 2019 running of the Hurricane Half Marathon or 5K race, register online at the event website here.
Official Race Website
Comments
Ever run in the Hurricane Half Marathon? Share your impressions here, or post your review in the Comments below.