Saturday, October 14, 2023 • Salem, VA • Course Map
A race that organizers say is designed for the first-time half marathoner — with a mostly flat course here through this beautifully scenic small town in Virginia's Blue Ridge Mountains, and with a generous 4-hour time limit — the Salem Half is also part of the Virginia Blue Ridge Triple Crown, a three-race series that includes April's Blue Ridge Half Marathon and November's Star City Half Marathon, both of which take place in nearby Roanoke.
Runners start the out-and-back course for this race in downtown Salem, in front of the Salem Farmers Market near the intersection of East Main Street and South Broad Street. From there, the course winds through many twists and turns along city streets, starting with the Roanoke College Elizabeth Campus along High Street and Hawthorn Road.
After that, the race unfolds through neighborhoods north of downtown, turning several times before coming back to Main Street. The second half of the race unfolds mostly south of downtown, with stretches along South Colorado Street and along the Roanoke River Greenway, as you'll spend roughly a mile out-and-back along the Roanoke River.
Because the course contains a number of segments around the city, organizers say they'll open up different segments as the field of runners complete them — the race usually draws around 700 to 800 runners each year, though organizers say they'd love to have as many as 1,000 this year.
Here's what they have to say about the course:
"We designed these races to encourage everyone to get out and run and also in a way that are spectator friendly. The course was designed for first time runners, who want to accomplish their first Half Marathon or 8K, and for the experienced runner who want to set a new PR.

While most of the race is flat, we do have some hills that add some difficulty to the course."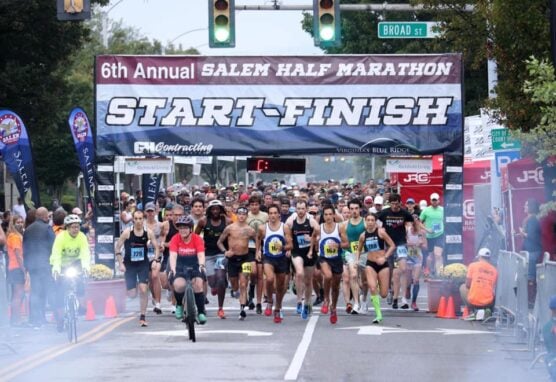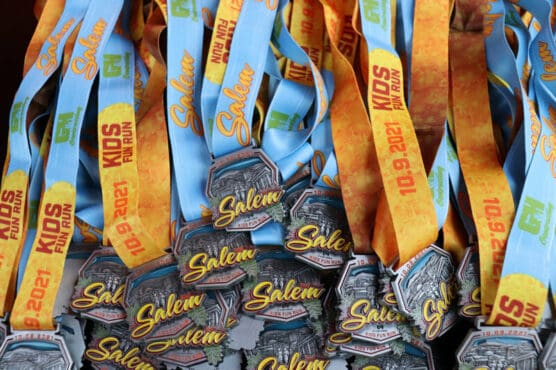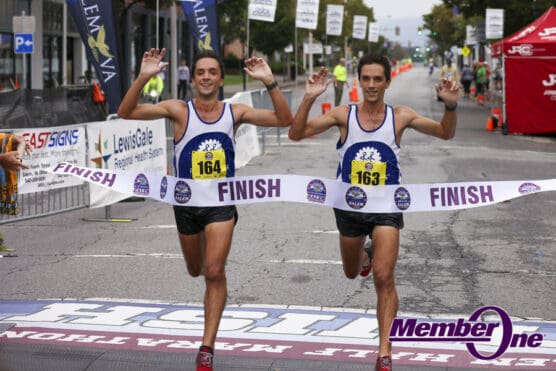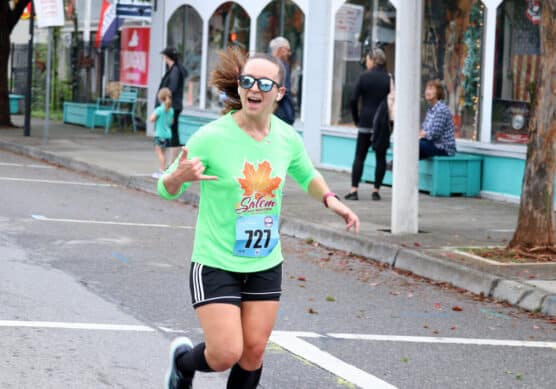 All photos courtesy Salem Half Marathon
Race Weather & Climate
Nestled among the Blue Ridge Mountains of western Virginia, just west of Roanoke and about 176 miles west of Richmond, Salem typically sees some of its mildest weather of the year in October, when temperatures average between the mid-40s and the upper 60s, and the area receives about 6 days with rain during the month.
October 14 average low temp: 53°F
October 14 average high temp: 70°F
Past Results
Course Map
See the race route map for the Salem Half Marathon here.
Starting Time
8:00 AM – half marathon, 8K
8:05 AM – Kids 2-mile fun run
8:10 AM – Kids 1-mile fun run
Course Time Limit
4 hours
Fees
$75 and up – half marathon
$45 and up – 8K
$20 and up – 1-mile, 2-mile fun run
Registration
To reserve your spot in the fall 2023 running of the Salem Half Marathon, 8K or Kids fun runs, register online at RunSignUp.com here.

Official Race Website
Comments
Ever run in the Salem Half Marathon or 8K? Share your impressions here, especially anything about the course/terrain you think other runners might want to know.
See more races in Virginia