Sunday, September 24, 2023 • Washington, DC • Course Map
One in a series of races held along the Chesapeake and Ohio Canal Towpath, the trail that lies alongside the 184.5-mile-long canal by the same name and parallels the Potomac River, the Autumn Georgetown Half features a fast, pancake-flat route that's perfect for runners looking to set a personal record time.
The race begins in Georgetown next to the Francis Scott Key Bridge, just off Canal Street and Whitehurst Freeway. From there, the course heads west and north along the canal, which was built as a 50-mile-long canal back in the late 1820s as a way to transport coal from the Allegheny Mountains of western Maryland to the tidal basin of Washington, D.C.
Today, the canal is part of the Chesapeake & Ohio Canal National Historic Park, which maintains the canal and the towpath trail that now extends from Georgetown all the way to Cumberland, Md.
Runners will get to see a 6.55-mile-long glimpse of what the towpath has to offer — which, further upstream, includes stretches that are reportedly haunted — between Georgetown and the half-way turnaround point at Cedar Island, across the Potomac River from Turkey Run Park.
Once you make the turn there, you retrace your steps all the way back along the trail to Georgetown, where you'll cross the finish line back near the Key Bridge.
Walkers are welcome, organizers say, and they also offer a virtual race option for runners who can't make the trip to D.C. for the race.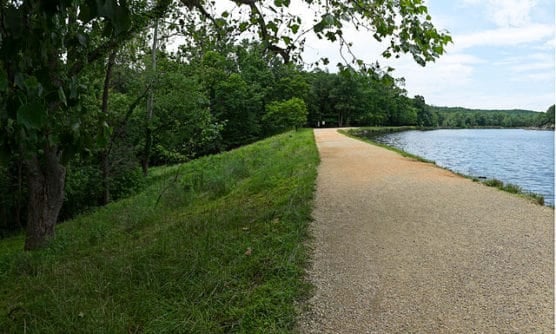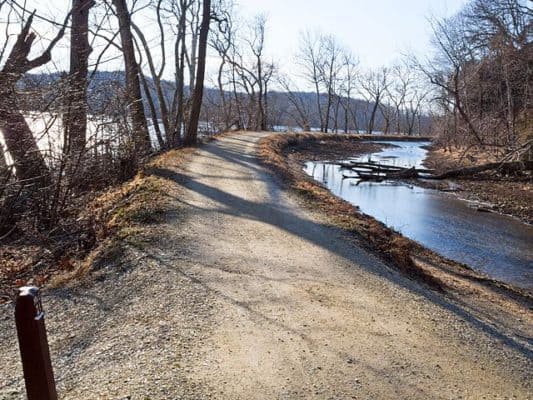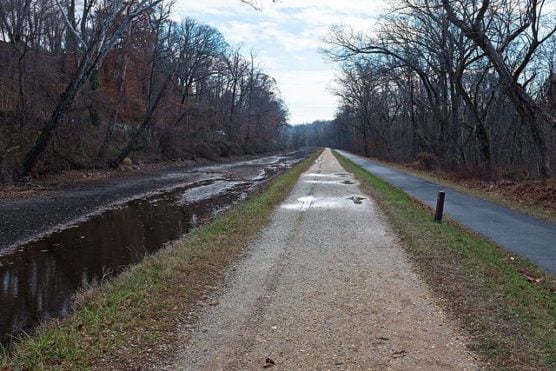 Views of the C&O Canal towpath near Georgetown. All photos courtesy Wikimedia.
Race Weather & Climate
Late September typically brings some of the mildest weather of the year to the Washington, D.C., area, as temperatures average between the low 50s and the upper 60s, while rainfall totals are slightly lower than the months before and after.
On race day (Sep. 24), the average low is 56ºF and the average high is 74ºF.
Course Map
See the race route map for the Autumn Georgetown Half Marathon here.
Starting Time
7:30 AM – half marathon
8:00 AM – 5K
Fees
$60+ for the half marathon
Registration
To reserve your spot in the 2023 running of the Autumn Georgetown Half Marathon or 5K race, register online at Chronotrack.com here.
Official Race Website
Comments
Ever run in the Autumn Georgetown Half Marathon? Share your impressions here, as well as anything you learned about the race that you think other runners/walkers should know.