Saturday, June 10, 2023 • Snohomish, WA • Course Map
Set for its sixth annual running here in this small town just outside of Seattle, the Evergreen Half Marathon takes runners on a point-to-point all-downhill course along the Centennial Trail, and where you'll get a trucker's hat to go along with your medal when you cross the finish line.
Runners will park at the finish line, then take a shuttle and start the race in Getchell Trailhead Park, in the unincorporated community of Getchell, Washington. From there, the course continues onto the Centennial Trail, a 30-mile multi-use path that runs from downtown Snohomish all the way north to Skagit County.
The course continues south along Centennial Trail for the entire half marathon, with plenty of course support along the way, course organizers write. Combined with the all-downhill course, this certified course is a great choice for achieving a personal record.
After crossing the finish line at Averill Field in downtown Snohomish, where finishers receive a medal and strawberry shortcake, a tradition for this half marathon.
For runners not ready for the half marathon, there's also a five-mile race that starts at the Machias Trailhead Park (along the course of the half marathon) and finishes in Snohomish with the half marathoners.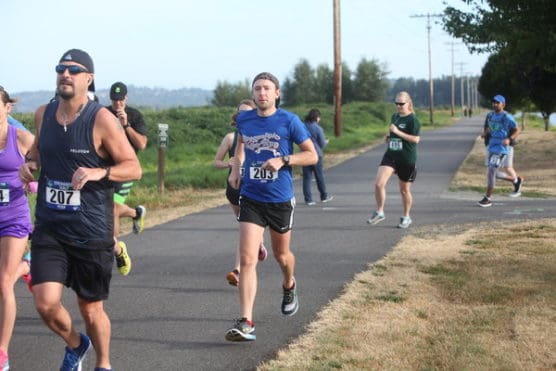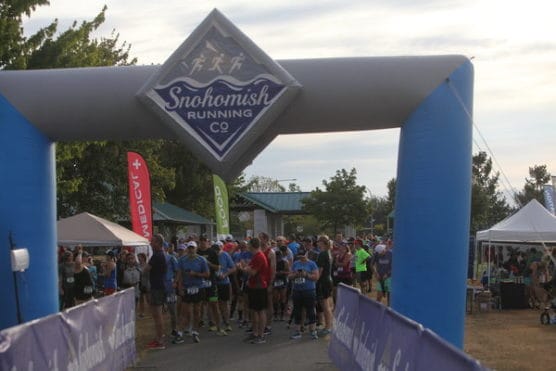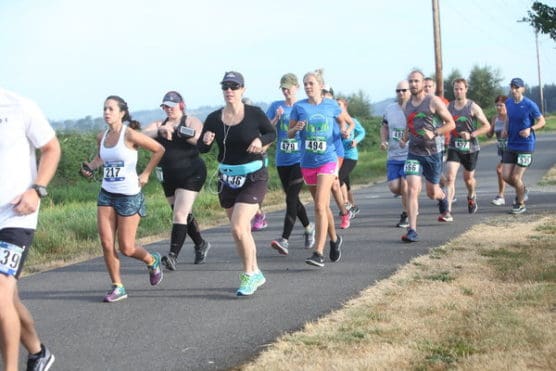 All photos courtesy Snohomish Running Company/Evergreen Half Marathon
Race Weather & Climate
Located about 30 miles northeast of Seattle in Washington state, Snohomish typically sees mild weather and one of its drier (relatively speaking) months in June, when temperatures range between the low 50s and the high 60s, and rainfall totals average just over two inches for the month.
June 10 average low temp: 53ºF
June 10 average high temp: 68ºF
Past Results
Course Map
See the race route map for the Evergreen Half Marathon here.
Starting Time
8:00 AM
Course Time Limit
4 hours
Fees
$70 and up – half marathon
$60 and up – 5-mile
Registration
To reserve your spot in the 2023 running of Snohomish's Evergreen Half Marathon or 5-mile race, register online at RaceRoster.com here.
Official Race Website
Comments
Ever run in the Evergreen Half Marathon? Share your impressions here, as well as anything you learned about the race that you think other runners/walkers should know.