Saturday, August 19, 2023 • Parkersburg, WV • Course Map
Timed to coincide with Parkersburg's annual Homecoming Festival Parade, which brings thousands of spectators out along the Market Street finish line, the News & Sentinal Half Marathon & 2-Mile Race takes participants on a tour of the rolling hills in and around the third-largest city in West Virginia, through downtown city streets, parks and suburban neighborhoods south of the city.
Starting at the intersection of 3rd and Juliana Streets downtown, the race takes runners through intown neighborhoods for the first couple of miles, with some steep uphills and downhills before crossing over the Little Kanawha River around the mile 2 marker.
The next several miles bring a much more "outskirts of the city" feel to the race, as runners turn onto Marrtown Road and then Ghion Road, passing South Hills Golf Club along the way.
The terrain stays hilly for the next few miles (from mile markers 5 through 8) as runners hit the southernmost point in the race and begin the trek back towards town, extending the loop course along Rayon Drive before turning onto Camden Avenue.
Miles 9 through 11 take runners and walkers back across the Little Kanawha along Route 95, and back into downtown for the final two miles to the finish line at 6th & Market Streets.
Run entirely on paved surfaces, the race features an overall elevation change of about 150 feet, from a low of about 600 feet above sea level at the 1-mile marker to a high of about 750 feet at the third mile marker.
Both the half marathon and the two-mile race share early starting times. The event also includes youth races for children ages 6 through 11 and a "Tiny Tot Trot" for kids under 5, which take place the next day.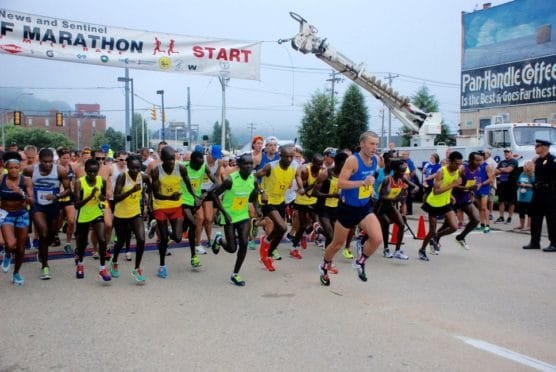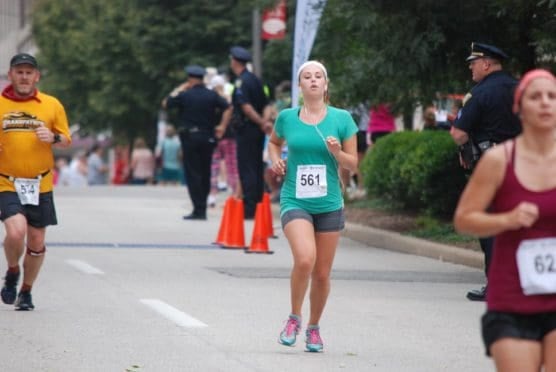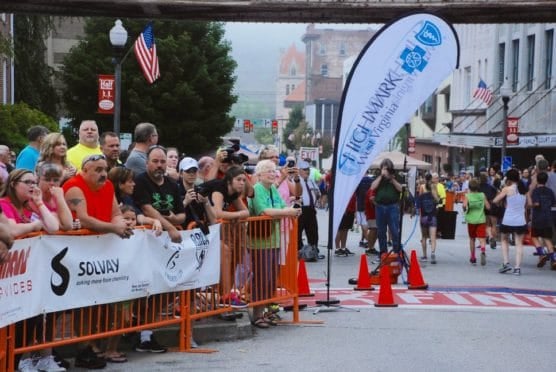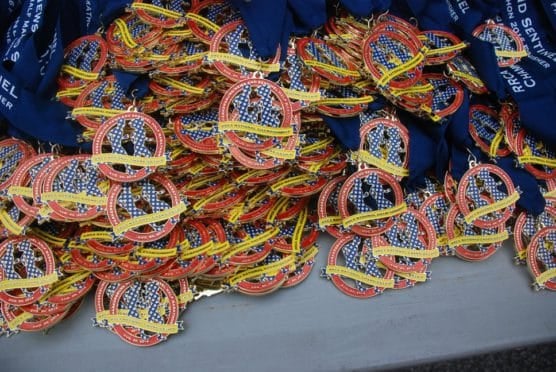 All photos courtesy News & Sentinel Half Marathon
Race Weather & Climate
Nestled along the northwestern edge of West Virginia, just across the state line from Ohio at the confluence of the Ohio and Little Kanawha Rivers, Parkersburg is known for both its often bitterly cold winters and its warm summers, which bring the year's heaviest precipitation.
On race day (Aug. 19), the average low is 63ºF and the average high is 84ºF.
Past Results
Course Map
See the race route map for the Parkersburg News & Sentinel Half Marathon here.
Starting Time
8:00 AM
Fees
$60 and up for the half marathon
$20 and up for the 2-mile race
Registration
To reserve your spot in the 2023 running of Parkersburg's News & Sentinel Half Marathon or 2-Mile race, register online at EnMotive.com here.
Official Race Website
www.newsandsentinelhalfmarathon.com
Comments
Ever run in the News & Sentinel Half Marathon? Share your impressions here, or post your review in the Comments below.
See these next: