Saturday, August 13, 2022 • Marlinton, WV • Course Map
A gorgeous — as well as hilly and challenging — trail run through the Allegheny Mountains of southern West Virginia, along the 40 miles of trails that wind through the 10,000-acre Watoga State Park, a mecca for outdoor recreation here since the late 1930s.
Runners in the half marathon and the 5K — the two races start about 10 minutes apart — will begin from the park's Beaver Creek Campground, where they'll start their runs with a stretch around the old airstrip that still lies here in the park.
From there, they'll make their way north and west, along a counter-clockwise route along the trails and forest roads like the Laurel Trail, Bear Pen Trail, North Boundary Trail, Busch Settlement Trail, Recreation Trail and the Lake Trail that winds around Watoga Lake.
Later, you'll rejoin the Allegheny Trail in the final couple miles of the race, which bring you back along the first two miles you ran at the beginning of the half marathon, all the way back to Beaver Creek Campground for the race finish.
You'll need to be ready for hot weather, organizers say, as well as mud and slippery conditions, especially if the park sees rain in the days leading up to the race.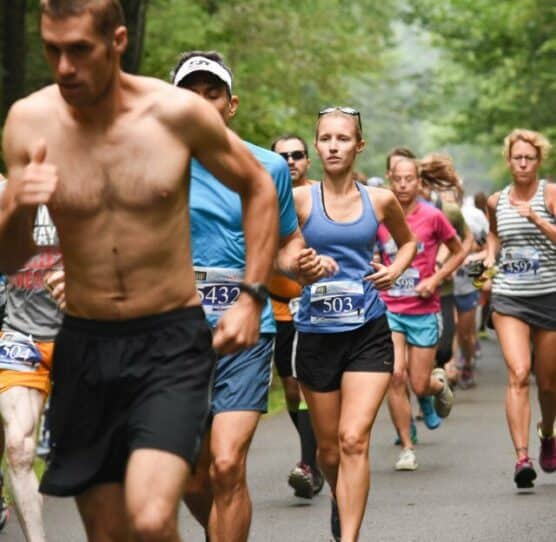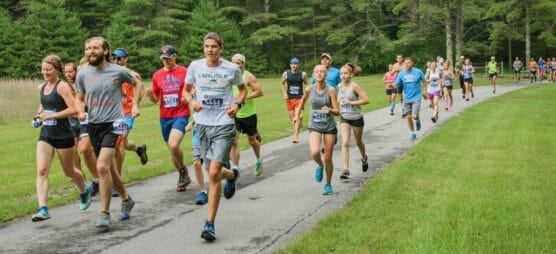 Race Weather & Climate
Nestled among the Allegheny Mountains of West Virginia's Pocahontas County, Marlinton typically sees its second-warmest month of the year in August, with an average high of 78ºF and an average low of 55ºF.
Occasional rainfall is to be expected, as the area sees an average of 8 days with rain during the month.
Course Map
See the race route map for the Watoga State Park Mountain Trail Challenge Half Marathon here.
Starting Time
8:30 AM – half marathon
8:40 AM – 5K
Fees
See race website
Registration
To reserve your spot in the 2022 running of the Watoga State Park Mountain Trail Challenge Half Marathon or 5K race, register online at the race website here.
Official Race Website
Comments
Ever run in the Watoga State Park Mountain Trail Challenge? Share your impressions here, as well as anything you learned about the race that you think other runners/walkers should know.