Saturday, September 16, 2023 • Cody, WY • Course Map

When you run the streets of this city out on the edge of the Bighorn Basin in northwestern Wyoming, you'll experience the feel of the Old West and what it must have been like for the characters who lived in the era of "Buffalo Bill" Cody, the legendary scout, soldier and showman for whom this town of just over 9,500 is named.
While the city itself is mostly flat — which means the elevation changes little during the stretches you'll run through here — it is surrounded by mountains like nearby Rattlesnake, Cedar and Hart Mountains, and lies just a short drive from the entrance gate to Yellowstone National Park.
Runners will begin the race in downtown Cody at City Park, at the corner of Beck Avenue and 10th Street. From there, the course winds a clockwise loop route through the city and along the rural highways just east of town, past farm fields and wide-open plains.
Expect chilly temperatures (especially at the start) and plenty of wind, as Cody is a famously windy place thanks to its geography — wide-open spaces out on the edge of the basin — and location near a canyon, which funnels wind in from the west.
Though there are a few rolling hills out on the course, at its lowest point the course dips to just over 4,900 feet above sea level, and reaches its highest point at just over 5,100 feet — so there's not a big elevation change over the course of the race.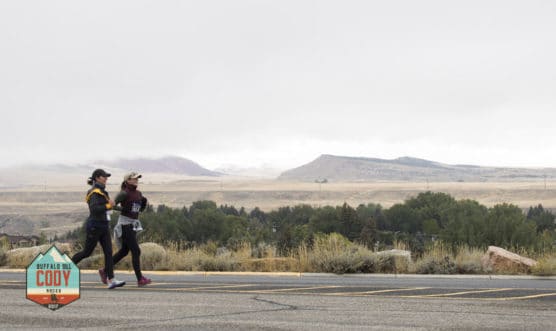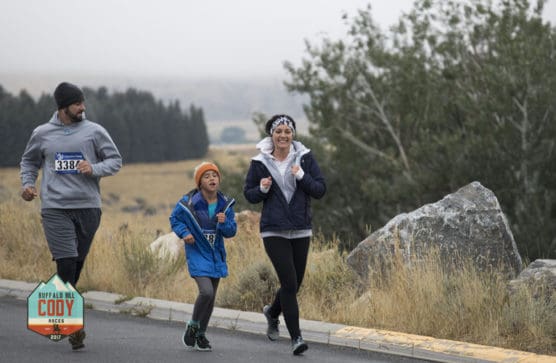 All photos courtesy Buffalo Bill Cody Races
Race Weather & Climate
Located along the western edge of the Bighorn Basin in northwest Wyoming, just miles from Yellowstone National Park, Cody's semi-arid climate brings low levels of rainfall year-round (September sees an average of just over 1.1 inches) and temperatures during the month range from the mid-40s to the low 70s.
On race day (Sept. 16), the average low is 43ºF and the average high is 69ºF.
Past Results
Course Map
See the race route map for the Buffalo Bill Cody Races Half Marathon here.
Starting Time
9:00 AM – half marathon
9:45 AM – 10K
Fees
$70 – $90 for the half marathon
$40 – $60 for the 10K
Registration
To reserve your spot in the 2023 running of the Buffalo Bill Cody Races Half Marathon or 10K race, register online at RunSignUp.com here.

Official Race Website
Comments
Ever run in the Buffalo Bill Cody Half Marathon? Share your impressions here, as well as anything you learned about the race that you think other runners/walkers should know.