If you're just getting into running, you're probably discovering your races through friends, neighbors, baristas, and strangers on the street. That's also why you're reading this. There's a lot of properly rated spring half marathons. From New York to Boston to Chicago – they're all great and properly reviewed as such.
But in this day and age, we're all obsessed with hidden gems and finding a bargain. These half marathon recommendations are a few races that fly below the radar. But they deserve much more credit, popularity, and praise than they receive.
Eugene, Oregon has a special place in the hearts of track and field athletes as the home of the University of Oregon. While the University of Oregon currently breeds the most successful Olympic track and field athletes, it also was home to Bill Bowerman for 24 years – one of the co-founders of Nike. There are 4,000 runners for the half marathon and 10,000 total compete in the full, half and 5K. Most reviews cite the race finish at Hayward Field as the most special part. This is one of the best spring half marathons you can find in the country.
On many Pennsylvania bucket lists, you'll find the Abandoned Pennsylvania Turnpike, thirteen miles of abandoned superhighway last open to vehicles in 1968. Sometimes now sited as "apocalyptic," the highway is nestled between Buchanan State Park and the Allegheny Mountain Range – giving this half marathon the experience of both extremely unique and extremely beautiful. Due to the tunnel's being very much not in service, runners are encouraged to wear headlamps as they traverse the 1.26 mile long Sideling tunnel and kilometer-long Rays Hill tunnel. It's great preparation for any night races you may run this year.
Rotterdam Marathon. April 15-16, 2023 | Rotterdam, Netherlands
While we usually don't cover half marathons outside of the United States, we found the Rotterdam Marathon got more "underrated" accolades than many others. The race is described as a "fast, flat course with a very festive atmosphere" and the crowd energy has been compared to that of the Chicago Marathon (which has a ton of energy). Also, the race begins running over the Erasmus Bridge which looks right out of a science fiction novel.
Duluth is famously home to all American things – the Duluth Trading Company and Grandma's Half Marathon. Now in it's 47th year, the half marathon is named after Garry Bjorklund an Olympic Track & Field athlete who set the Minnesota state record for the mile which lasted 39 years. With the Grandma's event you can expect a crowd – more than 7,000 runners participate in the half marathon and an additional 9,000 participate in the full marathon. That's about a 20% increase of the year round population of Duluth that come just for this race. Another one of our picks for the best spring half marathons in the United States.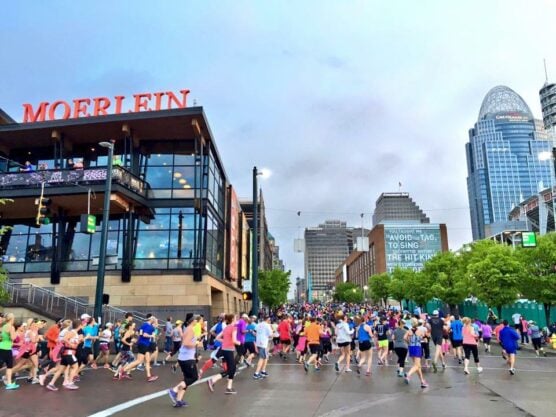 Race organizers have touted for years that the Flying Pig Half Marathon might be the most popular for first-time marathon and half marathon runners. While welcome to runners of all skill levels, the race is hilly. Between the fifth and the eighth mile, you'll experience 300 feet of elevation gain. But, with 40,000 other runners by your side, the crowds will help sustain you through the thirteen miles.
Only three hours away from Cincinnati is Toledo where you'll find the Glass City Half Marathon. The name is derived from Toledo's own nickname which came as it was the center of glass production for the automotive industry. More than 4,000 runners take part in the half marathon and it's been touted for its organization, good crowd support, and supportive city vibe. The race is an out and back and has a majestic finish at Glass Bowl Stadium, home of the University of Toledo football team.
The Bayshore Half Marathon takes place on the Saturday of Memorial Day Weekend and has been reviewed as "absolutely beautiful." Traverse City sits nestled into Grand Traverse Bay along Lake Michigan. Only 2,700 runners, the Bayshore Half is smaller than the other underrated half marathons but packs a winning combination of beautiful sights and beautiful weather to make it onto our list.
Ok, we do have another non-United States half marathon that makes the list. We've found that the Berlin Marathon receives a lot of attention and praise. Not just because it's an Abbott World Major, but also because of its notoriously flat course many half marathon and marathon world records have been set there. However, the fastest marathon that's been run in human history (Eliud Kipchoge's sub-2 hour marathon) was run in Vienna due to its ideal running conditions. We're also a sucker for a race that starts on a bridge which is exactly what this race gives you with it's starting line on the most famous bridge in Vienna, the Reichsbrücke.
Toledo is known for its glass and Pittsburgh is known for its rivers and steel. The race is mostly flat and will take you across the confluence of the Ohio, Allegheny, and Monogahela Rivers. In case you're unfamiliar, Pittsburgh is home to 446 bridges but luckily on this course you'll only get exposure to the most popular three. There are some uphill stretches in the back half of the course, but not so significant that it isn't welcome to first time runners.
There are a few sites in the United States that will help you feel like a speck of dust in the universe. The Grand Canyon, the Rocky Mountains, and the Redwoods in Northern California. Lucky for you, there's a half marathon that will take you right through the awe inspiring terrain. The course itself is hilly and more challenging than the others on the list, so don't expect to PB, but do expect to BA (be amazed!).
Picking a Spring Half Marathon
Most of the popular half marathons are in the fall as they account for 8 to 20 weeks of training through moderate and warm weather of the spring and summer. But, if you can stomach the cold weather training, running a spring half marathon will add years to your running acumen. If you live in a moderate climate, you can eye any race between March and May. If you live in colder weather, it makes more sense to target April and May just in case the winter season disrupts consistent training.