While you may be able to get away with walking a few miles in uncomfortable sneakers without injury, you shouldn't expect the same after a run.
Millions of dollars are poured into running shoe design every year attempting to perfect everything from the spring and stability of the sole to the breathability of the outsole. This list of best half marathon shoes will provide some inspiration and insight into the best shoes for training and running 13.1 miles from each brand.
Quicklook: Best Half Marathon Shoes
10 Best Half-Marathon Shoes
Finding the right half marathon shoe is an important part of training and running a half marathon. Here are some of the best half marathon shoes on the market.
Best Lightweight Sneaker: Adidas Adizero Adios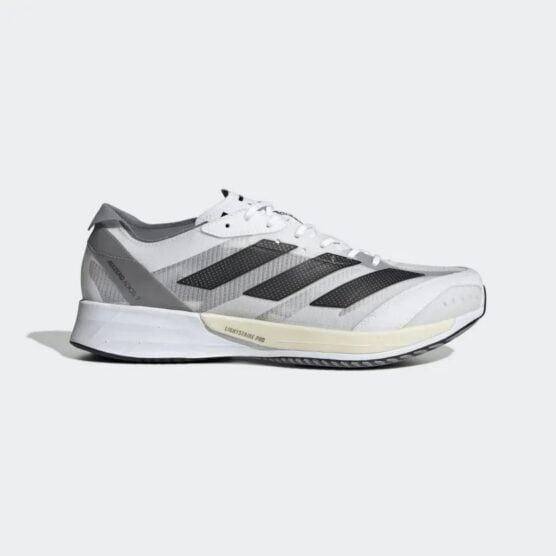 The Adidas Adizero Adios has a long history of being worn by champions, including Haile Gebrselassie who ran a world-record marathon time in 2008 at the Berlin Marathon. He had a winning time of 2:03:59 or around 4 minutes and 43 seconds per mile. The sneaker is well known for its cushioned and responsive sole and is built for tempo efforts as opposed to longer easy runs. The sneaker is lightweight coming in at 8.10 oz. Due to the intricate lacing system, you won't feel like the tongue of the sneaker is clamping down on your foot, but you will need to spend a little time upfront adjusting the upper to your comfort.
Best Shoe for Marathon by Runner's World
Best Shoe for Racing by Fleet Feet
Best Shoe for Racing by Sports Illustrated
Best Shoe for Racing by RunRepeat
Best for Durability: Nike Pegasus 39
Nike is one of the leaders in the running industry consistently producing running sneakers ranked highly by industry experts. Many elite runners sponsored by Nike like Eliud Kipchoga run in VaporFlys or AlphaFlys when competing. The Nike Pegasus 39 is an annually updated training shoe designed for its durability and versatility for training and racing. . The shoe doesn't provide an overly cushioned or bouncy experience, but is a very durable sneaker, called Nike's "workhorse" that can be worn during cross-training as well.
Top Running Shoe of 2022 by Runner's World
One of the Best Running Shoes of 2022 by Fleet Feet
Best Overall Shoe by RunRepeat
Best Running Shoe for Speed by Sports Illustrated
Best for Cushioning: Brooks Glycerin GTS 20 StealthFit
The Brooks Glycerin GTS 20 StealthFit features a maximum cushioned sole which is meant for runners who are putting in longer mileage runs and an "engineered air mesh" upper shoe. The shoe has a soft and snug feel. Whether you pronate or supinate, Brooks makes shoes that are steady, springy, and reliable and the Glycerine GTS 20 is no exception.
Best Shoe for Every Day Cushioning by Runner's World
Best Shoe for Cushion by Fleet Feet
Best Shoe for Road Running by RunRepeat
Most Comfortable Running Shoes by Sports Illustrated
Best for Women: lululemon Blissfeel
The lululemon Blissfeel is the athletic clothing company's entry into the sneaker market. The Blissfeel is a comfortable sneaker with a snug feel. The shoe provides a bounce with each step and is a good starting shoe for lululemon's first serious running sneaker. It was designed using scans from the feet of over 1 million women so you'll see design features like the angle of the heel designed particularly for women. The lululemon Blissfeel shoe is not particularly fast or light which makes it more reliable as a daily trainer.
Named an Innovative Sneaker for Women by Women's Running
Named as one of the Best Running Shoes for Women by Bustle
Best for Daily Training: Saucony Triumph 20
The Saucony Triumph 20 is Saucony's daily, maximum-cushioned trainer. It's very well padded in the heel and the forefoot. The sole is Saucony's PWRRun+ which is a supportive, stabilizing sole but not as springy as a racing shoe. Saucony has also reduced some of the weight of the shoe compared to past models. It is a great sneaker for easy and long runs.
Best Shoe for Maximum Cushioning by Runner's World
Best Shoe for Max Cushion by Fleet Feet
Best for Beginners: New Balance Fresh Foam X 1080v12
The New Balance Fresh Foam X 1080v12 is their updated daily trainer. The shoe has an upgraded pillowy sole which is its softest yet for everyday training runs. It also comes with an improved heel (for those of you that weren't fans of the UltraHeel). The shoe is designed for a smoother ride than previous models so if you're a New Balance fan, this is the shoe to upgrade to.
Best Shoe for Daily Training by Runner's World
Best Shoe for Everyday Training by Fleet Feet
Best Running Shoes for Men with Plantar Fasciitis by Sports Illustrated
One of the Best Running Shoes by Believe in the Run
Best for Bounciness: New Balance FuelCell Rebel v3
The New Balance FuelCell Rebel v3 has a light and breathable upper. It has a light, responsive and bouncy sole with an additional 1.5 millimeters from the previous version. The shoe is light, which is sometimes confused with being a racing shoe, but it only helps support the bounciness of the sole. If you like investing in shoes with high energy returns in each step, this is a great version for you.
Best Shoe for Uptempos by Runner's World
Best Shoe for Speed Work by Fleet Feet
Best Overall Running Shoe by RunRepeat
One of the Best Running Shoes by Believe in the Run
Best for Durability Among Carbon-Plated Running Shoes: Hoka Carbon X
The Hoka Carbon X uses a carbon plate to push you forward with every step. . The shoes were released as part of a 50-mile world record attempt by ultrarunner Jim Walmsley who wore a pair of Hoka Carbon X and ran 5:48 per mile for the 50 miles. You don't have to be an ultrarunner to get the advantages of the shoe. The Hoka Carbon X carbon plate helps guide your foot through the stride and, if you're looking for a durable and affordable carbon-plated shoe – this is worth checking out.
Best Shoe for Racing by Runner's World
Maximally Cushioned, Hyper Responsive Shoe Design by Fleet Feet
Cheapest Carbon Plated Running Shoe Priced at a Steal by RunRepeat
Best for Half Marathon Racing: ASICS Metaspeed Sky
The ASICS Metaspeed Sky features a carbon plate that increases your stride length and creates a smoother running experience. These are shoes that you'd only invest in and run in if you're trying to achieve a personal best in a race. They're less affordable and less versatile than the other shoes on our list, but this is ASICS competition with the Nike AlphaFly or NEXT%. The sole has been described as soft but responsive and many have reviewed this shoe as being the best in class.
Best Shoe for Long Runs by Runner's World
Best Shoe for Road Racing by Fleet Feet
Best Shoe for Races by RunRepeat
Best Shoe for Racing by Running Shoes Guru
Best Lightweight Shoe for Marathon Running: On Cloudboom Echo
The On Cloudboom Echo has a carbon plate and minimalistic design that makes it weigh less than most running shoes. The company built this running shoe alongside elite athletes to provide an enjoyable and fast experience for their runners. These running shoes have the race blend of all-out racing shoes and comfort for your feet. On Running is one of the fastest growing running shoe brands in the market and this is our best recommendation for those training for a half marathon distance.
Best Shoe for Racing by Fleet Feet
Best Shoe for Wide Feet by RunRepeat
One of the Best Shoes for Road Racing by Trail and Kale
Training vs. Racing Shoes: What's the Difference and Does it Matter?
You shouldn't wear the same running shoes for training and racing days. Training shoes are usually more durable, wider, and affordable than their race-day counterparts. Racing sneakers are lighter, less durable, and more expensive. Some of these shoes, mostly racing shoes, have carbon plates, which make them faster but also make them more expensive. Trainers help you get better and reduce the likelihood of injury, while racing shoes give you the extra thrust you need to beat the competition. Runners should have all of the essentials, so they can run good workouts and be ready for race day. It's a good idea to incorporate training and racing shoes for your running.
What to Look for in Half-Marathon Shoes
You can only run in one pair of shoes during a half marathon. It's important to pick a shoe that makes you feel confident and helps you run a faster time. Here are some key details to look for when searching for the right running shoes for you.
Cushion
Comfort is the ultimate goal for any running shoe, and a good cushion can help with that. Some runners need maximum cushioning, while others can still have an enjoyable experience with some cushioning. If you do not feel comfortable in the sneaker, nothing else will compensate for it.
Your History with Running Shoes
When you first look for running shoes, it's common to explore. When runners find the right sneaker or brand for their needs, it's better to stick with what already works. Nike was the first sneaker company to release running shoes with carbon plates, but with most brands catching up, it is easier to stick with the shoes you already know.
Your Running Gait
A running shoe can help correct your running gait or reduce the risk of injury. Heel striking is a common problem for runners that can lead to injuries. Some running shoes provide better stability and cushion support than others to modify your running gait and keep you on your feet.
Durability
Some running shoes are more durable than others, and picking a less durable pair means more visits to the sneaker shop. You don't want to run in your sneakers until the toe box has holes, but you also don't want to have to get a new pair of sneakers every 200 miles.
Carbon Plate
A carbon-plated shoe is the gold standard for half marathoners who want to run their fastest times. If you look for sneakers with carbon plates, you will have to increase your budget. It's common to find a pair of carbon-plated sneakers that exceed $200. But many runners pay the extra price to shave more time off their half-marathon personal records.
Get the Right Running Shoes for Your Next Big Race
A good pair of running shoes can help you run a faster half marathon and enjoy the experience. Runners have plenty of great options that provide a blend of speed, durability, and comfort. Reviewing several sneakers will help you find one that suits your needs. You should then fit into them for one to two weeks before the race, so you are ready to hit your race goal.
FAQ
What makes a good shoe for a half marathon?
A good shoe for a half marathon feels comfortable and is relatively light weight. Some sneakers even have technology that gives you additional momentum on every step.
Can you wear new shoes for a half marathon?
You shouldn't wear new sneakers for the half marathon if you got them a few days ago. It's best to fit into them for one or two weeks before using them in a race.
How long do you have to break in shoes before a half marathon?
You should give yourself one to two weeks to break in a new pair of running sneakers before a half marathon. Giving yourself closer to two weeks is better.
Everything featured on Half Marathon Guide is independently selected and curated. We may receive a small commission on purchases made from some of our links.