Whether you are running your first half marathon or your 50th, a good pair of half marathon running shoes is necessary to get you through your training and your race. But shopping for new shoes—especially online—can be difficult to do, especially when you don't know exactly what you are looking for.
As subject matter experts, we gathered our favorite and best half marathon shoes that span from the speediest half marathon racing shoes to max cushioned daily trainers. They can be worn for any type of runners either beginners or experts.
Keep reading to see our reviews and recommendations for each of these and tips on how to choose the right one for you.
What to Consider In A Half Marathon Shoe
When choosing the best running shoes for your next half marathon, there are five factors you should consider that can make or break whether a shoe is right for you.
Cushioning.
This is one of the most important things to consider, especially when you are committing to training and running long distances.
While some of us may prefer a minimalist shoe, most runners prefer a decent amount of cushion to offer a soft landing for our our legs.
A cushioned, bouncy midsole foam will also keep your feet happy on any type of running surface.
Support.
Running shoes are designed to be either neutral or stability shoes.
When should you opt for a stability shoe? If you notice in your running form that you overpronate—meaning your arch collapses while you run – there's a good chance you will want to opt for a shoe that has more arch support or seek out insoles.
We're strong believers in Superfeet insoles.
Shoes on the market today opt for guidance systems. That means they correct the arch only as much as it is over pronating – which ends up being a great option for neutral runners as well.
Heel Drop.
This is not an end all be all for whether to pick a shoe or not, but it is something to be aware of as it does impact your running form.
Drop measures how much higher the heel of the shoe is from the toe. Many racers opt for a lower drop as it supports a more natural running form and can prevent heel striking.
Carbon Plate.
Many racing shoes—and even some trainers—have added in a carbon fiber plate. You may have seen these described in the news as super shoes.
The carbon plate, simply, encourages a highly-responsive sold with efficient energy return and propulsion – while also being some of the lightest shoes you can buy. They often carry a higher price tag.
Weight.
Weight is another factor that's entirely up to preference. If you like the feeling of runnin in super-lightweight – look for a shoe under 8 ounces. Weight is often influenced by the size of the midsole, often referred to as stack height.
Related: Best Marathon Distance Racing Shoes
The Best Half Marathon Shoes of 2023
Best Shoes By Category
The Best Half Marathon Daily Trainer Shoes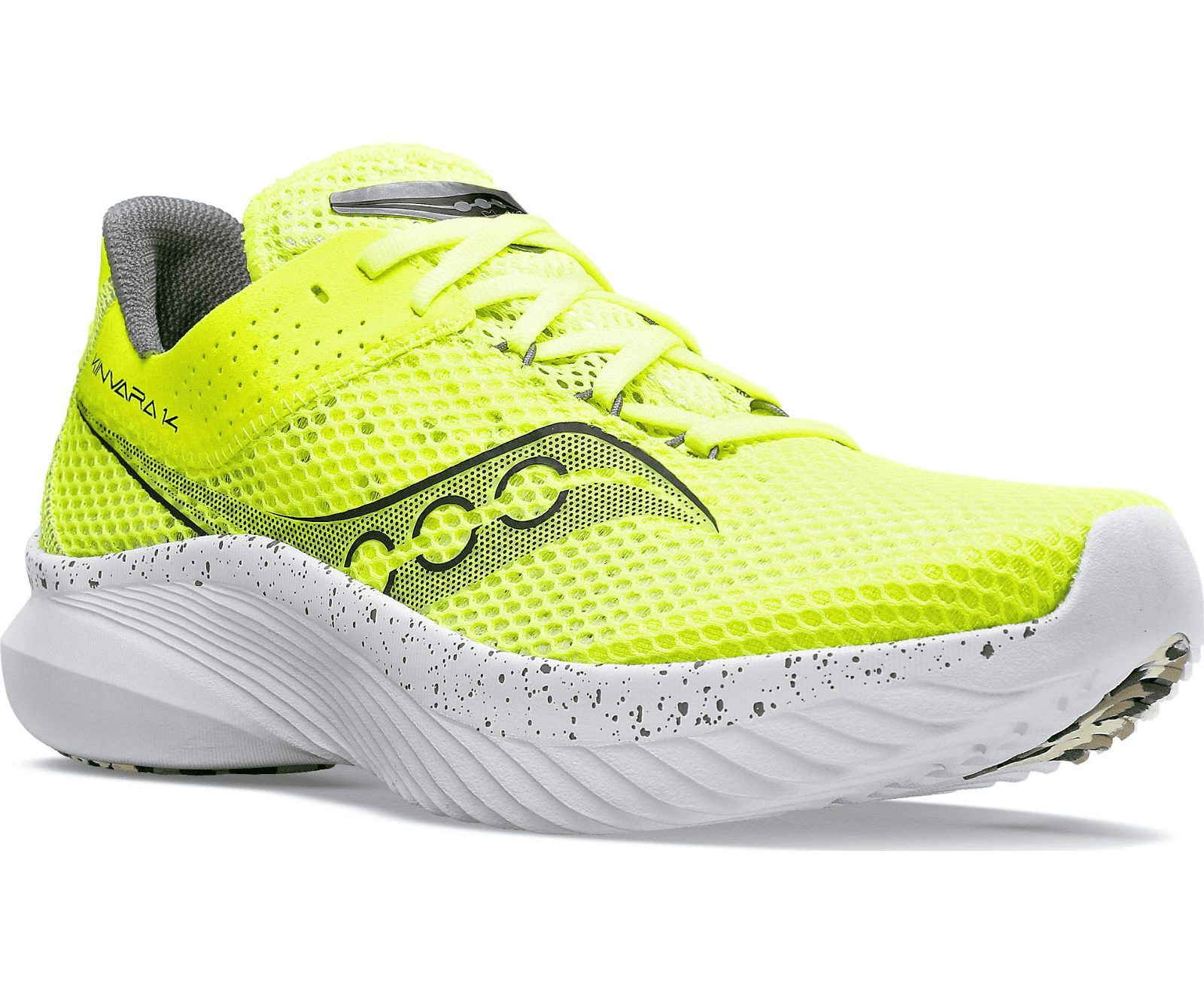 Saucony Kinvara 14 Specs:
Heel Drop: 4mm | Weight: 6.2 oz | Carbon Plate: No | Price: $120
The Kinvara has long held the title as one of the best lightweight trainers.
Weighing in at just over 6 ounces, it is lighter than many racing shoes. It uses Saucony's PWRRUN+ foam to give it a light and soft feel that is comfortable over long miles but won't weigh you down during speedwork.
It also has a light, breathable mesh upper that keeps your feet ventilated and cool especially in summer months.
With a light minimal feel at the forefront of the design this shoe, it is not going to be a high cushion, high mileage option, but if you are a neutral runner wanting something fast and snappy, this could fit right into your footwear roundup.
Runner Up: Saucony Endorphin 3
Best Max Cushioned Daily Trainer: HOKA Clifton 9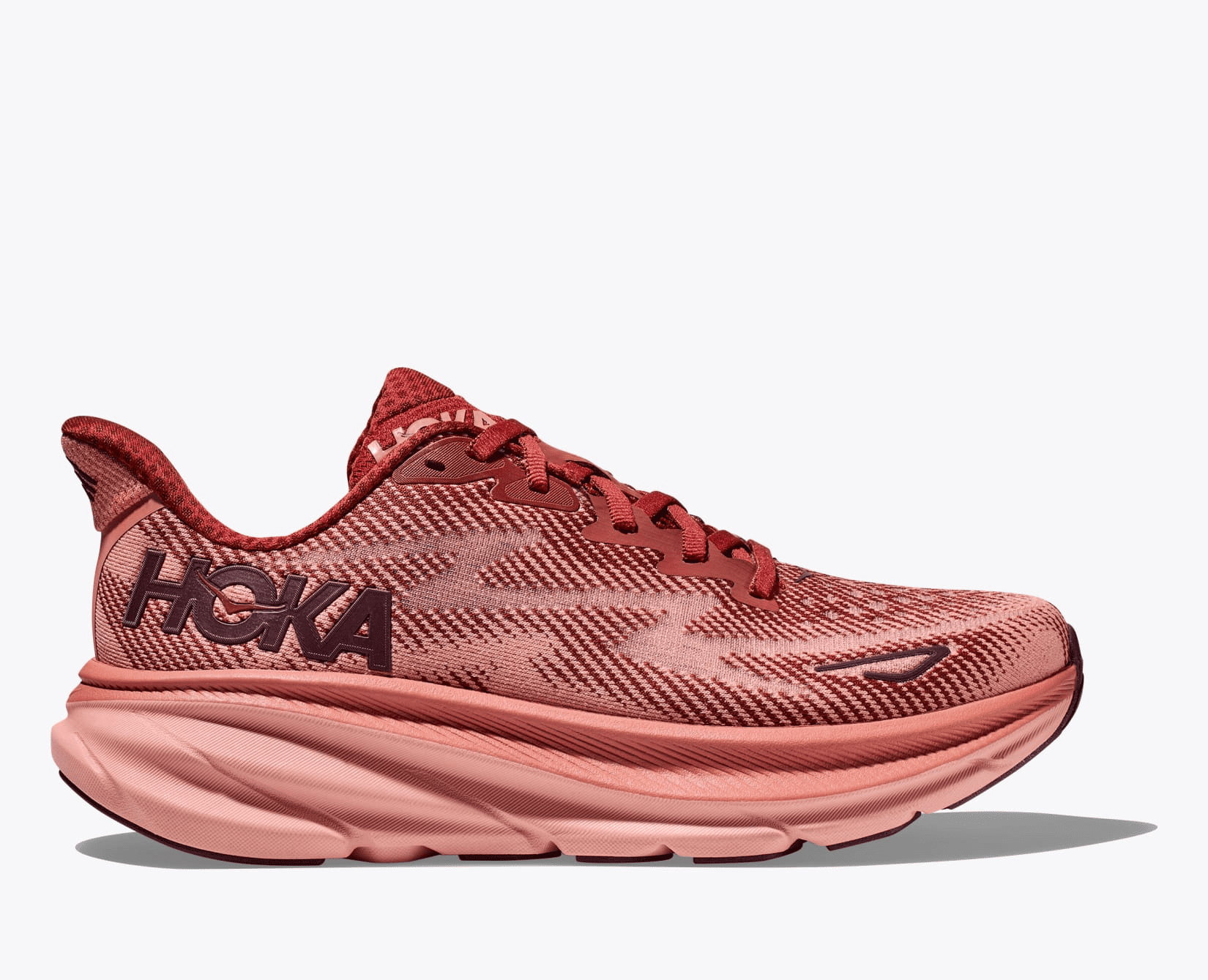 HOKA Clifton 9 Specs:
Heel Drop: 5mm | Weight: 8.7 oz | Carbon Plate: No | Price: $145
If you want cushion and comfort in a lightweight package, the Clifton is hard to beat.
This is an all around excellent shoe that can carry you through your long runs, speed, training and everything in between—and if you prefer to race in a trainer, it can be a great race day option as well.
It has a thick EVA foam midsole that has a pillowy-soft feel. But since EVA is so light, it won't feel clunky or weigh you down.
It also has a meta-rocker in the forefoot which forces you to roll through your foot with every step. This helps to decrease impact, improve running gait, and increase turnover essentially making you a more efficient runner—this is especially useful for those that are generally heel strikers.
Runner Up: HOKA Mach 5
Related: Best HOKA for Half Marathons
ASICS Kayano 30 Specs:
Heel Drop: 10mm | Weight: 9.2 oz | Carbon Plate: No | Price: $160
If you need a pair of shoes with ample support and cushion, the ASICS Gel-Kayano 30 is hard to beat.
While it established itself as one of the best half marathon stability shoes on the market years ago, it has since had quite the upgrade and managed to drop some weight without affecting the cushion or level of stability.
It uses a guidance system which provides adaptive stability, meaning that it will support you only as much as you need it—this also means that it can now be worn by neutral and overpronating runners, and it makes a great long run shoe for those that may feel their gait deteriorating in the double digits.
And while the Kayano has kept its signature gel heel, it swapped out the traditional gel for Pure Gel which is positioned directly under the heel, and is 65% softer than the previous formula.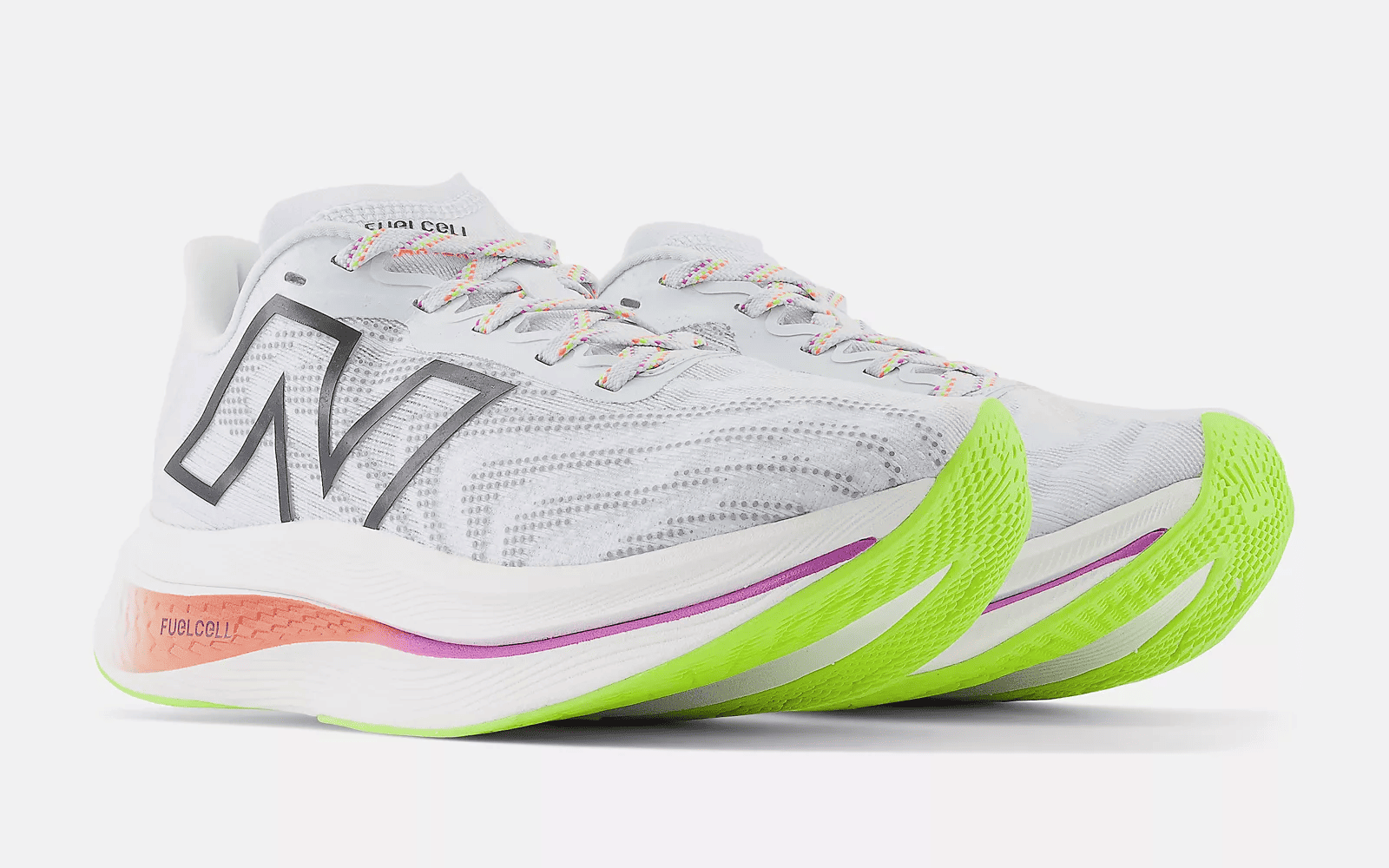 New Balance FuelCell SuperComp Trainer Specs:
Heel Drop: 8mm | Weight: 10 oz | Carbon Plate: Yes | Price: $180
If you want something you can train, race, and just feel fast in, the SuperComp is a great option.
Yes, it is a trainer, and yes, it has a carbon plate. While we do recommend having an unplated shoe to run in sometimes, this one can hold up to your daily training, and while it probably won't hold out into the 400 mile range, you should be able to get at least 250-300 out of it which is more than most carbon plated options.
This shoe uses New Balance's FuelCell cushioning which is designed to be soft but highly responsive. It also paired that with the Energy Arc (their version of the carbon plate) which sits between the foam layers, giving you the energy return you desire without it feeling stiff or uncomfortable.
Puma Velocity Nitro Specs:
Heel Drop: 10mm | Weight: 8.8 oz | Carbon Plate: No | Price: $120
While once upon a decade ago just about every mid-cushion shoe was $110—$120, it's not so easy to find a current model of a quality shoe at that price range. The Velocity Nitro 2 however is a fantastic lightweight everyday trainer that comes in at only $120.
This shoe is somewhat reminiscent of the Nike Pegasus in style and fit, but with a slightly firmer, more responsive midsole. It has an excellent last for those with narrower feet—slim in the midfoot and heel, and flared in the toe box—and the upper is secure but breathable.
It uses Puma's Nitro foam which is light but supportive, and it has a much more traditional running shoe feel for those that don't love a rocker (which provides rolling toe-off), super plush cushion, or a carbon plate.
The Best Half Marathon Racing Shoes
Best Carbon Plated Racing Shoes: Nike Alphafly 2
Nike Alphafly 2 Specs:
Heel Drop: 8mm | Weight: 8.0 oz | Carbon Plate: Yes | Price: $275
The Nike AlphaFly 2 is a favorite of elites and amateurs alike.
And while we can't promise it will make you as fast as Kipchoge, it may very well play a part in helping you drop some time. This shoe has the ideal combo of light, fast, and incredibly responsive. It uses ZoomX foam paired with Zoom Air units to give you a high cushioned feel, and a thin rubber outsole provides grip without weighing it down.
The shoes also have a full length carbon plate that helps to propel you forward and roll through every step. It also has a flared base at the toe and heel which gives you additional stability without affecting your gait.
The Flyknit upper is light and highly breathable while also offering a stretch-free supportive feel that keeps your foot secure in the shoe. It also features notched laces that lock together and prevent any slippage so you won't have to adjust mid-race.
HOKA Rocket X 2 Specs:
Heel Drop: 5mm | Weight 8.3 oz | Carbon Plate: Yes | Price: $250
While the HOKA Rocket was designed with speed workouts in mind, it is also a very stable shoe—something that can be hard to find in a carbon plated model.
It has a highly responsive PEBA foam midsole that is flared at the toe box and slightly at the heel to give you a larger surface area to run on—this helps a bit with overpronation, and gives you extra support on tilted surfaces. The foot also sits down in the foam a bit, so it hugs the sides of the shoe, giving the foot a slight bit of motion control.
It also has HOKA's signature early stage meta-rocker which along with the carbon plate, gives you an explosive, propulsive feel with every step, allowing for maximum energy return every time.
ASICS Metaspeed Sky+ Specs:
Heel Drop: 5mm | Weight: 7.2 oz | Carbon Plate: Yes | Price: $250
Now while the most comfortable shoe is a bit subjective, I have not been the only one to test this shoe and comment on how good it feels on foot. Often with carbon plated shoes there can be some arch pain or just general hardness felt underfoot, but this shoe feels fast and springy without the discomfort.
The shoe uses ASICS' FF Turbo in the midsole which is light and highly propulsive making it one of the best ASICS running shoes. It also has a secure but breathable mesh upper, and the heel is padded which helps to prevent blisters when running long miles. 
The outsole is made from strategically placed rubber that gives you grip where you need it without adding weight, and because of the upturned toe, this shoe encourages you to strike midfoot and up which can help increase speed.
Brooks Hyperion Tempo Specs:
Heel Drop: 8mm | Weight: 7.3 oz | Carbon Plate: No | Price: $90
Although carbon plates can certainly help many people reach their goals, some people just don't find them comfortable, or can't handle the hardness of the plate.
Whether you are looking for something to race or train speed work in, the Hyperion Tempo is a fantastic option. It feels much closer to the racing flats of the past in that it is light, low profile, and close to the ground, but it has the benefit of Brooks' DNA Flash foam which is highly responsive and also incredibly light.
The upper is super breathable, with an open mesh design so it helps to keep your feet cool and dry, and it stretches slightly to move naturally with the foot. It also has a grippy rubber sole that allows you to run well even on wet and slippery surfaces, and since this is technically a training shoe it can hold up to your mileage and perform on the course.
Mizuno Wave Rebellin Flash Specs:
Heel Drop: 8mm | Weight: 8.1 oz | Carbon Plate: No | Price: $160
While most plated shoes can cost upwards of $250, this one comes out at only $160.
Now this shoe does have a fiberglass plate in lieu of a carbon one, so it won't be quite as hard and snappy as carbon, but it is more resilient and has a speedy, responsive feel. It uses Mizuno Enerzy and Enerzy Lite foam which gives it a soft feel while still remaining light and fast.
It has a breathable mesh upper, and more of a secure trainer-like feel. This shoe also works well with insoles, so if you need some more support it could be a good possibility for you. This is a great option if you want a fast trainer or a less expensive racing shoe.
FAQ
What makes a good shoe for a half marathon?
A good shoe for a half marathon feels comfortable and is relatively light weight. Some sneakers even have technology that gives you additional momentum on every step.
Can you wear new shoes for a half marathon?
You shouldn't wear new sneakers for the half marathon if you got them a few days ago. It's best to fit into them for one or two weeks before using them in a race.
How long do you have to break in shoes before a half marathon?
You should give yourself one to two weeks to break in a new pair of running sneakers before a half marathon. Giving yourself closer to two weeks is better.
Everything featured on Half Marathon Guide is independently selected and curated. We may receive a small commission on purchases made from some of our links.