The temperatures are dropping but training for spring half marathons and full marathons is just beginning to ramp up. And, unless you plan to do all of your training runs on a treadmill, there will inevitably be days of running in less than ideal weather — or at least temperatures under 65°. In order to make each run successful and as pleasant (as possible), you'll need to invest into cold weather running gear to ensure you are properly dressed for whatever the temperature and weather can throw at you.
If you are new to running—or just new to a climate—it might be difficult to figure out exactly what you need.
The Rule of Cold Weather Running Gear: dress as if it is 10 degrees warmer than it is. Since, with running you will be raising your body heat more on cold weather jogs than if you were just walking or standing at the same temperature. 
Since it can be difficult to figure out exactly what you should be investing into that makes the biggest impact on cold weather running, we made a comprehensive list of everything you'll need.
We also rounded up our favorite gear recommendations, and even a guide on how to dress for different winter climates.
Keep reading to discover what you should wear this winter. And maybe, if you're lucky enough, you might even add some new gear to your winter running wardrobe. 
The Cold Weather Running Gear Checklist
Whether it's 40°F and sunny or -40°F and a blizzard, here's a list of the winter running gear you'll want to be prepared with:
Winter running hat
Running gloves
Cold weather water-proof running jacket or running vest
Socks
Running shoes, preferably trail running shoes for wet, slippery conditions
Running pants
Running tights
Long sleeve shirt
Gaiter
Sunglasses
The Best Cold Weather Running Gear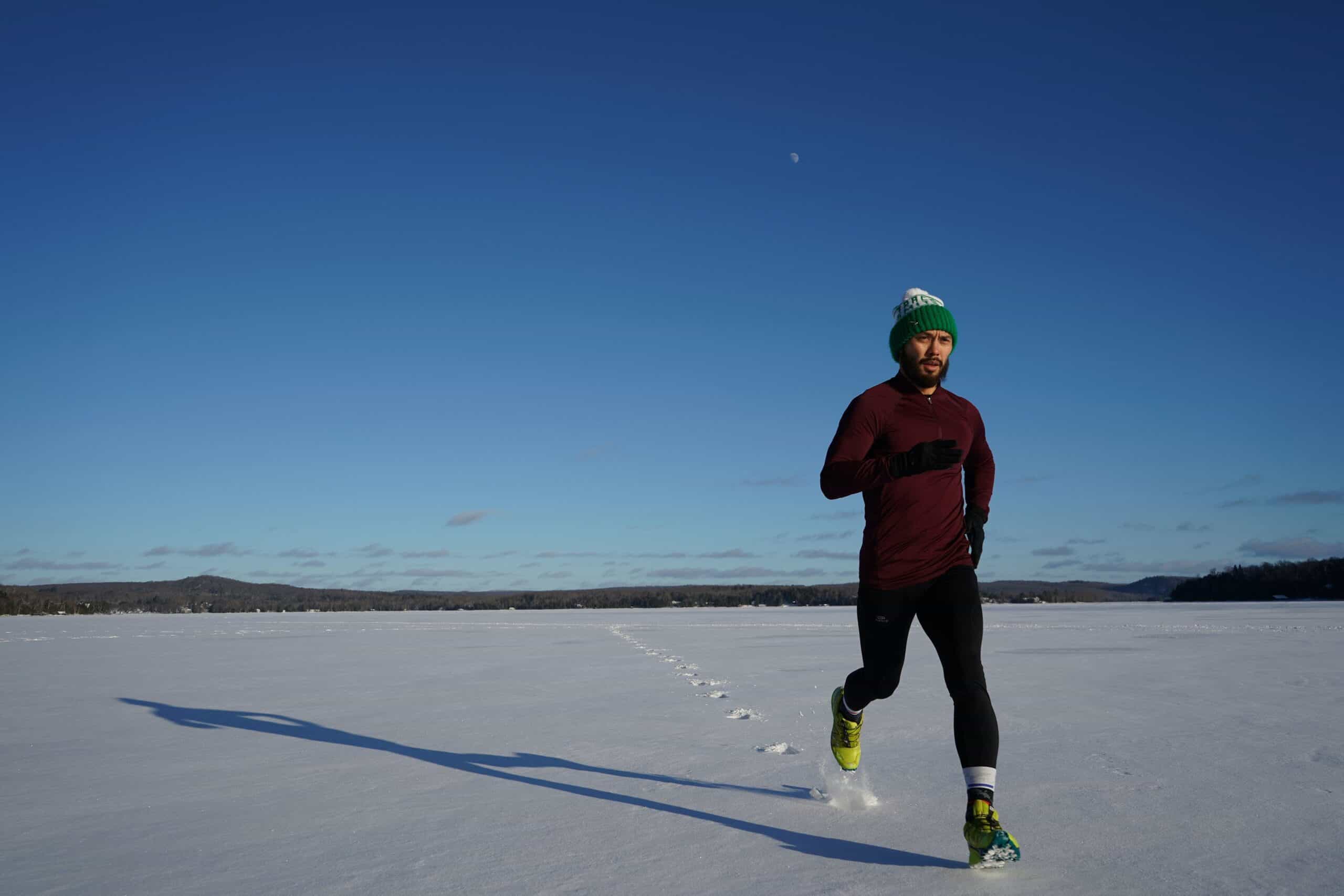 Our Favorite Winter Running Hats
It's hard to go wrong with a classic beanie when it comes to running hats and headwear. This one is thick, plush, and comfortable on the head. It's not tight, but the ribbed knit makes it stay snug enough that it won't slide up and down as you run.
It also comes in a ton of different color options. And, because of the foldable design, you can adjust it to any head size.
If you have long hair, it can be difficult to find a running hat that won't mangle your hair up inside or have it flopping out the back. This one has a hole for your ponytail to poke through. And, a versatile design of an ear warmer that can be flipped up or down for different temperatures.
Since it is a cap design, it also has a brim which works to keep the sun out of your face and protect your skin. Whether it's winter or summer, you should use sunscreen for skin protection.
Our Favorite Running Gloves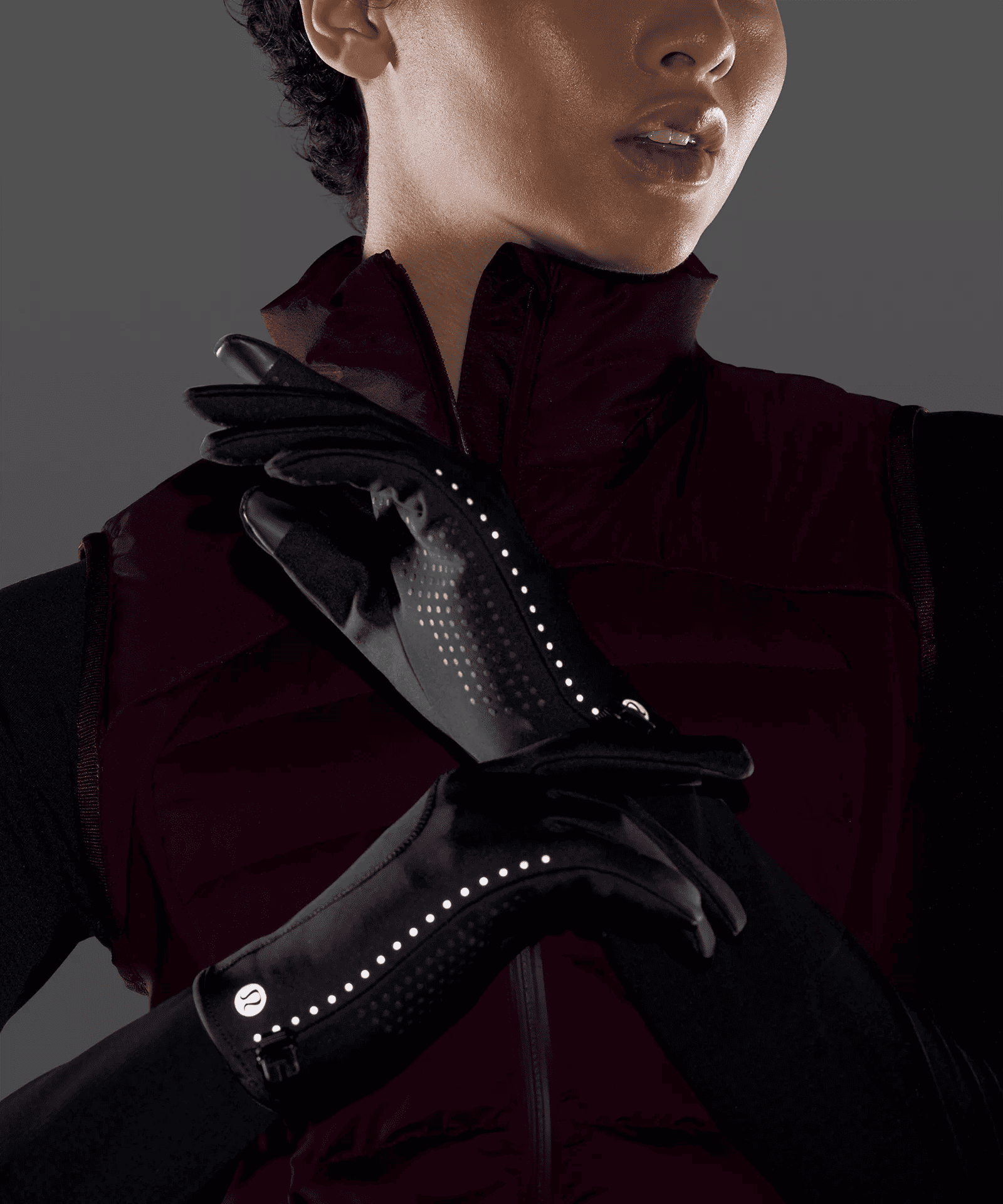 These were my personal favorite gloves last year. Because they are lightweight and fit snugly to the hands, it doesn't really feel like you have anything on. They have grippy dots on the inside of the palms as well as touchscreen friendly tips on the thumb and pointer fingers which allows you to easily use your phone without removing them. While a mitten may be better for warmth, I far prefer the trade off in dexterity that a glove offers to a mitten.
For super cold days, you want a glove that can really trap the heat. These by Nike are insulated and made with fleece material so they are super soft to the touch—and excellent at trapping heat. The knit cuff and adjustable strap also help to keep them snug on your hands so you don't have to worry about them moving around or sliding off.
Water-Proof Running Jacket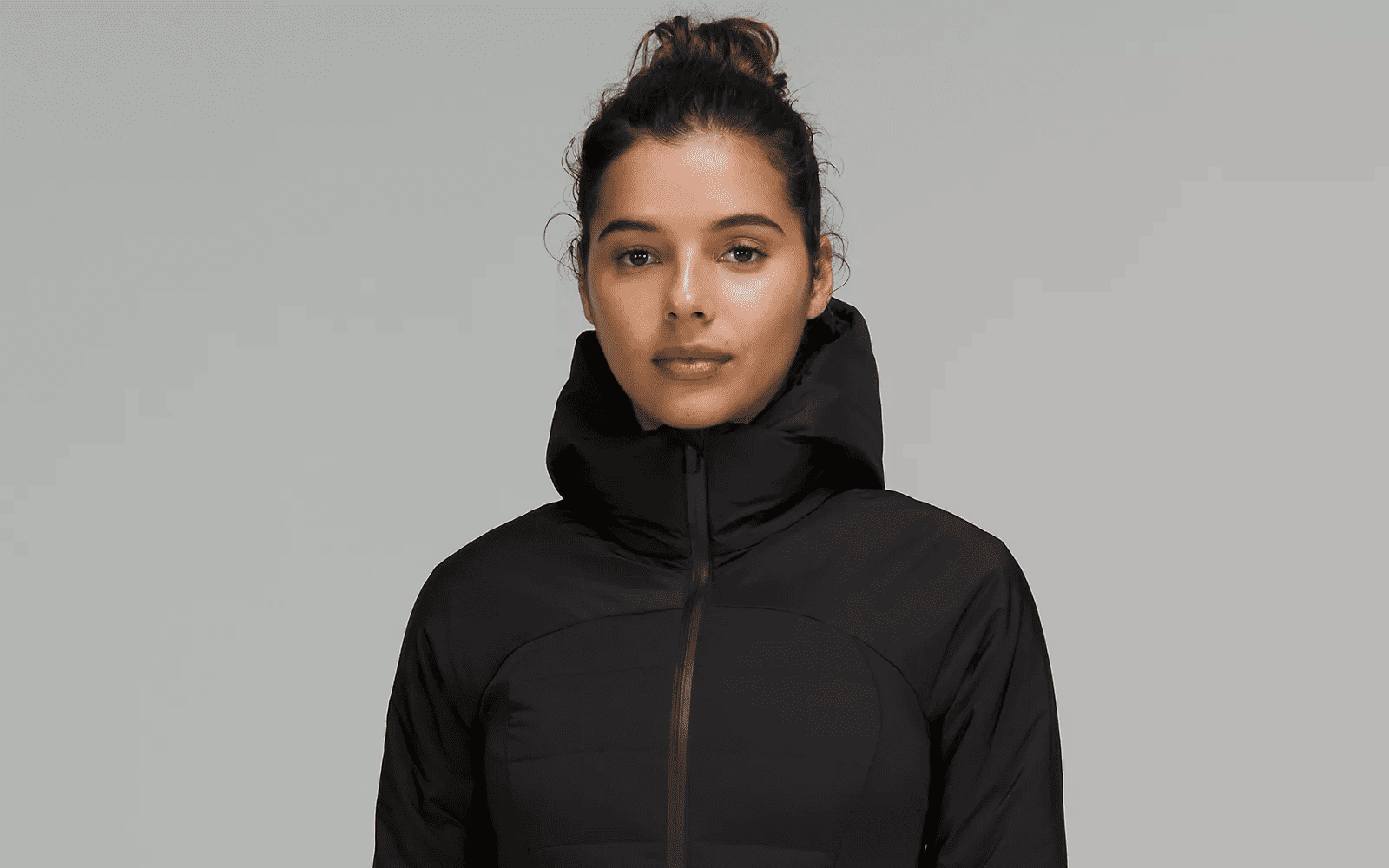 If you are heading out in under freezing weather, you're going want an insulated jacket. This one by lululemon is one of the best winter choices you can make. It has a water-resistant exterior fabric and is insulated with a combination of down and synthetic down fill.
The synthetic down is placed on exterior parts of the jacket to prevent the down from clumping and taking on water while helping to keep you incredibly warm.
It also has a flattering tapered fit, and a hoodie for easy extra warmth in even the coldest weather
$228.00 on lululemon.com for Women
$228.00 on lululemon.com for Men
If your main concern is precipitation not super cold temperatures, you may be better off opting for a waterproof outer layer rain jacket that wicks moisture from inside and out.
This one by Janji is lightweight and packable, and is made with 100% nylon ripstop making it both water and windproof. It also has excellent core ventilation to help keep you from overheating, and a fitted hood that won't fall off in a strong headwind.
$139.00 on Janji.com for Women
Socks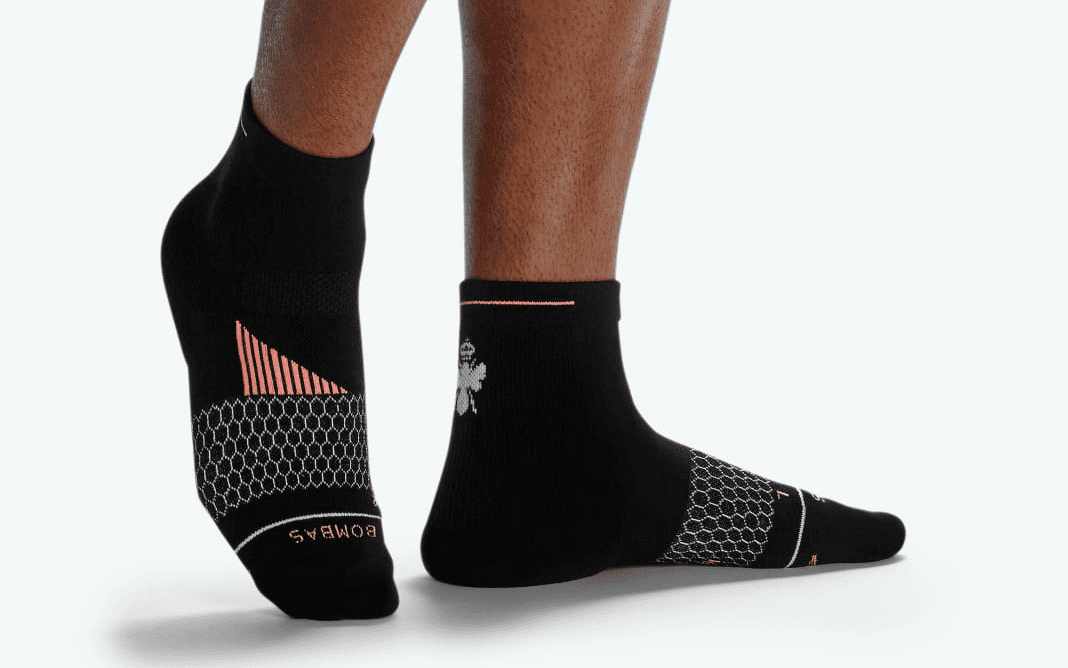 While Bombas may not be the first sock brand that comes to mind for most runners, these have been my go-to favorite running socks for years.
The quarter length is just long enough to keep the ankles from getting cold without feeling too tight or causing overheating. It also has an arch lock which keeps it in place on your foot. Since it is made with merino wool it is also naturally moisture-wicking and odor resistant.
$24.00 on Bombas.com for Women
If you like a taller sock, this Feetures one is also a great option. It's a bit on the thicker side and has a reinforced heel and toe for additional durability. It also has targeted arch compression which helps to support the arch, and an anatomical design that forms to the shape of the foot. It also has extra cushion and padding on the bottom of the foot which makes both extra comfy and warm.
Winterized Trail Running Shoes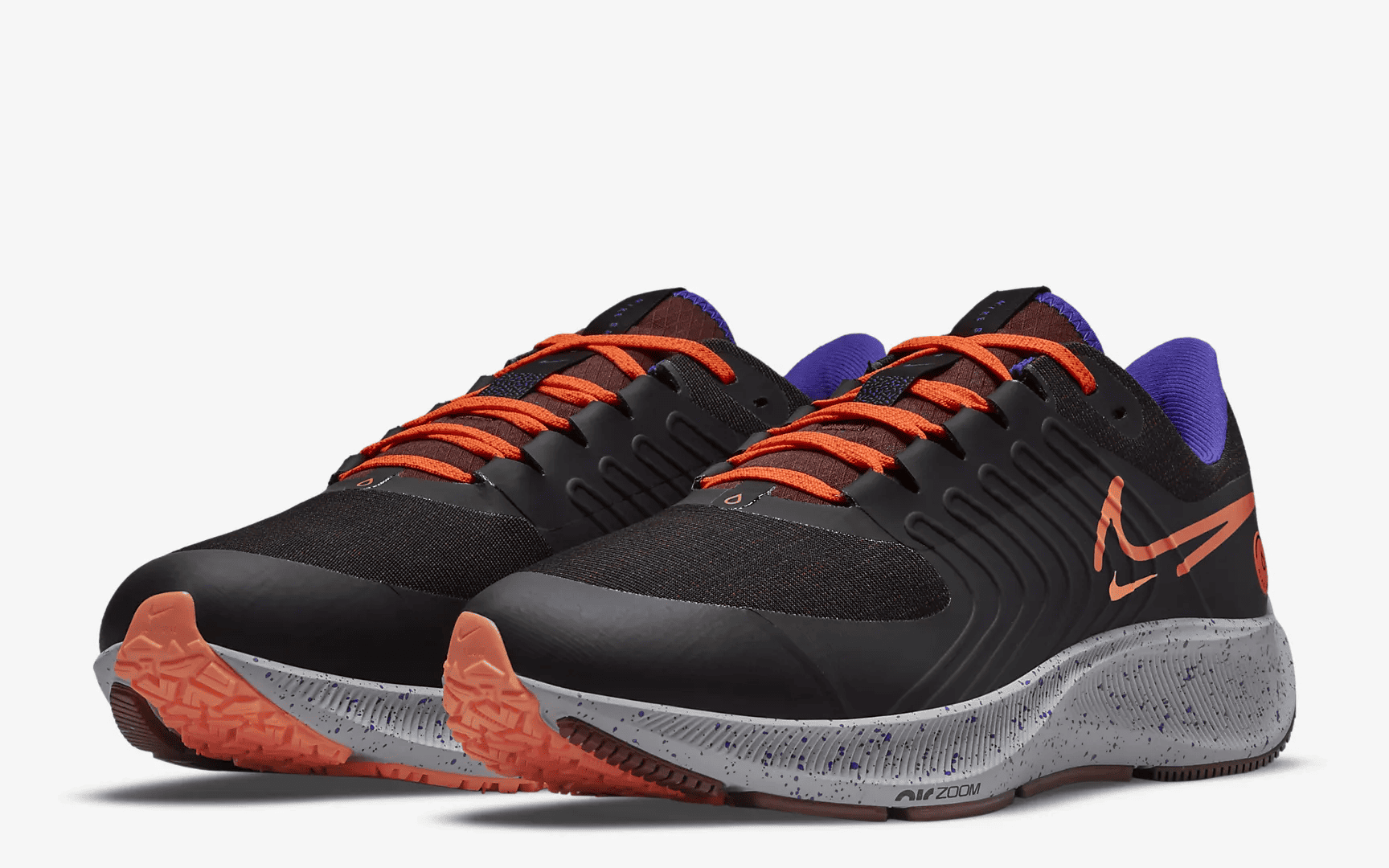 The Pegasus Shield is my favorite winter running shoe. Not only is it water resistant and windproof, but it's also insulated so it keeps your feet warm as well as dry. It runs very close to the feel of the regular Pegasus with a light, springy feeling—but it has the addition of extra grippy rubber treads that give you sure footing in slippery conditions. The Pegasus Shield makes for some of the best cold weather running gear that you can wear year round.
If you want a more high cushion model and also don't need a ton of extra grip, the GTX version of the Clifton is an excellent choice to get you through the slogs of winter. It's lightweight, and has a rocker which helps to smooth out your gait. Since it has Gore-Tex in the upper, it is also got a waterproof outsole and wind resistant so your feet will stay warm and dry.
Running Pants & Leggings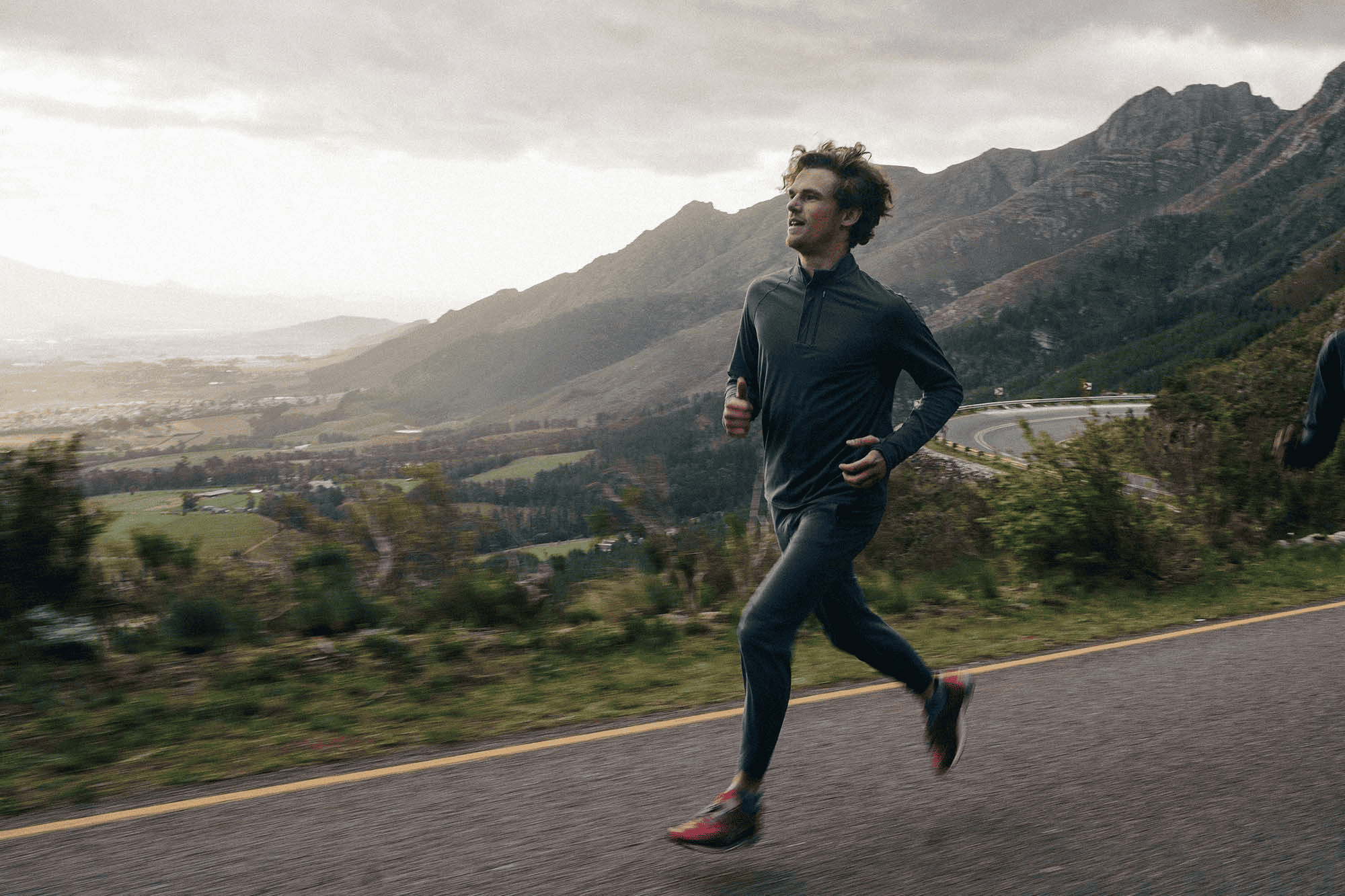 This affordable basic is great for winter runs. These leggings are fleece-lined for extra warmth but still super stretchy so they will move effortlessly with the body. They have a rear zip pocket where you can store some small essentials, and the fabric is even water resistant.
They also have a thick waistband which prevents them from falling down while you run.
These joggers are designed to take on the colder temps. Made from a thick, four-way-stretch fabric, they are super warm without being constricting. They also are moisture-wicking so it brings sweat and moisture away from the body. These pants also offer great storage with both a roomy back pocket and side pockets as well.
Long Sleeve Running Shirt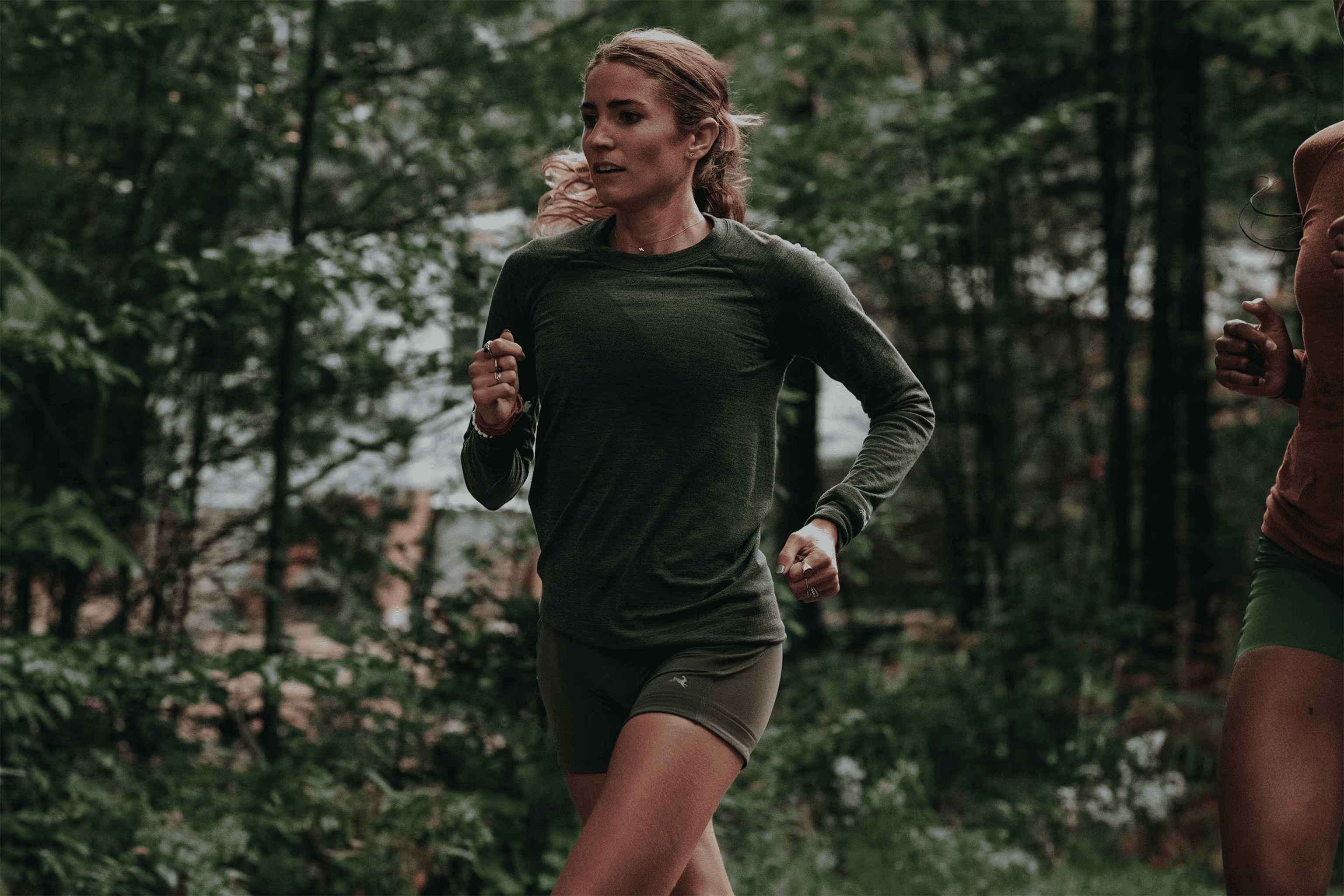 Super light, and soft to the touch, with extreme breathability – this Tracksmith top makes an excellent base layer and should be the core to your winter running clothes.
It is made with Smartwool merino wool, and has a seamless design which means that it helps prevent blistering, overheating, and chaffing.
It also has built-in ventilation which keeps you cool and dry, and a flattering fit which can be worn as a base layer or on it's own. It's the kind of shirt you can wear year-round.
$88.00 on Tracksmith.com for Women
$88.00 on Tracksmith.com for Men
Another excellent long sleeve, this top by Brooks is made for hitting the trails. It is also made from merino so it will keep your temperature regulated and your body dry. This long sleeve t-shirt has a particularly high cut which protects against irritation when wearing a top layer or vest, and thumb holes give it some hand coverage for when it's not quite cool enough for gloves. A great midlayer for all colder weather seasons.
$66.00 on Brooks.com for Women
Gaiter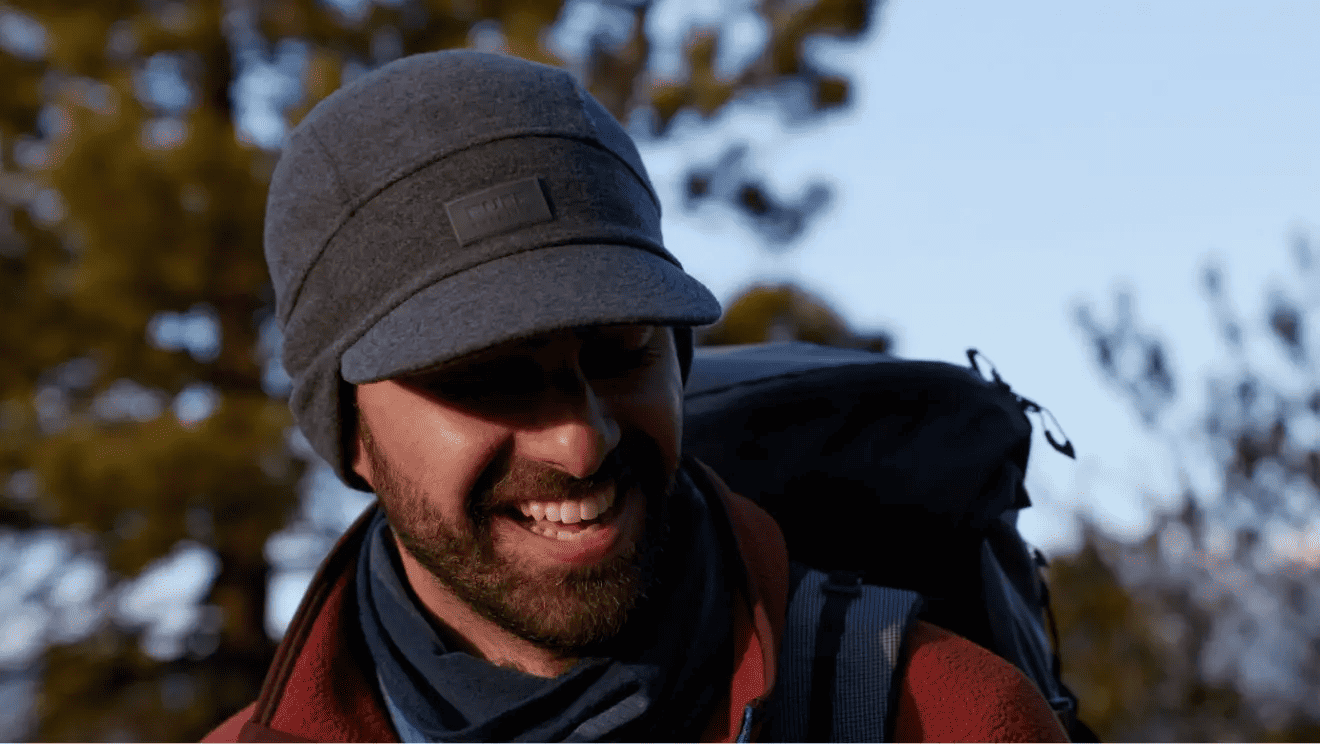 A Buff is one of the most versatile pieces you can own as a runner. It can be used as a gaiter, hat, headband, facemask, you name it. This one is made with merino wool, so it's great for winter, and will help wick away moisture if you get toasty. We love the merino wool as well because it reduce any chafing – especially important for a neck warmer that covers your face.
When it's super cold out, you may want to opt for something a bit heavier. This polar fleece gaiter can be cinched up to cover the face or just stay tight around the neck. It is also wind resistant so it gives you a bit more protection than the thinner, lighter buff.
Sunglasses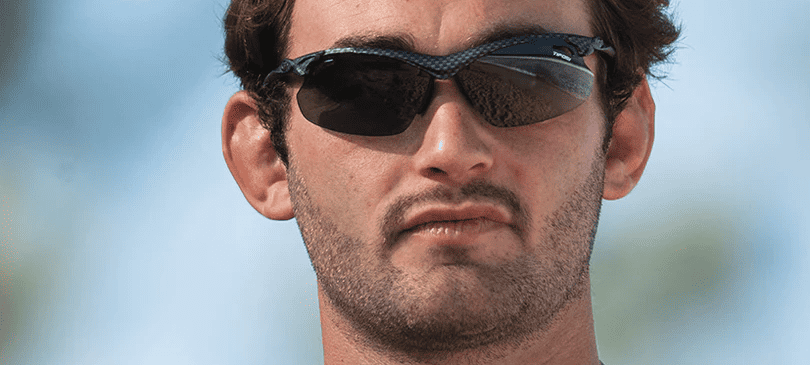 Lighting can change quickly in the winter, but these sunglasses can keep up. Made with Fototec lenses, they are designed to adjust to changing light conditions. They also have built-in ventilation so they won't fog up, and the rubber nose grips keep them comfortable and slip-free.
It's hard to go wrong with a pair of Goodr's. This aviator style is one of my favorites especially when running in the snow because they are polarized, lightweight, and the large lenses keep light from seeping in the sides. They also come in a ton of fun colors with even funkier names—and at only $35, they are a steal.
How to Dress With the Best Winter Running Gear
Still not sure exactly how to dress for the weather? We've got you covered. Check out our suggestions for different temperatures below.
With winter brings limited daylight hours. For our recommendations on headlamps and other running safety gear, check the best running safety gear.
What to wear in 50 degree weather
For most runners, temperatures in the 50's still feel pretty warm, and many people will still be opting for shorts over a long pant. The thing you most want to focus on at this temperature is the extremities—make sure that you have a thin glove on as the hands are one of the first things to get cold. You will also want to consider a hat—if a knit hat or beanie feels too warm, even a cap will help to keep in some of that heat.
On the top, consider a long sleeve, or if you prefer to layer, a short sleeve or tank with a light quarter zip on top—this combo makes it easy to adjust as you warm up. If it is raining you can also opt for a light rain jacket or windbreaker. Finally, I love a tall sock in 50° weather. It's not so much coverage that you overheat, but it helps to keep your ankles warm—and also keeps the mud-splattering to a minimum. 
What to wear in 40 degree weather
When it dips into the 40's it's going to start feeling a bit chilly. Now you will want to seriously consider opting for leggings or pants in lieu of shorts. You will also want to add a warmer hat or headband, thicker gloves, and definitely a gaiter to help keep your heat in. On top, you will want at least two layers—since wind can be biting and make a run feel even colder, I also like to wear a windproof jacket when temperatures get this low to prevent a sudden chill. You will also want to wear tall, warm socks, and start to consider a weatherproof shoe especially if you are going to be fighting some nasty precipitation.
What to wear when it's freezing
At 32° and below, you are officially running in the cold. This means you will want to prioritize your warmth and make sure that you don't have exposed skin besides your face. Opt for a warmer hat here—something knit or made with a tech fleece. You will also want warm insulated gloves and at least a thin gaiter for your neck. For pants, look for a thicker, fleece lined tight, or a jogger, and on top you will want a couple layers—at least two with one being a heavier jacket. When it's really cold, you may want one with some insulation at least at the core, and a hood to pop up for extra warmth when you need it. For the feet, look for a tall, thicker sock—merino wool is best—and opt for a waterproof shoe if you will be running through snow, slush, and mud.
FAQs About Cold Weather Running Gear
What is the best material for cold running?
While there is no one best material for cold weather running gear, one of the best is merino wool. This makes fabric temperature regulating but breathable, so you will be warm without overheating. It is also moisture-wicking, odor resistant, and durable. 
What is too cold to run outside?
This will really come down to the individual, but it's scientifically too cold to run if it is under 5°F. Below this, you are putting yourself at risk of injury.
What gear do I need for extreme cold?
For extreme cold you will want to have multiple layers, a thick hat and gloves, and probably an insulated jacket—down is best. You may also want to carry hand warmers with you as the hands are one of the first things to lose heat while running.