Plan for the best, prepare for the worst. When people talk about "running safety," they're often talking about a better stretch before a track workout or making sure you have properly fitting shoes. However, we want to talk about "runner safety" and the best products to keep you on your feet. Running is a unique activity because the better you become, the further you may end up from your initial destination – which isn't the case when you're stuck in the gym on the same stationary machines. While running can take you places you've never been before (which sounds romantic), it can also find you lost or feeling unsafe on an unknown trail or neighborhood. In service to safety, we've done some research on the best running safety gear. These are particularly worth your investment as you get closer to your half marathons and full marathon goals, when your training takes you further and further away from home.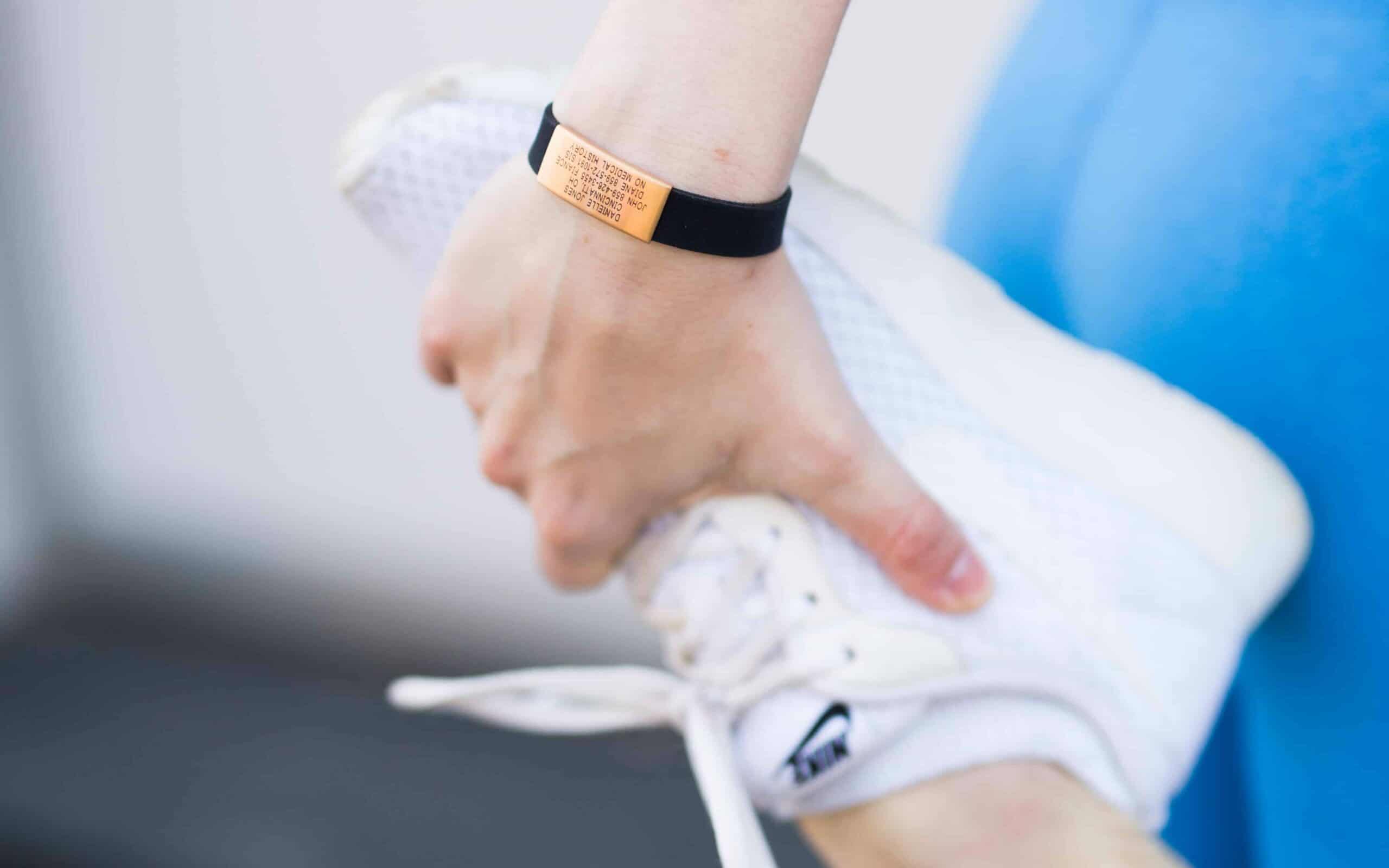 For Peace of Mind: ROAD iD
ROADiD, first and foremost, is the highest-rated safety band when it comes to comfort, fit, and design.
ROADiD is an investment in your peace of mind a thoughtful gift for a special runner in your life. The band lists all of your important medical information – from your name to past medical conditions, medications, allergies and emergency contacts – and is worn on the wrist where a medical first responder is most likely to check. This band should be a mandatory safety precaution, especially for those who run without smartwatches, phones, or wallets. But, even if you run with those IDs, consider that phones break, wallets get lost, and smartwatches run out of battery.
We love the ROADiD because it not only saves lives, but it also encourages and fuels adventure and provides peace of mind for you and your loved ones at home. The best-selling bands are the Stretch, the Sidekick, and the Apple Watch. Pick up your ROAD iD today for you or the runner you love.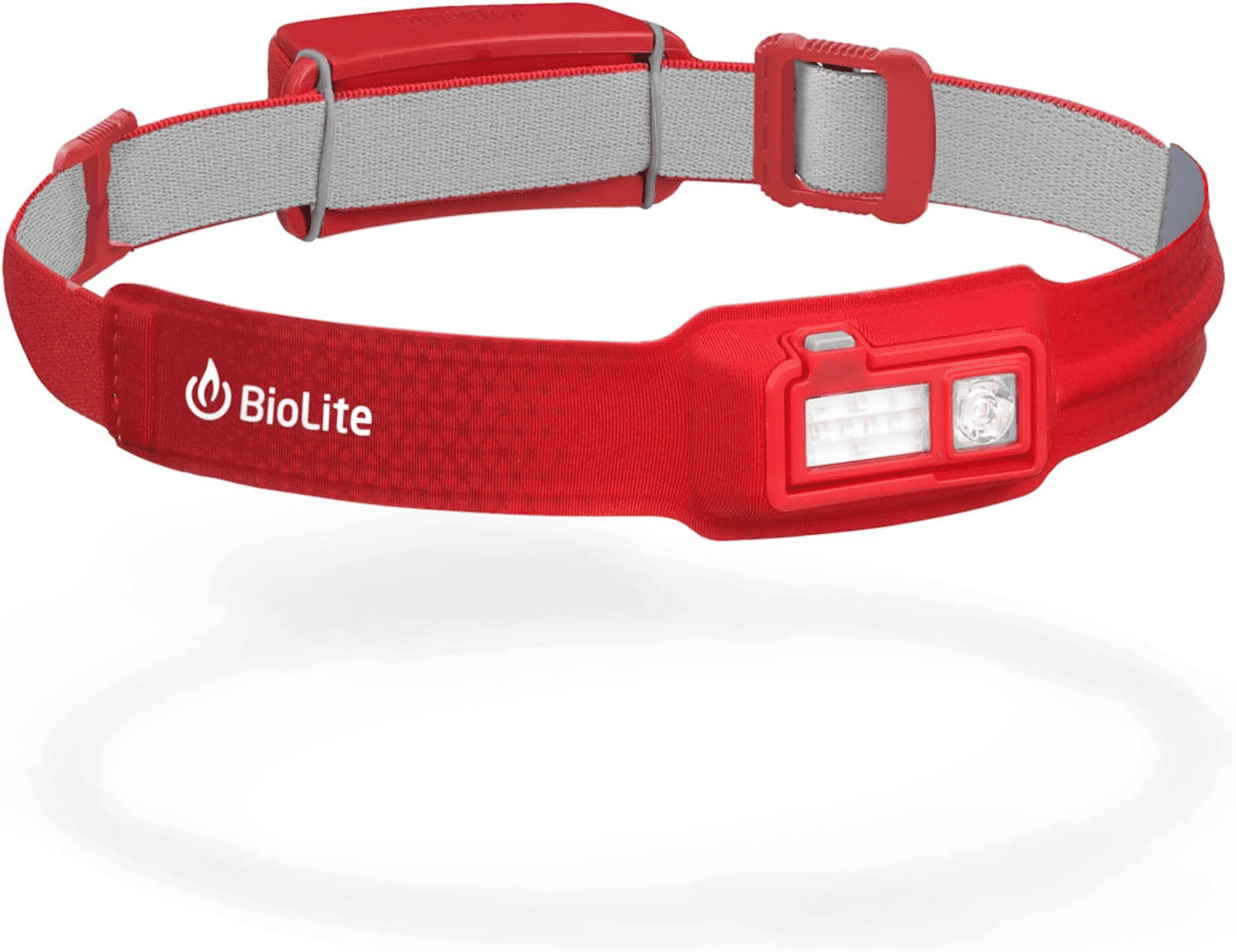 There's two parts to visibility – allowing you to see others and allowing others to see you. The BioLite Headlamp helps with the former.
As you increase the amount of miles you're running per week, any type of running lights are important. Inevitably, you will be running in low light conditions on the same path as cars, cyclists and other runners.
Some runners may prefer a headlamp that has a third strap running vertically on top of their head to prevent any risk of slipping (especially during wetter runs), but we've found the BioLite Headlamp 330 sits comfortably flat against most foreheads. The headlamp battery is rechargeable, so don't worry about traveling with a spare pack of AAA Duracells! The only downside is it doesn't have a rear light to signal to oncoming vehicles or runners. One of the best running safety gear for trail runners, early morning running, and night running! With close to 1,000 4.5-star Amazon reviews, this makes for a great option.
Related: The Best Trail Running Gear of 2023
If you're specifically looking for a headlamp that has LED lights, consider Amazon's choice of FANT.LUX LED Headlamp. The lumen brightness is the same (330 vs. 350 lumens) and both BioLite and FANT.LUX offer high visibility, we find the FANT.LUX LED product to be less designed for runners and all low light activity.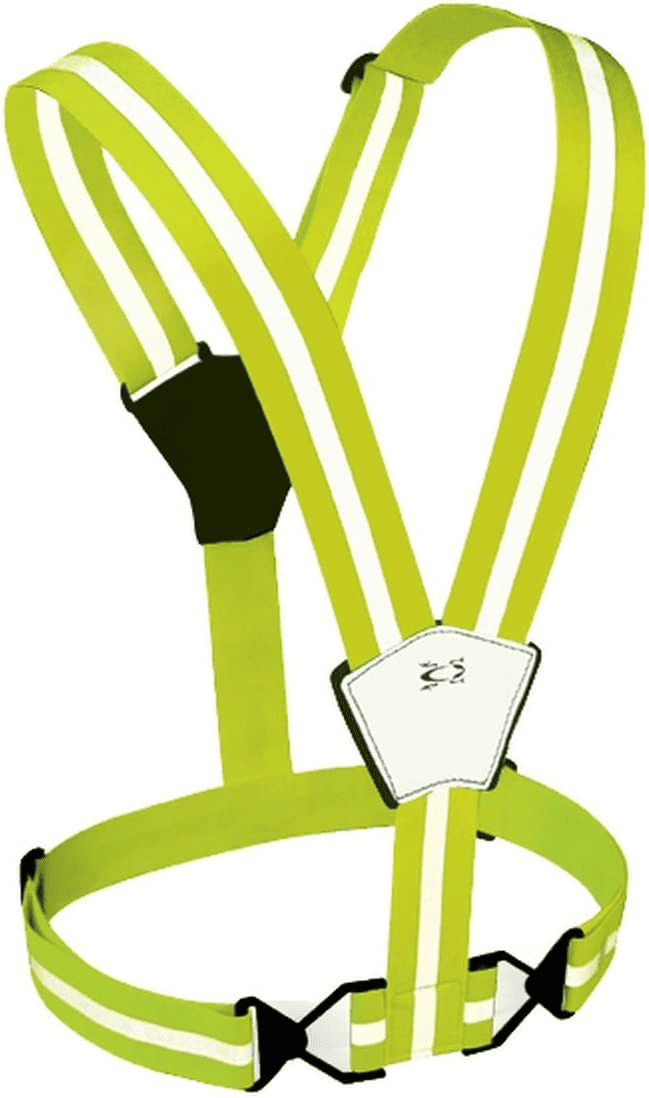 Now, for helping yourself be seen.
While it's important on trail runs to have 330 lumens guiding your way, when running through the streets of a big city—or even your local neighborhood at night—it's important that oncoming runners and cars can see you clearly. Think of this as a more sophisticated reflective running vest.
Though some runners like blinking lights, we prefer the Amphipod Xinglet. It's extremely lightweight, extremely visible, and not a pain to put on. When it comes to selecting running safety gear, you want to make sure it isn't a burden to get into and out of before a run – otherwise, you'll end up wearing less of it than you'd hoped. Any type of reflective vest will do, but this is the best running safety gear if you're running in the city. With close to 500 4.5-star reviews, we've found this to be one of the best reflective gear on the market today.
While we like the Amphipod Xinglet best, we've found the next best brand for reflective gear is Nathan. This reflective vest, reflective running hat, and reflective shoe laces for any style of running shoes are beloved by runners.
Both of these reflective options are flexible and adjustable and are meant to fit comfortably over any running jackets.
Related: The Best Trail Running Gear of 2023
For Scrapes, Cuts & Bruises: First Aid Kit
While it's not always practical to run with a first aid kit, if you do have access to a pocket or backpack to store keys, a wallet, and phone during your run, we recommend carrying some medical essentials.
While most runners won't need to travel with a pair of scissors and 100 feet of medical bandages, keeping essentials like bandaids and disinfectant wipes on you is wise, especially during technical runs on uneven or trail terrains.
Hydration is as vital a part of running as moving your legs. If you're running, you should be hydrating.
In years past, there have been runners who lose consciousness or suffer fatal injuries from lack of hydration while running in extreme heat. If you're headed out for a run in any temperature north of 60°F (15°C), have a hydration plan. A hydration vest like the CamelBak Ultra Pro gives access to 6L of fluids (202 fluid oz, or about 25 glasses). The best running safety gear for summer runs.
For Personal Safety When Running Alone: She's Birdie
While some of us have a running group or a few friends we call up when we want to log our weekly miles, on many occasions you may find yourself running alone. During these solo adventures, there are some best practices for picking running routes:stick to well-lit streets, run routes you know, and avoid running too far in one direction away from your starting point.
For those runners who deem themselves adventurous and have a hard time sticking to the same running routes each day, we recommend She's Birdie. It's a keyring device that, when activated, flashes a bright light (read: a disarming strobe light) and siren meant to deter or startle any impending threats. While it's a safety alarm designed for women by women, men shouldn't feel shy about investing in their own personal protective equipment. Some runners recommend carrying pepper spray for personal safety (one of the most recommended products is Sabre pepper gel, but its use requires a little more training.
While this is an article about running personal safety, it never hurts to be carrying the Birdie on your keychain at all times as a personal safety alarm.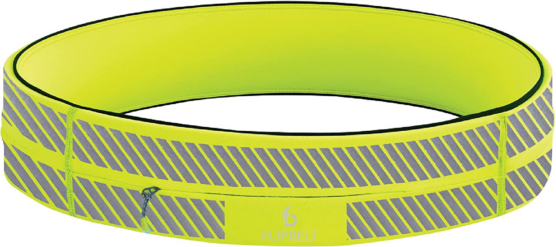 When running, it's important to have a place to hold your keys, wallet, phone, emergency, energy gels, and emergency medical supplies just in case. Some runners prefer an armband, but we've found over the years that holding belongings around the waist or on your back creates impedes running far less.
For years, we've been running in the Flipbelt. It has an elastic bungee to hold a keyring and enough space around a runner's waist to hold every belonging as well as a running water bottle. The water bottle is curved so that it rests softly around the waist of the runner.
To properly use the Flipbelt, place your belongings inside the belt while the fabric openings are faced outside and, when ready to run, flip the belt so the fabric openings are against your body so there's no chance for anything to fall out.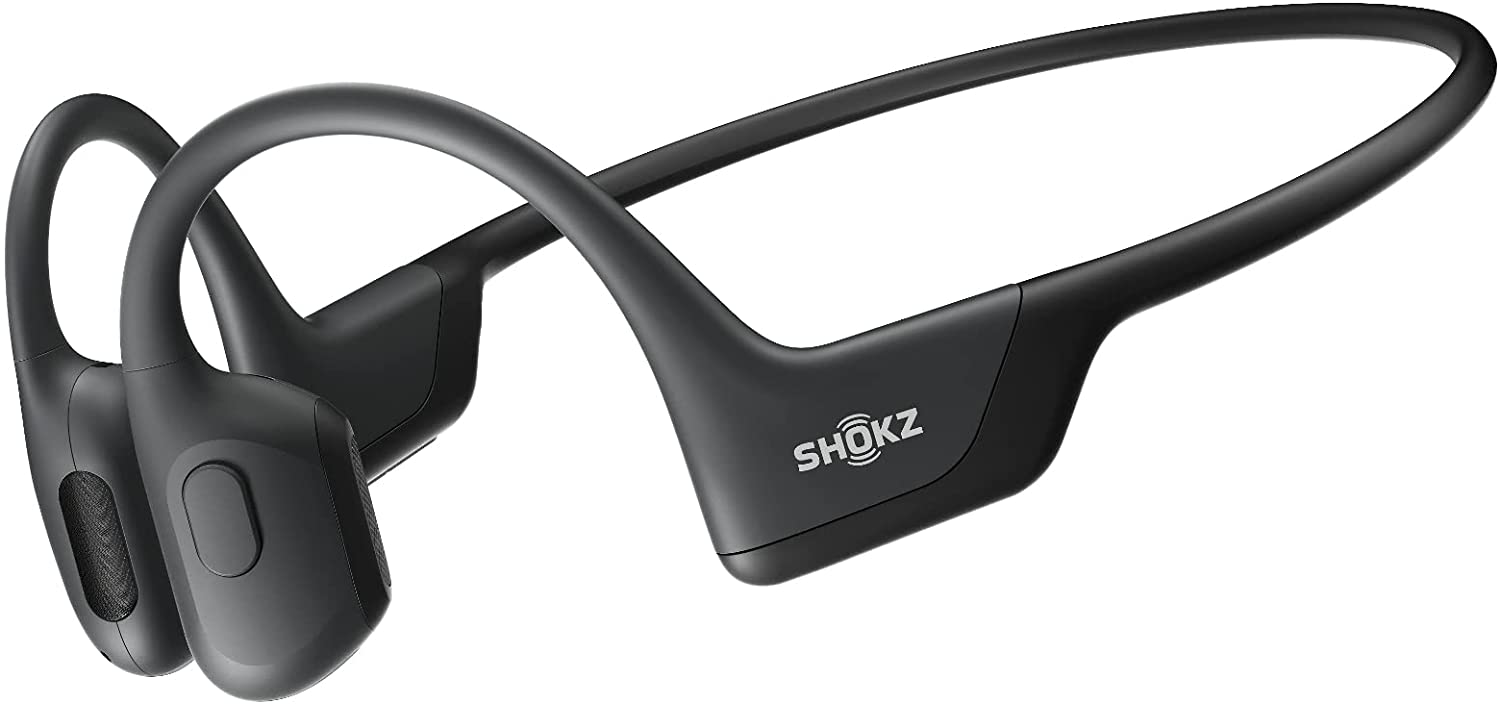 Many runners prefer to run with earbuds. Listening to music helps keep your mind occupied so you don't end up thinking (and overthinking) every decision you've ever made in your life. Personally, we run in Apple's Airpods. We started using them when they first came out and just keep replacing them. But, this is an article about running safety gear not what we run in. Shokz is a leader in the earbuds and headphones industry because they produce the OpenRun Pro and a variety of other bone conduction headphones. That means that the headphones are actually bud-free and instead work through vibrating the cheekbones.
Why this makes sense? Your ears actually stay open to all outside noise. The OpenRun Pro is the latest version from Shokz and has 10-hours of battery life and snug fit for all types of activity.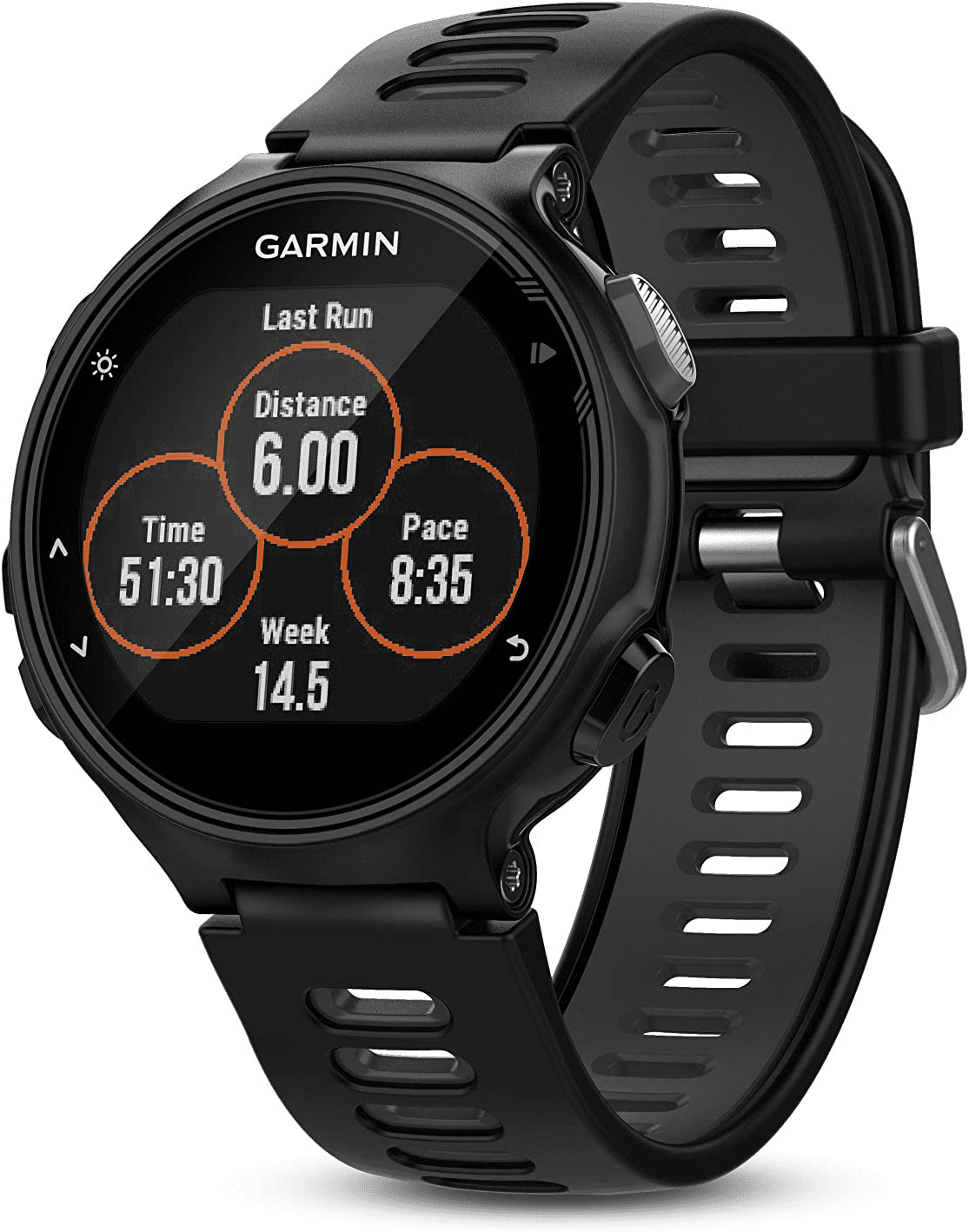 If you're like us, sometimes you put on the latest Taylor Swift album and run into one direction without real consideration of how you might get back. At certain moments, streets and landmarks look familiar and the very next, they look foreign. Investing into any running watch we'd say is a requirement not just for better insight into your training but also safety. Garmin Forerunner, COROS Pace 2, as well as the Apple Watch (which is compatible with your ROADiD) are all great options for any half marathon runner. This is both a top piece of running safety gear and training gear.
Runner Safety Best Practices
Products are just tools: they help amplify actions. At its essence, safety starts with the best decision making. Before every run, consider these simple best practices:
Try to run during the daylight. If you live in a region that gets dark early, or if you run during a time of the year when there isn't daylight after 5:00 pm, aim to run in well-lit areas.
Stay on the sidewalk or designated trails.
If running in the road, run in the direction of oncoming vehicles.
Always carry a cell phone, form of identification (like a ROAD iD), cash, and a credit card, and carry first aid if you run on uneven terrain.
Share your location with your spouse, friend, or neighbor through the ROAD iD app or Find My iPhone app.
Try to stick to known routes, streets, and neighborhoods.
For additional physical protection, consider carrying the Birdie or pepper spray.
If you use a run tracker like Strava, always begin tracking your runs 100 to 500 feet away from your home.
Be smart about headphone use. If you're feeling unsafe, turn off any music.
It can be a good idea to invest in self defense lessons.
It's also wise to consider running safety in different temperatures.