Sunday, May 14, 2023 • Mooresville, NC • Course Map

Note: A virtual option is available for this race. Registration details are included below.
Set for its fourth annual running along the looping roads and tree-shaded trails of North Carolina's Lake Norman, which lies just a short drive north of the state's biggest city and is also home to the Trump National Golf Club Charlotte, this half marathon offers a fast and largely flat route with plenty of scenery and greenery.
The race follows an out-and-back route that begins in front of the golf course, along Meeting House Circle. From there, you'll first run around the circle near the clubhouse, and then head out onto Brawley School Road.
Next, you'll run north along Brawley School Road for nearly the next two miles, until you reach the first turnaround point at the firehouse for the Lake Norman volunteer fire department. After running all the way around the building, you'll then head back along the route you've just run.
Keep running south along the road, all the way to The Point traffic circle, and then you'll keep running south into the neighborhoods where NASCAR drivers live. The race will then unfold along a few out-and-back stretches in the neighborhoods as well as some looping sections, before turning back onto Brawley School Road.
Once you've run the last loop at the edge of the route, you'll make your way north back to the golf course, to the finish line at Vestal Drive.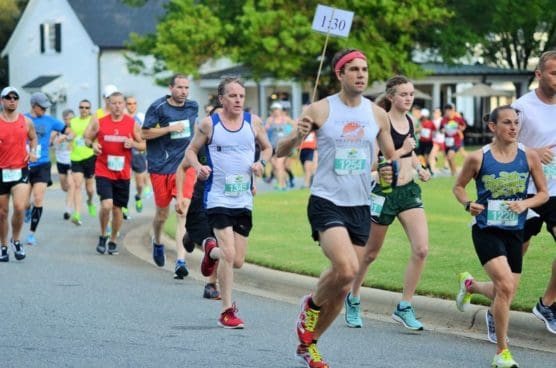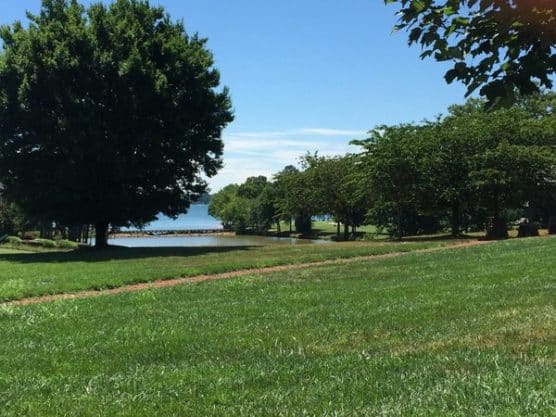 Runners at the start of last year's Lake Norman Half Marathon and some views of the route you'll run at the race. (Photos courtesy Queen City Timing)
Race Weather & Climate
Nestled along the shoreline of Lake Norman, just north of Charlotte in western North Carolina, Mooresville typically sees cool to mild temperatures and its fourth-driest month of the year in May.
May 14 average low temp: 50ºF
May 14 average high temp: 75ºF
Past Results
Course Map
See the race route map for the Lake Norman Half Marathon here.
Starting Time
Course Time Limit
3 hours
Fees
$70 – $80 for the half marathon
$50 for the virtual half marathon
Registration
To reserve your spot in the 2023 running of Mooresville's Lake Norman Half Marathon or 5K race, register online at RunSignUp.com here.

Official Race Website
Reviews & Comments
Ever run in the Lake Norman Half Marathon? Share your impressions here, as well as anything you learned about the race that you think other runners/walkers should know.