Saturday, October 7, 2023 • Moab, UT • Course Map
Rising red canyons and stunning rock formations provide the backdrop for Moab's Arches Half Marathon (known as The Other Half through 2018), a loop half marathon run each fall in Moab, Utah. Organized for the first time in 2004 as a fall companion to the popular spring Canyonlands Half Marathon, the Arches Half Marathon has grown into a popular event in its own right, drawing more than 840 runners at its fall 2016 running.
Recommended Race: The Salt Lake City Marathon & Half Marathon on April 22, 2023
The race starts just outside of Moab in the Behind the Rocks Wilderness Study Area, where Navajo sandstone domes and natural fins can be seen through much of the course. The course is run entirely on slickrock and sandwashes, a departure from the road course up to 2020.
Starting at an elevation of 5300 ft, the course takes runners on a loop along the Behind the Rocks Trail, where they'll be surrounded by gorgeous views of the surrounding terrain, including prominent landmarks like the rock fins and the La Sal Mountains.
After the race, take a sunset drive through the nearby Arches National Park to experience breathtaking views of the natural sandstone arches and unusual rock formations. A one-mile uphill hike is worth the effort to get an up-close look at one of Utah's most famous icons, the spectacular Delicate Arch.
The spectacular scenery here may look familiar to movie buffs — the area is a favorite of Hollywood, as Mission Impossible, Austin Powers, and Breakdown are just a few of the movies that have used the backdrop through which the road version of the Arches Half Marathon was run.
Walkers may participate, as long as they can cross the finish line within the race's 3 1/2 hour course time limit — after then, support on the course for participants will no longer be available.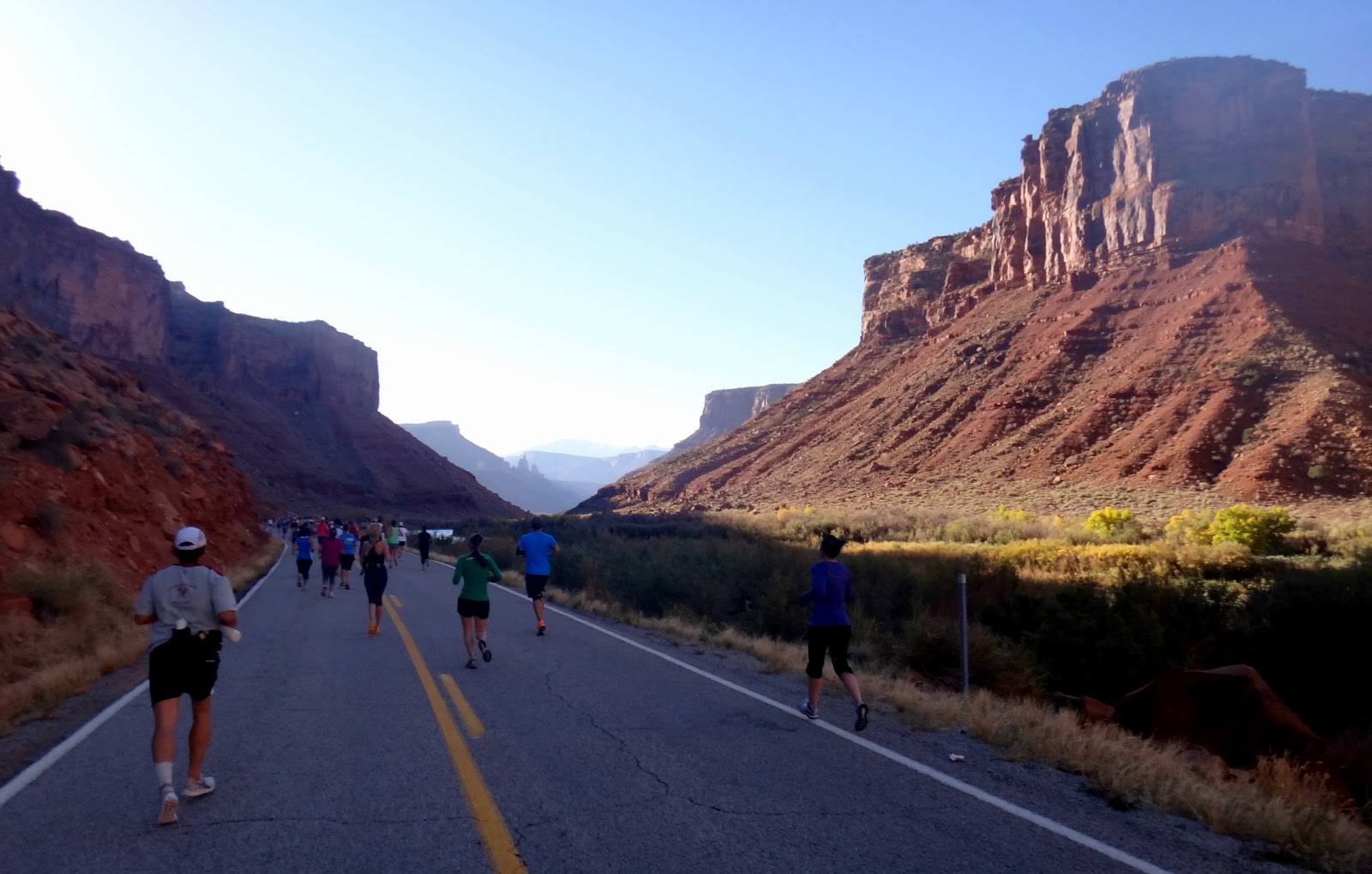 Race Weather & Climate
Located just south of Arches National Park in southeastern Utah, Moab typically experiences mild to cool weather in October, and relatively dry weather year-round (though October is its wettest month on average). In October, temperatures average between 41°F and 75°F, while rainfall totals average just over 1.2 inches for the month.
On race day (Oct. 7), the average low is 41ºF and the average high is 76ºF.
Arches Past Results
Course Map
See the race route map for the Arches Half Marathon here.
Starting Time
7:30 AM – full marathon
8:00 AM – half marathon
9:00 AM – 15K
Arches Marathon Fees
$90 for the half marathon
$110 and up for the full marathon
$200 and up for the full marathon relay
$75 and up for the 15K
price subject to increase as race day approaches
Arches Marathon Registration
To reserve your spot in the 2023 running of the Arches Half Marathon, register online at UltraSignUp.com here.
Arches Marathon Official Race Website
madmooseevents.com/archeshalfmarathon