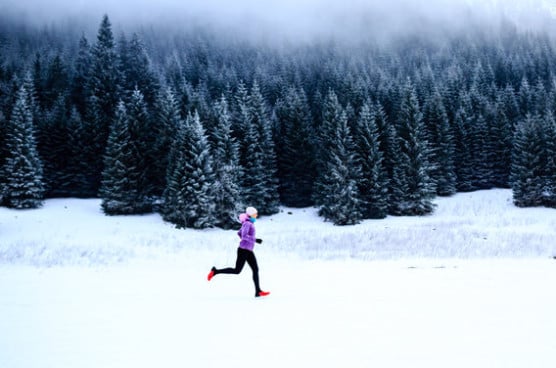 'Tis the season for anything and everything holiday related. Your running playlist is no exclusion. If you've been looking for upbeat and motivating songs to listen to while running, look no further. Some are new and top 40 while others are classic.
Let's be honest: many holiday songs are slower or don't get us excited and motivated to run. We've added a mixture of upbeat songs to get you excited, motivated and ready to run. Plus you can listen to different music then you constantly hear in department stores or shopping.
Here are 30 songs to add to your running playlist:
1) "Merry Christmas, Happy Holidays" (*NSYNC)
2) "Run, Run Rudolph" (Kelly Clarkson)
3) "All I Want For Christmas Is You" (Mariah Carey)
4) "Last Christmas" (Cascada)
5) "Under the Stars" (Jon Legend)
6) "White Christmas" (Guns and Roses)
7) "Sleigh Ride" (Karman)
8) "Snow Snow Snow" (Band of Merrymakers)
9) "Wizards in Winter" (Trans Siberian Orchestra)
10) "Carol of the Bells" (Trans Siberian Orchestra)
11) "Up on the House Top" (Jackson 5)
12) "Father Christmas" (The Kinks)
13) "Christmas Lights" (Coldplay)
14) "Dirt Sledding" (The Killers)
15) "Shake Up Christmas" (Train)
16) "Joy to the World" (Pentonix)
17) "Christmas the Whole Year Round" (Sabrina Carpenter)
18) "Christmas Time" (Christina Aguilera)
19) "Every Day's Like Christmas" (Kylie Minogue)
20) "I Heard the Bells on Christmas" (Echosmith)
21) "Santa Claus is Coming to Town" (Justin Beiber)
22) "Jingle Bell Rock" (Rascal Flatts)
23) "Merry Christmas Everybody" (Train)
24) "Snow in California" (Ariana Grande)
25) "12 Days of Christmas" (Relient K)
26) "Little Saint Nick" (The Beach Boys)
27) "What Christmas Means to Me" (Stevie Wonder)
28) "Dear Santa" (Girls' Generation)
29) "Step Into Christmas" (Elton Jon)
30) "I Saw Mommy Kissing Santa Claus" (Twisted Sister)
Do you have a favorite running holiday song that we missed? Let us know in the comments below!