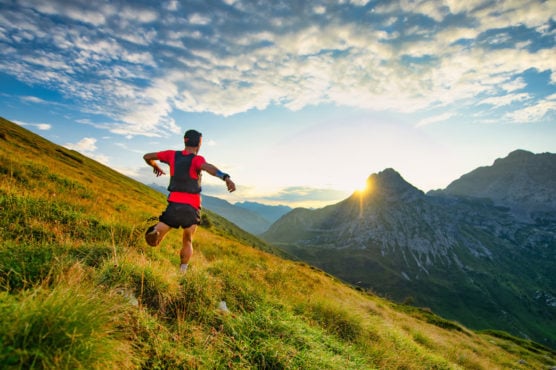 Timed to coincide with the day you'd cross the finish line if you were running the Swiss Alps 100 Endurance Run in person, this virtual event will have you run an average of 8.6 kilometers (about 5.3 miles) every day between May 16 and August 16.
"You can either walk, run, jog, or sprint outdoors on trails, street, sidewalks or indoors on your treadmill," the organizers note, adding that they're fine if you run 20 kilometers one day and two the next — as long as you get in 800K by the last day.
All through the month of May, you can participate in this virtual race, which will organize all who sign up into two teams based on everyone's location (if you're west of the Mississippi, you're on the "West Coast" team).
Choose among a 50K, half marathon or 10K, and run any day between May 1 – 31; note that you can spread it over two days, but the clock doesn't stop if you do.
Who's better at social distancing than a sasquatch? You can choose among a full marathon, half marathon, 10K or 5K for this virtual race, proceeds from which will support food banks across the U.S.
Technically speaking, this isn't a virtual race — you need to run it in person along the route the organizers (Virginia-based Old Dominion Racing).
But it is an interesting twist on how we're all adapting to running without races; you run the routes laid out along trails in Virginia the organizers specify (for May, you'll run the Fairfax County Cross County Trail, for example). But you run it at the day and time you choose between May 1 – 31, and send in your results.
A 1000K race — you read that right, a thousand kilometers — from the state's southwestern tip all the way to its northeastern corner, starting in May and going all the way through August. (Here's a map of the route.)
The plan is for all entrants to share their daily mileage with the race organizers, and get an education on Tennessee history, geology and points of interest you pass along the way. Sign up here.
Run a 5K between May 1 and May 5, anywhere you like, and share it on Instagram and Facebook with the hashtag #the555run. Sign up for the race for a small fee (5 euros, or just over $5) and know that it helps support Doctors Without Borders.
The in-person race can't be run this year, so Texas's Irving Marathon is hosting this virtual half marathon, 10K and 5K — they'll send you a technical race shirt, race bib and finisher's medal, as long as you complete it by Saturday, May 30.