Sunday, March 3, 2024 • Little Rock, AR • Course Map
More than 10,000 runners, walkers and wheelchair competitors are set to trek through the downtown city streets and neighborhoods of Arkansas' capital city at the annual Little Rock Marathon, Half Marathon and 10K, which also features a 5K on Saturday.
With its large field, occasionally hilly course that takes runners across the Arkansas River and runs through both the cities of Little Rock and North Little Rock and more than 20,000 spectators lining the streets to cheer the runners on, the race has become perhaps the state's most popular road race running event.
The out-and-back course for the half-marathon race starts downtown and finishes not far from the banks of the Arkansas River, within a short drive from the Clinton Presidential Library, along Main Street.
From the starting line on La Harpe Avenue, the course winds north toward North Little Rock, taking runners along Riverfront Drive and surrounding roads for the first several miles before heading back into downtown Little Rock.
The course features longer straightaway sections of several blocks each, including along 6th Street, where runners will run past the William J. Clinton Presidential Library and continue along 6th Street before turning around and heading west toward the Macarthur Park Historic District. before heading past the Governor's Mansion and Philander Smith College.
Once the course makes its way past Philander, runners are hitting the last couple of miles of the race, which takes them along Chester Street and La Harpe Boulevard for the finish on the riverfront.
The scheduled starting times for the race are 7:55 AM for wheelchair and hand cycle competitors, followed by the 8:00 AM start for runners and walkers — the race is open to both, provided they can finish within the 4-hour time limit.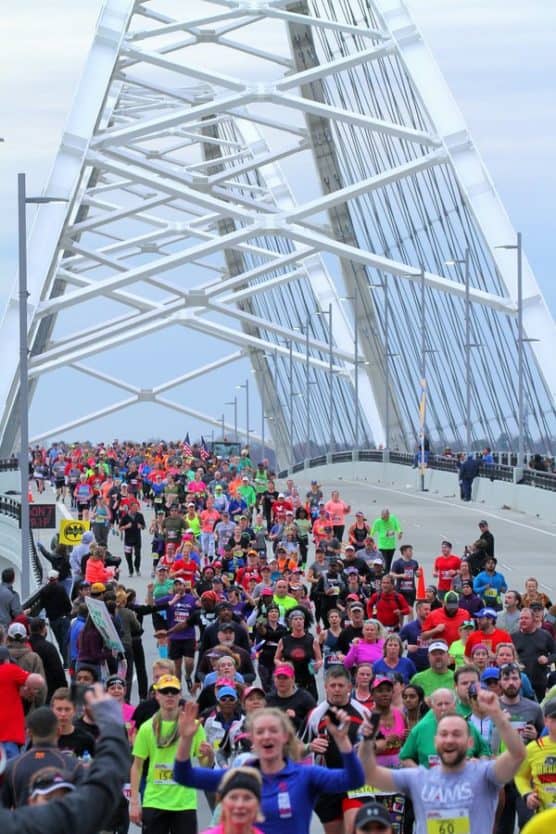 All photos courtesy Little Rock Marathon
Race Weather & Climate
Little Rock normally experiences cool, crisp (and sometimes cold) weather in the early spring, with temperatures averaging between the low 40s and the low 60s in March. The city also sees ample rainfall, averaging nearly 5 inches of precipitation for the month.
Little Rock Half Marathon Past Results
Little Rock Half Marathon Course Map
See the race route map for the Little Rock Half Marathon here.
Starting Time
7:55 AM – wheelchair, hand crank start
8:00 AM – half marathon, full marathon
Fees
$125 and up – half marathon
$140 and up – full marathon
$65 and up – 10K
$45 and up – 5K
Little Rock Half Marathon Registration
To sign up for the 2024 running of the Little Rock Marathon, Half Marathon, 10K or 5K race, register online at RunSignUp.com here.
Little Rock Half Marathon Official Race Website