Where has the year gone? It seems like just yesterday we were sitting down and writing our "2022 New Year's Resolutions" to lose weight, read a book, and get more sleep. Over three hundred days later, we're getting less sleep than ever and we promise we're about to start reading The Da Vinci code, we just have to be in the "mood." But, all is not lost! With pumpkin spice lattes and string lighting, it's the perfect time to run a holiday half marathon. What is a holiday half marathon, exactly? Imagine five hundred runners, dressed as Santa Claus, running over thirteen miles. We're here to list the best holiday half marathons for you to run this December.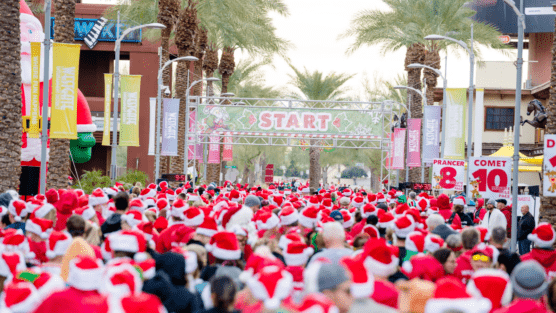 The Santa Hustle Race Series is the real deal holiday half marathon. There are more than 9 locations for Santa Hustle races, most of which are half marathons with a 5K as well (depending on how strong your legs are feeling after eating all Thanksgiving week). Santa Hustle races are also amazing races for the entire family – most of them feature a Kid's Dash for…less experienced…runners. If you are looking for a way to jumpstart your holiday season, and Mariah Carey's All I Want For Christmas in the grocery store isn't doing it for you, this race is made for you. The race has festive music, outrageous holiday decorations, and thousands of runners dressed like Santa. As a reader, you can get $5 off your registration with the code HALF5.
Chicago, IL on December 3, 2022
Nashville, TN on December 4, 2022
Atlantic City, NJ on December 11, 2022
Roseville, CA on December 11, 2022
Sevierville, TN on December 11, 2022
Atlanta, GA on December 18, 2022
Galveston, TX on December 18, 2022
Glendale, AZ on December 18, 2022
Indianapolis, IN on December 18, 2022
Where: Oxnard, CA
When: December 11, 2022
With a tagline like "Festive Fun for the Whole Family," Santa to Sea is living up to their promise with a half marathon, ¼ marathon, 5K, Kids 1K, and a Diaper Dash. The Diaper Dash is a 10-foot crawling section which, no matter how badly you'd like to enter as an adult, you are not allowed no matter how attractive the finisher medal is. The race takes runners on a tour of Oxnard's city streets which starts at a giant Santa holiday display in Nye Park and finishes at the Channel Islands Harbor. The race is mostly flat and fast, but don't worry about trying to PR if you're also attempting to compete in the holiday costume contest.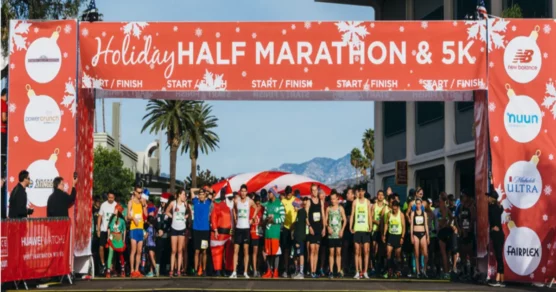 Where: Pomona, CA
When: December 11, 2022
Similar to Santa to the Sea, the Holiday Half Marathon has an assortment of race distances for the whole family to participate. If you're not up to half marathon this year, sign up for the 10K, 5K, or Penguin Waddle Kids Run (no penguins will be participating in the run). The starting line of the race is in the Fairplex, 30 miles east of downtown Los Angeles, and the course is an out-and-back loop that takes runners around the Puddingstone Reservoir, Brackett Field Airport and Mountain Meadows Golf course. The course has been described as hilly and challenging.
Where: Raleigh, NC
When: December 3, 2022
If you're in Raleigh and not interested in sweating into your full Santa costume this year, consider the Raleigh Holiday Half Marathon. A beautifully scenic, peaceful run through a series of parks, creeks, and residential areas that make up the Crabtree Creek Greenway, a 16-mile long biking, walking, and running trail in the Raleigh suburbs. The race is capped at 750 runners and spots go quickly.
Where: Helen, GA
When: December 10, 2022
If you're interested in experimenting with trail running, the Helen Holiday Trail Half Marathon is a great one to start with. The trail is tucked away in the Georgia Mountains in a small town that was refashioned into a Bavarian-style tourist destination to attract thousands of visitors for its Oktoberfest festival. The race runs through Unicoi State Park, a 1,050-acre park, and will lead you through meadows, streams, and through the forest within the park which should feature the reds, golds, and yellows of the fall season in Georgia.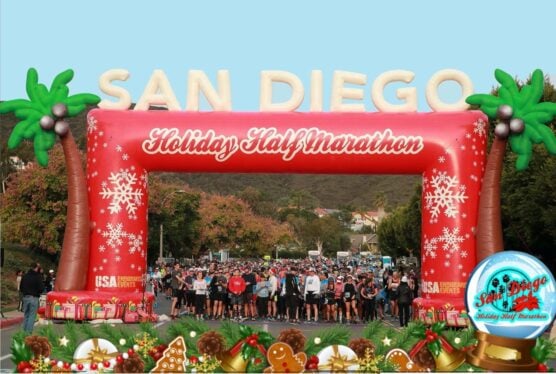 Where: San Diego, CA
When: December 17, 2022
If you're a frequent listener of holiday songs, maybe you'll be familiar with the line – dashing through the snow. News flash, whoever wrote that song wasn't living in San Diego. The average temperature in December in Southern California is around 60° F. No less! This is a great half marathon to run a personal best right – after the first mile, the entire course is downhill. With a net drop of 714 feet and a point-to-point course that runs along the Pacific Ocean, this is a must run event to finish your year.

Where: Madeira Beach, FL
When: December 11, 2022
The Florida Holiday Halfathon takes runners along the flat shoreline of the Gulf of Mexico on a point-to-point route from Madeira Beach all the way up to Taylor Park. The course gives runners access to long stretches of beach as well as a run along Florida's Pinellas Trail, one of Florida's most popular and unique urban pathways. The race is great for walkers as well!
–
This race was produced in partnership with Santa Hustle Race Series.