The perfect running shoes are a runner's best friend. 
However, finding the perfect shoes is tougher than it seems. 
Factor in types of shoes designed for running styles, trying to figure out why the heck a shoe would need a carbon plate, and how many hundreds of options and brands there are available, it's easy to become overwhelmed with selecting the shoe for you. Fear not.
Here's everything you need to know about the best long-distance running shoes that are currently available on the market. 
This list will help you find the best pair of shoes every step of the way.
Quicklook: Best Long Distance Running Shoes for Half Marathon Training
6 Best Long Distance Running Shoes Options
Let's explore the best long-distance running shoe options.
Best Overall:
Nike Pegasus 39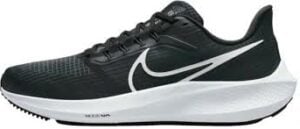 The Nike Pegasus is our top choice for the best all-around half marathon training shoes for men and women. The Nike Pegasus is on its 39th version and has held its dominance in the running world amongst both elite athletes and weekend warriors alike because of its structural support and seamless fit. Nike even produced a little mini-documentary about the history of the shoe and its legacy as a "workhorse" as it can handle both high mileage and cross-training with ease. 
At $130, the versatility and price of this shoe is hard to compete with. There's a lot you can say about the technical engineering of this shoe like the fact that it went from Cushlon foam to React, but here's the basics:
Top Running Shoe of 2022 by Runner's World

One of the Best Running Shoes of 2022 by Fleet Feet

One of the 10 Best Daily Trainers by Believe In The Run

Best Overall Shoe by RunRepeat

Best Running Shoe for Speed by Sports Illustrated 
Best For Lightweight Cushioning:
Hoka Mach 5
While HOKA was originally perceived as a brand for ultramarathoners and trail runners, in the last few years HOKA has released new models that have been embraced by the walking and running communities alike. The Mach 5 is incredibly lightweight (8.2 oz compared to the Nike Pegasus 8.8 oz) and has a high-rebound foam for efficient energy return. If you're looking for the smoothest of runs for both long-runs and speed work, Hoka Mach 5 may be for you.
Best for Uptempo Runs by Runner's World

One of the 10 Best Daily Trainers by Believe In The Run

One of the Best Performance Trainers by Six Minute Mile
Best For Durability:
New Balance Fresh Foam 1080 v12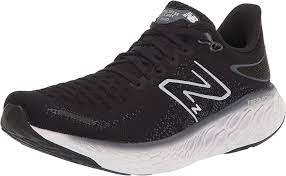 New Balance's latest version of the Fresh Foam shoe adds another millimeter of soft foam to make the shoe more forgiving. The shoe has also been modified from previous versions to make a stretchier forefoot for runners with wide feet. While some reviewers describe the shoe as lightweight, the shoe is 9.5 oz which makes it one of the heavier (and hence, durable) shoes on our list.
Most Versatile Running Shoe of 2022 by Runner's Word

One of the Best Running Shoes of 2022 by Fleet Feet

One of the 10 Best Daily Trainers by Believe In The Run
Best for Everyday Training:
Brooks Ghost 14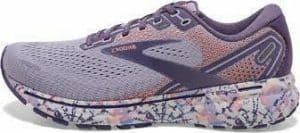 The Brooks Ghost is one of the most popular running sneakers amongst runners. More marathon runners wear Brooks than any other brand. Weighing in at 10.1 oz, the Ghost is a neutral model cushioned shoe for everyday running and has been called Brooks "workhorse." This version of the Ghost also received a climate-conscious makeover as Brooks transitioned over to sustainable manufacturing and recycling used shoes.
One of the Best Running Shoe of 2022 by Runner's Word

One of Seven Best Running Shoes of 2022 by RunRepeat

One of the Best Running Shoes of 2022 by Fleet Feet

One of 9 Best Training Shoes for Beginners by Believe in the Run
Best Budget:
Brooks Launch 9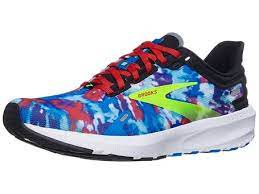 When searching for a budget running shoe, most will use a lower-quality foam underfoot to keep the price low. But the Launch 9 uses one of Brooks highest quality foams and in this version, they add 2 millimeters in padding from the Launch 8. It's a very high quality everyday trainer for runners on a budget. The biggest drawback is the Launch 9 run narrow and may make your feet feel hot if running in warm temperatures.
Best Running Shoe of 2022 by GearJunkie
Best for Racing:
Nike Alphafly NEXT% 2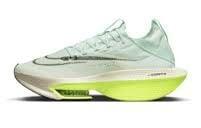 If these shoes look familiar, it's because they were worn by Eliud Kipchoge during his most recent Berlin Marathon where he broke his own world record and ran a 2:01:09. 
For clarity, that's 4 minutes and 37 seconds per mile for 26.2 miles.
The Alphafly NEXT% 2 are for more serious racers. They were almost banned from professional marathon racing out of concern they gave too unfair an advantage to runners. The shoe offers a tremendous energy return meaning your legs can sustain running at higher speeds for longer.
The downside is that runners shouldn't be training in these shoes daily so paying $275 for a pair of racing shoes isn't the right decision for everyone.
What Are Long Distance Running Shoes?
Long-distance running shoes are designed to deliver improved support and comfort on long runs. Marathon shoes provide great cushioning to reduce shock while providing a smooth glide. 
In contrast, other types of running shoes have a flatter build that is more suitable on tracks or while sprinting. The best long-distance running shoes have curved soles to maximize energy returns, leading to more endurance and less leg fatigue.
What To Consider With Long Distance Running Shoes
There are various elements to consider when looking for the best long-distance running shoes. Let's take a look at each one more closely.
1) Comfortable Uppers
The upper portion of long-distance running shoes is a critical component. With a plush, breathable upper section, runners' comfort levels will increase along the way. 
Additional padding around the tongue area and the heel provides crucial softness that is needed to endure half and full marathons. Conversely, tight or stiff uppers can quickly increase fatigue and discomfort on the upper foot as well as the lower ankle region.
2) Wide Toe Box
A wide toe box provides additional comfort that is essential for long-distance running. As such, the best long-distance running shoes have generous toe room. 
This feature reduces friction while allowing for a much more comfortable and smoother glide. A wide toe box is ideal for people with wide feet. Nevertheless, runners with narrow feet can also benefit from ample toe room.
3) Thick Foam Midsole
Cushioning is a key component of long-distance running. After all, running 10 to 20 miles can put quite a strain on the legs. 
Thus, a thick foam midsole can reduce impact, thereby increasing endurance. Securing as much cushioning as possible between your feet and the ground is important. Shoes with gel inserts greatly reduce the shock along the way.
4) Performance
Shoe performance is just as important as a runner's training and fitness levels. For instance, comfortable and lightweight shoes enhance a runner's endurance and speed. In contrast, heavy and bulky shoes can greatly limit a runner's overall performance. 
Runners must also consider the construction of running shoes. Sturdy yet comfortable shoes prevent ankle rolling while providing stability with each stride. 
However, stiff shoes with little cushioning, such as the build of hiking boots, can quickly wear down even the best of runners. The best long-distance running shoes provide great support while improving overall energy return.
5) Overall Fit
It seems like a no-brainer that the way a shoe fits is an essential part of the best long-distance running shoes. A well-cushioned midsole, a soft heel and a comfortable upper portion all provide ideal running conditions. 
Furthermore, finding the right size for you can prevent cramped toes. Please keep in mind that a great-fitting shoe will drastically improve your endurance and speed on long runs.
A Final Thought
The best long-distance running shoes are a runner's best friend. They provide comfort and protection, allowing runners to run faster for longer. 
However, not all shoes are created equal. That's why it's crucial to consider each shoe model's pros and cons before making your final decision.
FAQ
What Is the best running shoe for long distance running?
The best running shoe for long distance running provides comfort, protection and durability. Brands such as Asics, Brooks, Hoka and New Balance stand out as some of the best options for long-distance running shoes.
What shoes are best for marathons?
The best marathon shoes deliver optimal cushioning and stability. The most popular marathon shoes include Brooks, Hoka, New Balance and Asics.
What Brand of shoes do marathon runners wear?
Marathon runners wear brands such as New Balance, Asics, Saucony and Nike.
–
Everything featured on Half Marathon Guide is independently selected and curated. We may receive a small commission on purchases made from some of our links.