Running apps can help you set goals, review training statistics and adhere to a training program over time, and some apps keep you connected with runner friends.
With various features and functionalities, try out as many apps as you can to determine which user experience and social elements you prefer. At the end of the day, the best running app is the one that keeps you running. Here's a look at the market leaders and what they do best.
Quicklook: Best Running Apps
11 Best Running App Options
Finding the best app will allow you to enhance your runs. You'll be able to search and follow pre-programmed routes and find supportive communities. Some apps also give you the ability to review your progress in easy-to-read charts and data. Here's a look at the best running apps to motivate your training.
Best For Staying Injury-Free: Exakt Health
While most of the apps on this list are designed for tracking runs, measuring progress or connecting you with other runners, Exakt Health is the only app that makes the list dedicated to injury prevention. Exakt Health has been designed with a world-renowned running injury expert to help runners with one of two things: injury prevention and recovery after an injury.
The app has mobility and strengthening exercises specifically designed for runners that are intended to strengthen the joints and ligaments responsible for the most common injuries such as shin splints.
Plans are broken down by the segment of the body that require treatment, like an ankle or hamstring, or based on the specific injury you're recovering from.
Price: Free for now. The developer plans to introduce a paid version.
iPhone or Android: Both
Best For Social Sharing And Community: Strava
Strava is best known for its community features. The app is designed to connect runners with their friends by adding Kudos to their runs when they populate your feed. Runner friends can offer you Kudos to keep you motivated to achieve your goals. Strava allows you to join group challenges or create your own.
The Strava paid subscription offers competitive runners a strong set of analytics and data, like training power and cadence, to improve workouts.
While the app has many great social features, once you make a route public, you can't set any additional privacy on who can see those routes and where the start and stop location is.
The paid subscription has a feature called Beacon where you can share your real-time location with up to three friends and family members. Beacon watchers don't need to be Strava members to use this safety feature.
The app offers a free subscription to use the general features. But to get access to the premium features, you'll need to pay for the subscription.
Price: You can take advantage of the free version of the app or try the subscription free for 30 days. After that, it's $6.67 per month with an annual plan.
Free trial: Yes
iPhone or Android: Both
The Nike Running App boasts many outstanding features with a forever-free model. You can use it on both iOS and Android devices, and there's a great Apple Watch app to put the tools within easy reach.
The Nike+ Run Club allows runners to tap into guided runs and coaching to help with running motivation. The app features easy-to-read stats on your run, including pace, distance and heart rate. Listen to audio from Nike coaches during your run to push yourself as much as possible.
Take part in weekly or monthly challenges for some social motivation. Connect your Apple Music or Spotify account so you can listen to your favorite playlists. Apple Watch users can leave their phones at home and view stats and information directly from the watch app during the run.
Sync your data automatically with Apple Health or Google Fit to track your improvement over time. Some users complain that the app's GPS isn't the most accurate.
Price: Free
Free trial: All app features are free
iPhone or Android: Both
Best For Digital Running Coach: Runna
Runna offers digital run coaching from your phone. Get custom running plans specifically for your fitness level, goals and preferred training days each month.
The app has an intuitive design that makes it easy to find a plan that is right for you. The welcome screen walks you through selecting a goal to help personalize the app training recommendations.
Take part in the community aspect of the app to join runners from around the world in accomplishing their goals. Share photos and notes from your run to build memories or engage with other users.
The app is specifically designed for runners working toward a specific goal. So if you're just casually running for the joy of it, the app isn't ideal for you. The developer is expected to roll out run-for-fun features in the near future.
Price: $17.99 per month
Free trial: Yes
iPhone or Android: Both
Best For Runners Of All Abilities: Runkeeper
You don't have to be an advanced runner or log 100-mile weeks to appreciate the benefits Runkeeper offers. The app is great for beginners and ultra-marathoners alike.
Runkeeper offers robust features while being extremely easy to use. Track runs using GPS to see distance, pace and other stats. Use those stats to compete with friends or take part in challenges.
On the app, you'll find pre-created routes to take on new terrain and challenges. If you participate in a variety of outdoor activities, you'll enjoy the fact that the app tracks various workouts, including biking, power walking and more.
Athletes training for a specific event can use the app's built-in training plans and routines to stay on track to achieving their goals. Integrate the app with your fitness tracker, including Fitbit and Apple Watch.
Price: $39.99 per year
Free trial: Yes
iPhone or Android: Both
Best For Live And On-Demand Cross-Training Workouts: Peloton
The Peloton app can help you reach a running goal or take part in cross-training workouts. Select your workouts based on how much time you have to commit and choose from a variety of workout styles from yoga to strength training. Participate with a live instructor or view a pre-recorded session.
Peloton trainers are often intensely motivating and charismatic. With more than 30 trainers available on the app, you'll have different styles to choose from to match your preferences and workout style.
You don't need to invest hundreds of dollars into a Peloton Bike or Tread to use the app, though having these tools gives you access to the app's community aspect.
One of the workout options is to take part in a Peloton-guided run, an audio-based run that functions like a trainer in your ear throughout the experience. While the workout is designed for running outside, you can use it on a treadmill. Workouts are designed by time, so select a guided run from 20 to 60 minutes.
As you go through your workouts, the app will track basic metrics if you use a compatible smartwatch.
Price: $12.99
Free trial: Yes
iPhone or Android: Both
Best For Beginner Runners: Couch to 5K
New runners appreciate the simple plans on the Couch to 5K app. The app is designed for new runners who look to ease into training and who have set a goal date for a first event.
In eight weeks, you can be ready to take on your first 5K using the app's audio coaching. Take advantage of the app's three workouts per week to become a runner while building strength and stamina.
View progress toward goals and select various routes to stay engaged with your training plan. Turn on audio feedback for coaching throughout your workouts.
While the app is outstanding for new runners, it lacks more advanced features to help intermediate or advanced runners improve their workouts. While the free app includes standard plans to help new runners get started, you'll need to pay for the subscription to get access to coaching and customized programs.
Price: $1.99 per month to remove ads or $49.99 per year for the unlimited plan
Free trial: Yes
iPhone or Android: Both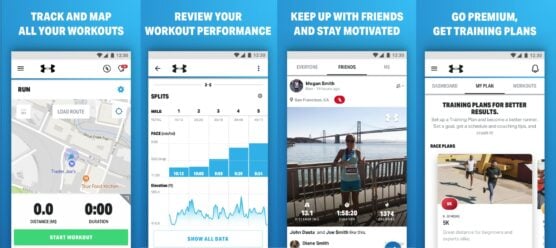 Best For Finding New Routes To Try: MapMyRun
MapMyRun features more than 70 million routes so you can find new places to run and new scenery to stay entertained throughout your training. Plus, you'll get an effective GPS tracker to help guide you in understanding how far you've gone and at what pace, with full stats on elevation, calories burned and more.
You can integrate MapMyRun with various fitness tracker apps, such as Fitbit. Add in data from MyFitnessPal for a more comprehensive picture of your health and wellness initiatives. The app also has strong support for various sports and activity tracking so you can cross-train with the app.
With a free account, you can track activities and see it on simple graphs. But if you want access to more in-depth data, such as cadence and heart rate, you'll need to subscribe to a premium account. With a subscription, you also get access to training plans and live location tracking for the safety of loved ones when out running.
Price: $5.99 per month or $29.99 per year
Free trial: Yes
iPhone or Android: Both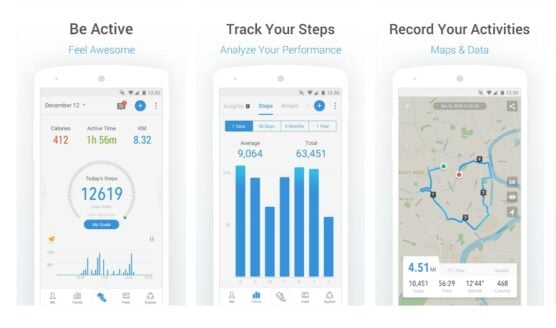 Best For Pedometer App: Pacer
Pacer can help develop healthy habits through more daily movement. The app counts your steps both in your normal activities and training. The app supports tracking runs, walks and bike rides.
The Pacer app has a community feature with friends and family so you can see one another's steps. Take part in a challenge to set new goals and reach new heights.
If you subscribe for $5 per month, you'll get access to training plans and workout videos. The training plans offer guided audio sessions structured around weight loss, muscle toning or simply staying more active.
The app is a great way to start a fitness routine and get into running, but it lacks advanced features for experienced runners.
Price: Free account option or subscribe for $5 per month for advanced features
Free trial: N/A
iPhone or Android: Both
Best For Advanced Training: Future
Future is the newest personal training app to make its way to the running community. The app is highly customizable. You can request sessions with or without equipment at different times of the day, and it's suitable for all fitness abilities.
The Future app offers you a real coach, a unique feature from the other apps that holds users accountable. The app is designed for users who want personal training but can't make the time commitment or couldn't afford a personal trainer.
You can find support for a variety of fitness activities — not just running. But if your goal is to improve your base level of fitness and work your way up to longer-distance running, your coach can help you achieve that.
While the app is personalized, its robotic instructional voice might feel impersonal at first. And there is no app available for Android users.
Price: $149 per month
Free trial: No
iPhone or Android: iPhone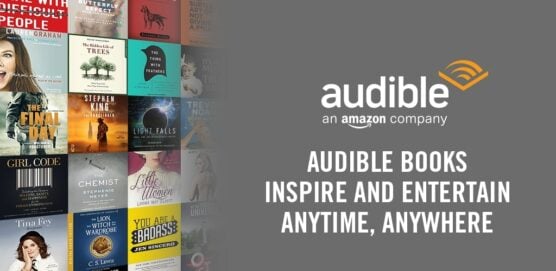 Best For Entertainment While Running: Audible
Audible won't help you track your running stats, but it could help you stay entertained and motivated during your run. Audible is Amazon's audiobook library and app, which offers thousands of books to listen to and podcasts to download. While music is the distraction of choice for many runners, it can also artificially spike your adrenaline. An audiobook is a great alternative distraction for those who don't like the musical experience on the run.
Price: $14.95 per month
Free trial: Yes
iPhone or Android: Both
What Are Running Apps?
Running apps are downloadable technology for smartphones, tablets and watches to aid you in achieving your goals and staying motivated with your workouts. Track every aspect of your running journey using a running tracking app, including photos and social interactions.
The basic features of a running app include:
Run distance
Elapsed time
Run pace
More advanced features that some apps offer either free or with a subscription include:
Coaching
Personalized plans
Goal-setting
Training insights
Community tools
Syncing with other apps and devices
As you review app options, you'll see that some are focused solely on running, while others track cross-training workouts for runners as well.
How to Choose a Running App
When choosing a running app, you'll want to consider several factors.
Run mapping
What stats the app tracks
Customized plan creation and coaching
Interoperability with other apps, such as smartwatch apps
Free versus subscription based
Support for various types of workouts or just running
Location sharing and community features to connect with friends
Music that complements your workout
Once you decide what's most important to you, look for an app that checks all the boxes and provides the tools and motivation you need to reach your next big running goal.
Motivation and Community for Run Training
Running apps offer outstanding tools for staying motivated and building community within the sport. At first, running might feel like a solo sport. But with a community behind you and running stats that show your progress, you can experience the outstanding community the sport offers and enjoy the feeling of achievement in reaching your goals.
FAQ
What is the most accurate running app?
Strava is one of the most accurate running apps when it comes to GPS tracking for distance and pace.
Which is better: Strava or Runkeeper?
Strava is the best running app for the social aspects of running while Runkeeper is better at helping runners achieve their goals.
Is Strava or Nike Run Club better?
Nike Run Club offers a simple and easy-to-use app to get started with running and tap into free run-coaching capabilities. But Strava is better for experienced runners looking to tap into the running community and take part in the challenges and social aspects of running.