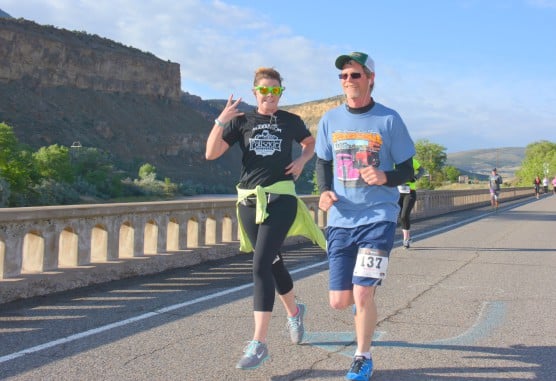 You'll get to check out stunning views of the Grand Mesa (the world's largest) at this small-town race known for its wineries, ski resorts, and for being Colorado's "peach capital."
Sat, May 6 • View this race »
Imagine a run through rolling green fields filled with thousands upon thousands of yellow dandelions in full bloom, and that's exactly the picture of what you'll see along this course.
Sat, May 20 • View this race »
Known as the "easiest marathon in America," this race unfolds along the C&O Canal Towpath that runs parallel to the Potomac, and actually is run twice each year — in the spring and fall.
Sun, May 7 • View this race »
Run from this streets of this northern Napa Valley town into the hills, wineries and vineyards that lie just to its east, this race unfolds along the old stagecoach trail known today as the Silverado Trail.
Sun, Apr 23 • View this race »
Boardwalks, beaches, roller coasters and amusement park rides are what you'll find along the course at this race, where you'll see the ocean for nearly the entire route.
Sun, Apr 30 • View this race »
Filled with unique red-rock landscapes formed over millions of years, Nevada's Red Rock National Conservation Area hosts a race where runners get up close with this pristine piece of land, much of it inaccessible by car.
Sat, May 6 • View this race »
This unique and intimate race — less than 100 finish it each year — encourages runners to advertise their social status with their shirt colors: green for "single and ready to mingle," red for "committed," and yellow for "it's complicated."
Sat, May 6 • View this race »
Runners get a chance to trek through Oregon's "Emerald City" at this race, which unfolds through, around and past several of the city's urban parks, the campus of the University of Oregon and over the Willamette River.
Sun, May 7 • View this race »
You get to see what thousand flock here for every summer at this race, especially the rocky coastline along Fortunes Rocks Cove, Horseshoe Cove and Biddeford Pool, a large tidal pool off Saco Bay.
Sat, May 13 • View this race »
You'll make five bridge crossings over this city's famed three rivers at this race, which passes by much of its most beautiful architecture as well as PNC Park, the home of baseball's Pittsburgh Pirates.
Sun, May 7 • View this race »
Take a tour of the Windy City at this race, which runs largely along the Lake Michigan shoreline, passing by the Buckingham Fountain, Shedd Aquarium, and Soldier Field, before heading back all the way to Lake Shore East Park.
Sun, May 21 • View this race »
From the starting line just outside Moab, this race follows Highway 279 all the way west and south between Arches and Canyonlands National Parks, toward Dead Horse State Park and back, alongside the Colorado River the entire way.
Sat, Jun 3 • View this race »
Billed as the "world's fastest half marathon," this race — which marks its 62nd running this year — features some 2,125 feet of elevation drop from the start in nearby Lytle Creek all the way to the finish at Fontana City Hall.
Sat, Jun 3 • View this race »
With some of the flattest terrain and most scenic views Iowa's capital city has to offer, this half begins with a run across the Saylorville Dam and culminates with a stretch across the Women of Achievement Bridge downtown.
Sat, Jun 3 • View this race »