If you're ready to choose your first full marathon, then you are about to embark on an awesome adventure. Imagine yourself at the start line. After months of work and sacrifice, loads of miles on your legs, you will run your first 26.2! We compiled this list of the 10 best marathons for beginners, we chose races that would be fun and memorable.
There are myriad of races to choose from all with their own identities and features. As of 2023, there are more than 1,000 U.S. marathons. Picking the best marathon for a beginner is exciting, but it can also be completely overwhelming. To give yourself the best opportunity to enjoy the race, think about your likes, dislikes, strengths, and weaknesses. We'll try to guide you toward a race that will suit your running style and goals.
We polled runners and coaches, read reviews, and tried to find races with awesome courses and good vibes. Many of the best marathons for beginners are celebrations. From music to spectator support, to afterparties, they'll make you feel like all the work was worth it.
How should a beginner choose a first marathon
Of course, the best first marathon is going to vary among different runners. For example, if you can't stand big cities, have a fear of bridges, and gag at the smell of hot dog water, then cross the TCS New York City Marathon off your list. If you're worried about running in the mountains, best to avoid places like Colorado and Arizona. On the other hand, some runners will thrive in that environment and might need the crowds to push them through their first 26.2. Here's an inventory to go through to choose the best marathons for beginners based on what's best for you. If you're looking for lists of the best half marathons, you can discover those here.
When is the marathon?
For many runners, choosing the right season to run in is the most important factor in picking a goal race. When thinking about running a fall race, consider that you'll be training during the summer months. Alternately, if you choose a spring race, the bulk of your in-season will be during winter. For those who live in places with four seasons–or those in temperate climates with extremely hot summers, you want to choose wisely to set yourself up for success.
In addition to factoring in temperatures during your race and training months, you have to look at your personal calendar and decide when you can devote the time to prepare and then race. In terms of race weekend, think about if you want to take a few days off work before and after the big day (this might contribute to your decision about how far to travel away from home.)
How big is the marathon?
Some marathons, like the World Majors, are huge – thousands of runners and even more spectators. There are advantages to this kind of race. The energy is spectacular, the crowds give you strength, and you're often running (far behind) elite runners. What other sport allows participants to compete (kind of) alongside Olympians?
There are some other benefits too. Many of the bigger races boast courses designed to be speedy, so you'll encounter flatter routes and fewer turns. If you plan to use a pace group, the big races have experienced pacers and a big group to latch onto.
The downsides to these behemoth races? Clearly, they are not for people who dread crowds. The logistics can be tiring. Finding your race packet, navigating the race expo, going through security, getting locked into your corral – this can add time on your feet in the hours before the race. Luckily there are incredible smaller races all over the country. Many of these will still be well organized and provide the same luxuries as their larger cousins and more, like ample porta-potties, plenty of room on the road, and open water stations.
Where is the marathon?
Many runners travel to make the whole ordeal a race-cation. Other runners choose a nearby race to avoid the stress of travel before the big day. When thinking location, the climate and altitude should factor into your decision.
What is the course like?
Now is the time to dial in and know your body. Decide if you want a flat course or a race with some elevation gains. Next, think about whether you want a cityscape or country roads.
Are you hoping to run a good first marathon time? Then a net downhill course will give you an advantage, as will a mostly straight race. On the other side of the coin, you might need a race with a generous time cutoff to give you the time and space you need to finish. Many of the best marathons for beginners allow runners to complete the race so long as they maintain a 16-minute per mile pace.
What makes them the best marathons for beginners?
You'll never forget your first! Here are some other things that matter for newbies. First, you'll need a marathon you don't have to qualify for. Next, you need one that will keep you motivated to train. The best marathons for beginners usually have a combination of a good atmosphere, excellent organization, and an interesting course.
Atmosphere
First-time marathoners need support. They need a community feel at the start, spectators and volunteers encouraging them on through the miles, and a party at the end no matter what time they wind up at the finish line.
Course
For most, the best marathons for beginners will be the easiest marathon course, meaning flat. Downhill and courses with rolling hills can be unforgiving, especially after mile 13, so looking for a course with minimal elevation or even a slight descent is optimal.
In addition to conquering an incredible feat, your first marathon will give you the opportunity to experience the world by foot for 26.2 miles, so choose a place you want to see or that is meaningful to you. The best marathons for beginners will offer excitement on the course, either through a cool natural setting, monuments, crowds, landmarks, music, or all of the above. Finally, if you're brining your entourage to cheer you on, pick a race that emphasizes crowd support and is marked "spectator friendly."
Organization
The easiest marathons are always the most well-organized. When you are navigating the start corral for your first race, you don't want to waste energy figuring out where to go. Same goes for when you're picking up your bag at coat check. You probably won't notice the small details that make a race a well-oiled machine – an efficient start, volunteers, water and fuel stops – until you experience a train wreck of a race that takes off late and runs out of water. So read race reviews, listen to other runners, check in with the local running store ahead of signing up. If things have gone smoothly in year's past, it's safe to assume you'll be good to go.
How much time is needed to train for your first marathon?
The time it takes to train for you first marathon depends on how much you are currently running. Someone who has run half marathon under their belt, trains at least 20 miles per week, and has maintained a solid running program for more than six months can jump into a 16-week marathon training plan. There are also 12-week plans which will work for runners who are covering 25 miles or more per week.
Runners who are training less than that or who are coming back from injury or a period of time off should allot about three months to build a base and then jump into a 12-week training plan. If you have never run a mile before in your life, you should choose a marathon at least a year away. This will allow you to build up slowly without putting your body at risk of injury or illness. Half Marathon Guide have running plans and recommend apps like Strava to support during training.
The 11 Best Marathons for Beginners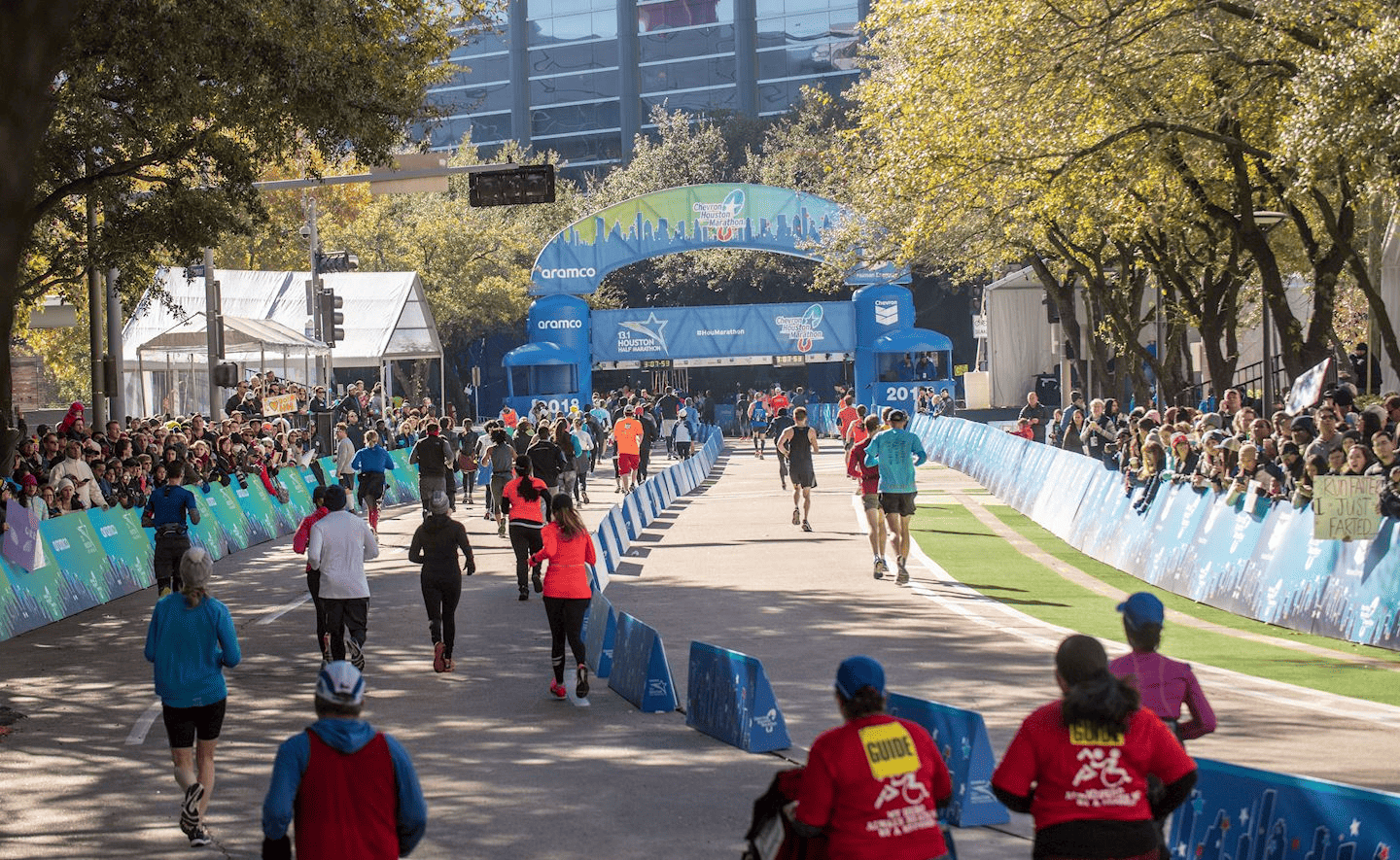 Chevron Houston Marathon in Houston, TX
The Chevron Houston Marathon is quickly making a reputation as being one of the best marathons for beginners all over the United States and is often considered in the same breath as the New York and Chicago Marathons. The course is a big loop and is pretty close to extremely flat. Houston has over 2,000,000 residents and is the fourth largest city in the United States by population (read: lots of very supportive crowds). If you're pining for a big marathon but not ready for the chaos and challenging New York and Chicago courses, Houston has 27,000 participants and the race production is world-class.
January 14, 2024 | Read More | Register
Grandma's Marathon in Duluth, MN
Grandma's Marathon offers first-time marathoners the best of both worlds – a small town vibe with big race energy. With more than 20,000 runners lining up beside you, the starting corral is electric. Then, you'll run a picturesque course next to Lake Superior before busting into downtown Duluth. There, large crowds will get you through those last miles. The city truly rolls out the red carpet for local and visiting runners alike. With the celebration it offers, you can't ask for a better way to start your marathon career.
June 17, 2023 | Read More | Register
Missoula Marathon in Missoula, MT
There's a reason why the Missoula Marathon has won accolades from Bibrave, Runner's World, and individual runners. The mostly flat, point-to-point course is perfect for first timers, especially those chasing speedier times. It's also stunning. The notorious halfway hill is a fun challenge with great views before it drops you into the next 13.1 miles. You'll run through Montana's countryside, against a backdrop of mountains, then speed into historic Missoula for the finish.
June 25, 2023 | Register
Maine Marathon in Portland, ME
The Maine Marathon is perfect for a first-time marathoner looking for a bit of a challenge. As one runner noted: "If you run well at Maine, you know you've earned it." There are hills, which makes it a good option for runners whose legs can't stand the repetitive motion of a pancake flat course. The course runs along the coast of beautiful Casco Bay. The foliage, kind volunteers, ideal running temperatures, and salt air all collide to make the Maine Marathon a magical experience.
October 1, 2023 | Register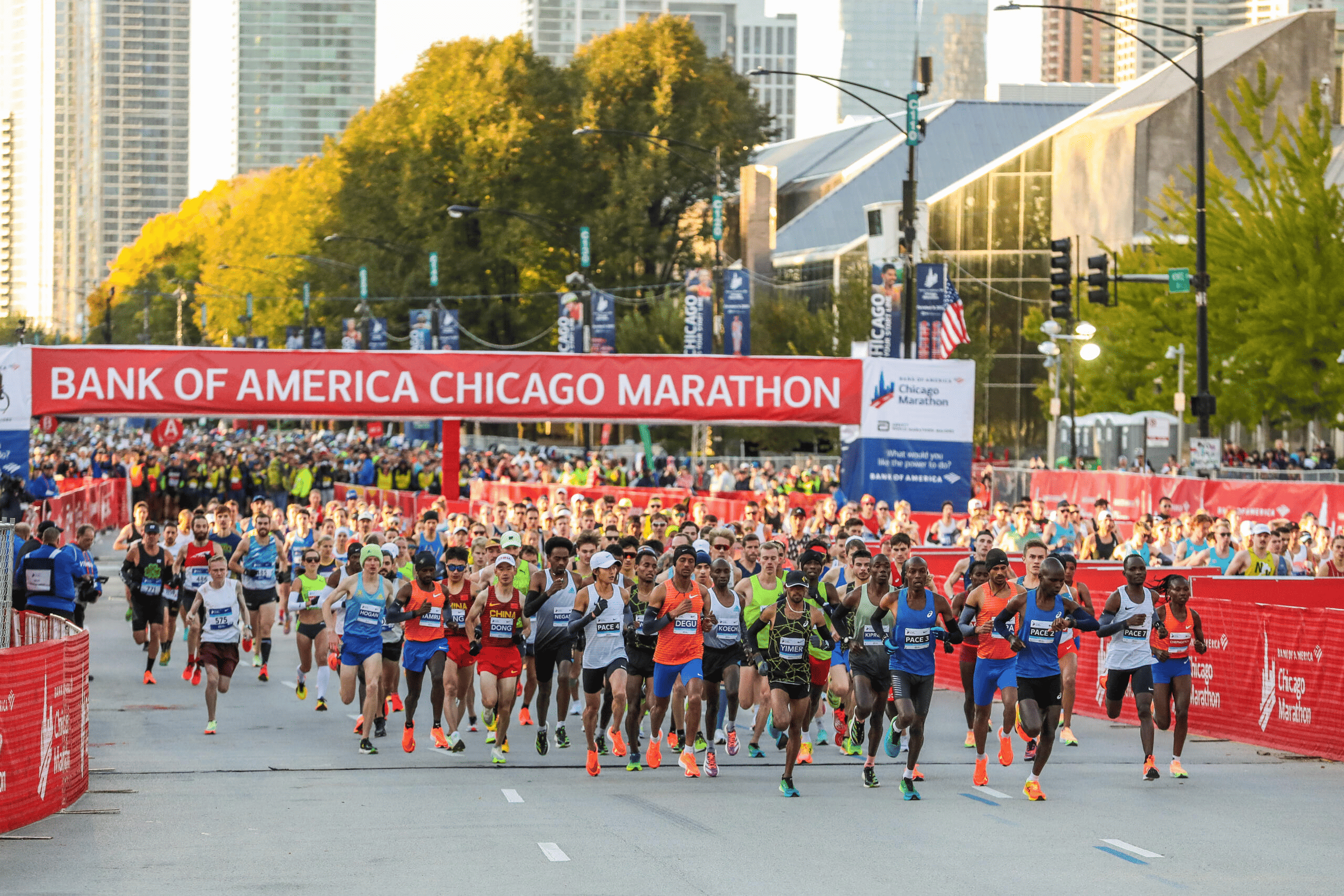 The Bank of America Chicago Marathon in Chicago, IL
When people think of a beginner friendly major marathon, they think of Chicago. It's flat, fun, fast – and considered one of the easiest marathons in the U.S. If you're looking for a big race with a party atmosphere, the 40,000 other runners and hundreds of thousands of spectators lining the streets will deliver. The weather's been traditionally awesome for running with Chicago's average temperatures in early October ranging from the low 40s to 60s. Runners love the flatness of the course along with the looped route. You'll start and end along beautiful Lake Michigan and see many Chicago neighborhoods and landmarks in between. This is the easiest World Major marathon to participate in with the easiest course. The most difficult to get access to is the Boston Marathon.
October 8, 2023 | Register
Marine Corps Marathon in Washington, D.C.
Marine Corps Marathon should be at the top of the list for any beginning marathoner. You start in Arlington, VA, then cross into the nation's capital, running past the Kennedy Center, the Lincoln Memorial, the Thomas Jefferson Memorial and the Tidal Basin, the Martin Luther King Junior Memorial, the Washington Monument, the Capitol Building, and the National Mall. The course is rolling with a few challenging but not-gut-busting hills. The Marines bill this as the people's marathon, and they truly take care of their runners from start to finish.
October 29, 2023 | Register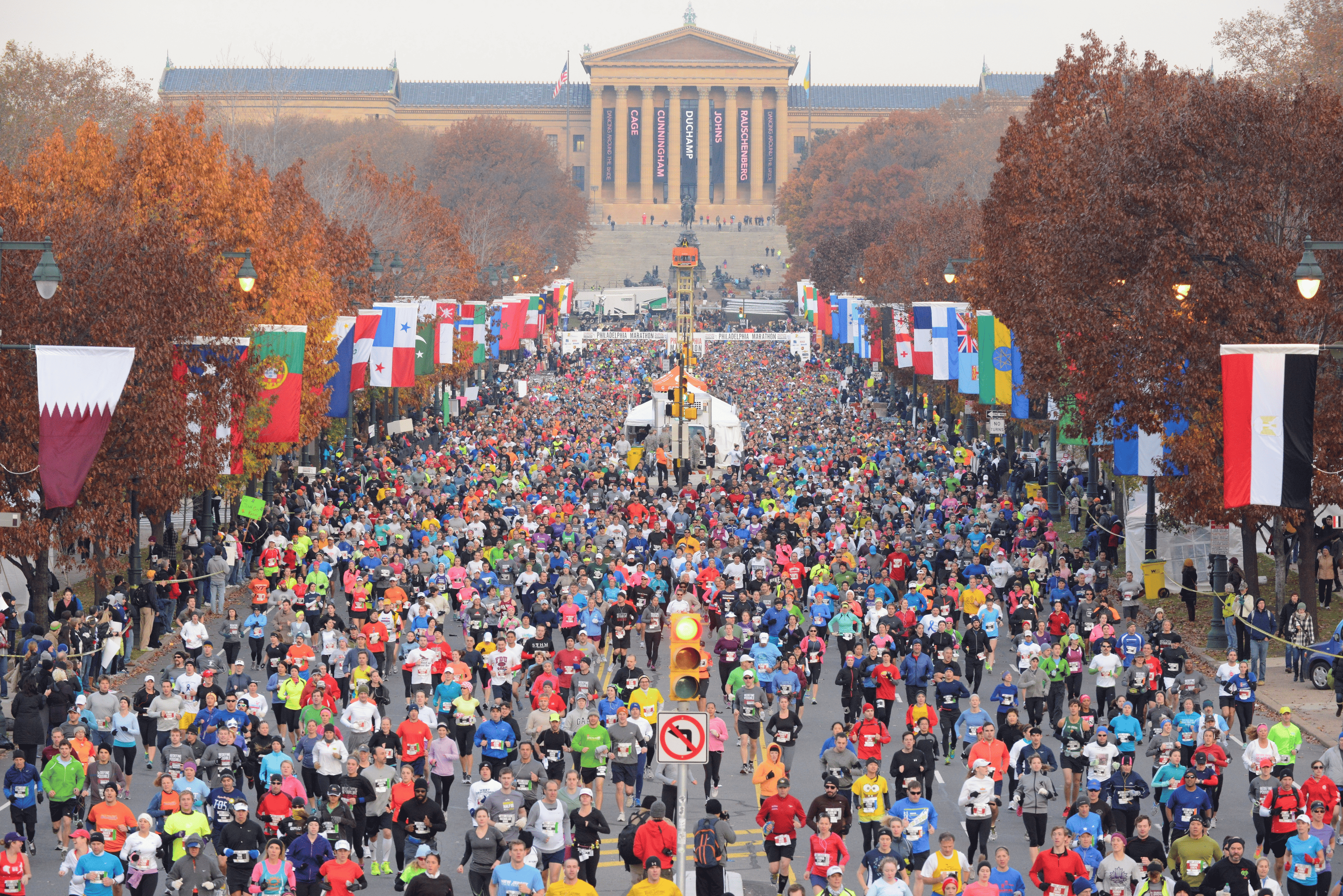 Philadelphia Marathon in Philadelphia, PA
Beginning marathoners will feel the love in Philadelphia. A great running city, Philly embraces the 30,000 runners that descend upon the city to race every November. It's a late-season race, which lessens the chance of a random 80-degree fall day and allows for a lengthy training schedule. First-timers concerned with time limits will appreciate the seven-hour cutoff. In addition, the course is flat and beautiful. You'll catch views of Fairmount Park and run along the Schuylkill River. The race ends at the famous Rocky steps. It doesn't get much more epic.
November 19, 2023 | Register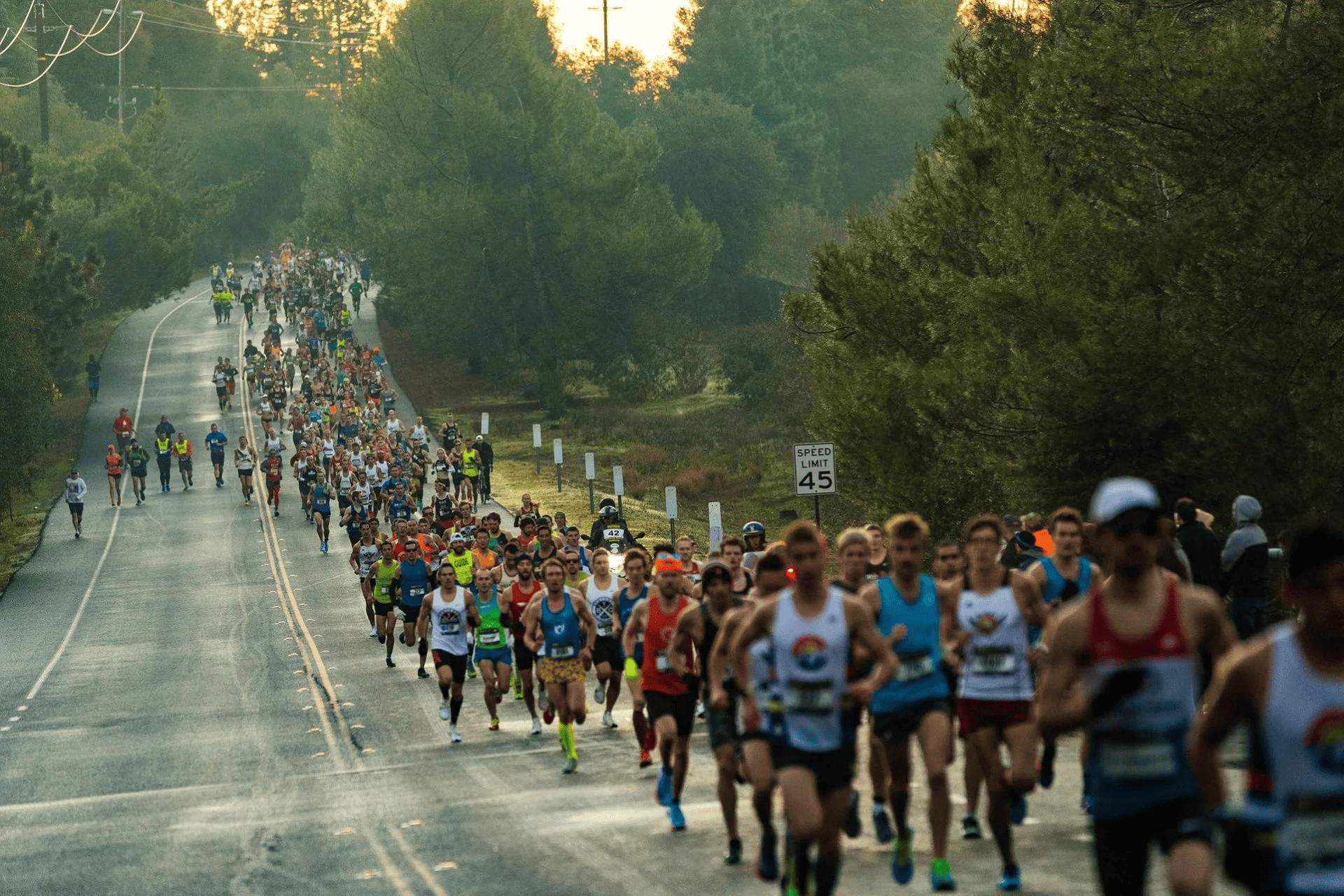 California International Marathon in Sacramento, CA
For advanced first timers who are hunting for a Boston-qualifying time or newbies who just want an easy course, CIM is a wonderful option. It's flat, point-to-point, doesn't have many turns, and descends about 330 feet from start to finish. You'll get to race behind a solid elite field but without the hassle of a World Major. The weather usually stays in the 40s to low 50s with a lot of cloud cover – ideal running conditions.
December 3, 2023 | Register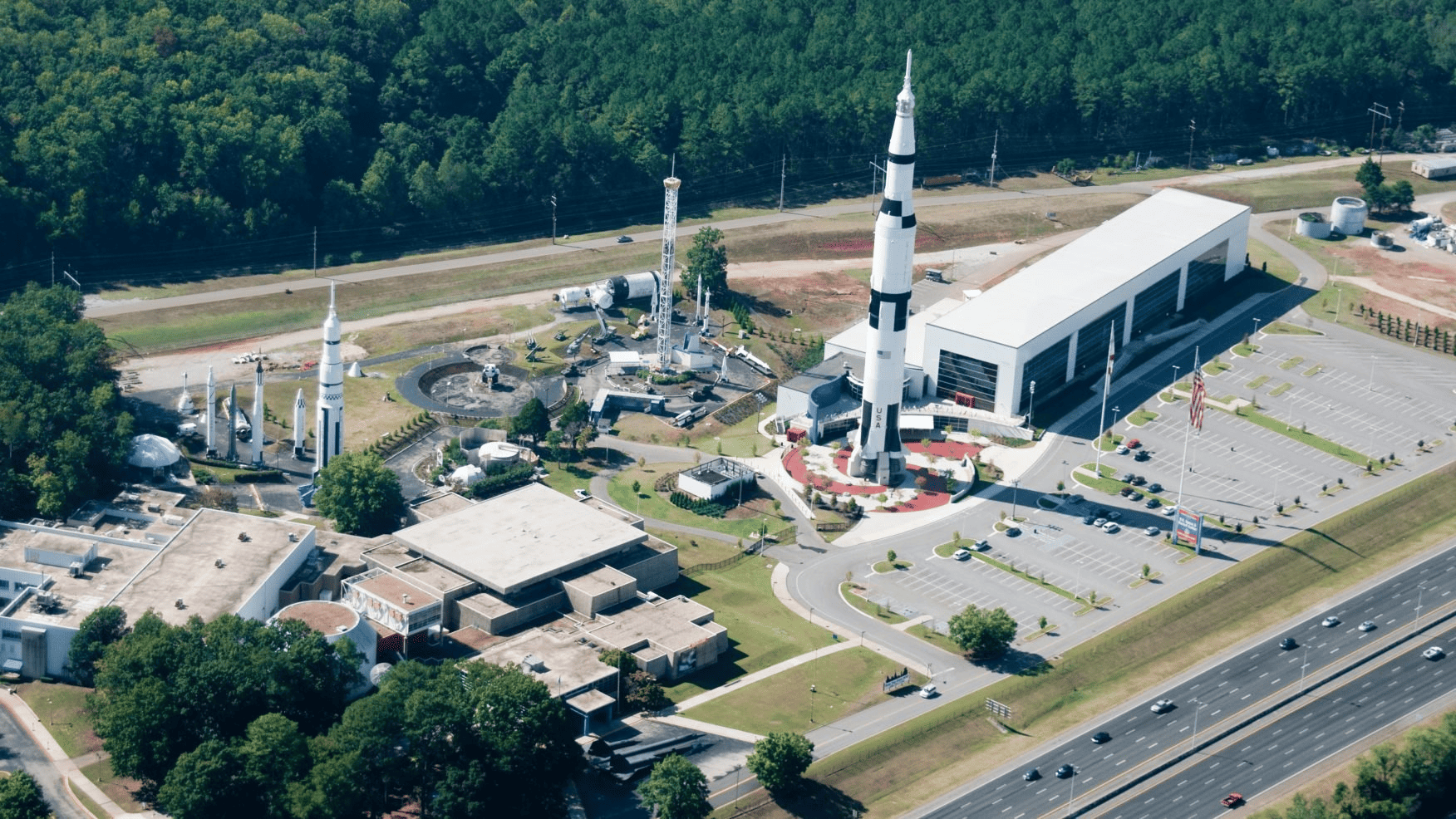 Rocket City Marathon in Huntsville, AL
A true hidden gem, the Rocket City Marathon is about to take off in popularity. Huntsville's charm and economy have attracted people from all over to move to the southern city, and the boom is evident in its diverse and welcoming running community. First-timers will feel the warmth of Southern hospitality through ample crowd support. The course takes you past historic neighborhoods, the US Space and Rocket Center (Space Camp), and an attraction known as Eggbeater Jesus. December in Huntsville offers cool – but not frosty – temperatures. Finally, if you're already thinking about your post-race meal, you cannot beat the food scene in Huntsville.
December 10, 2024 | Register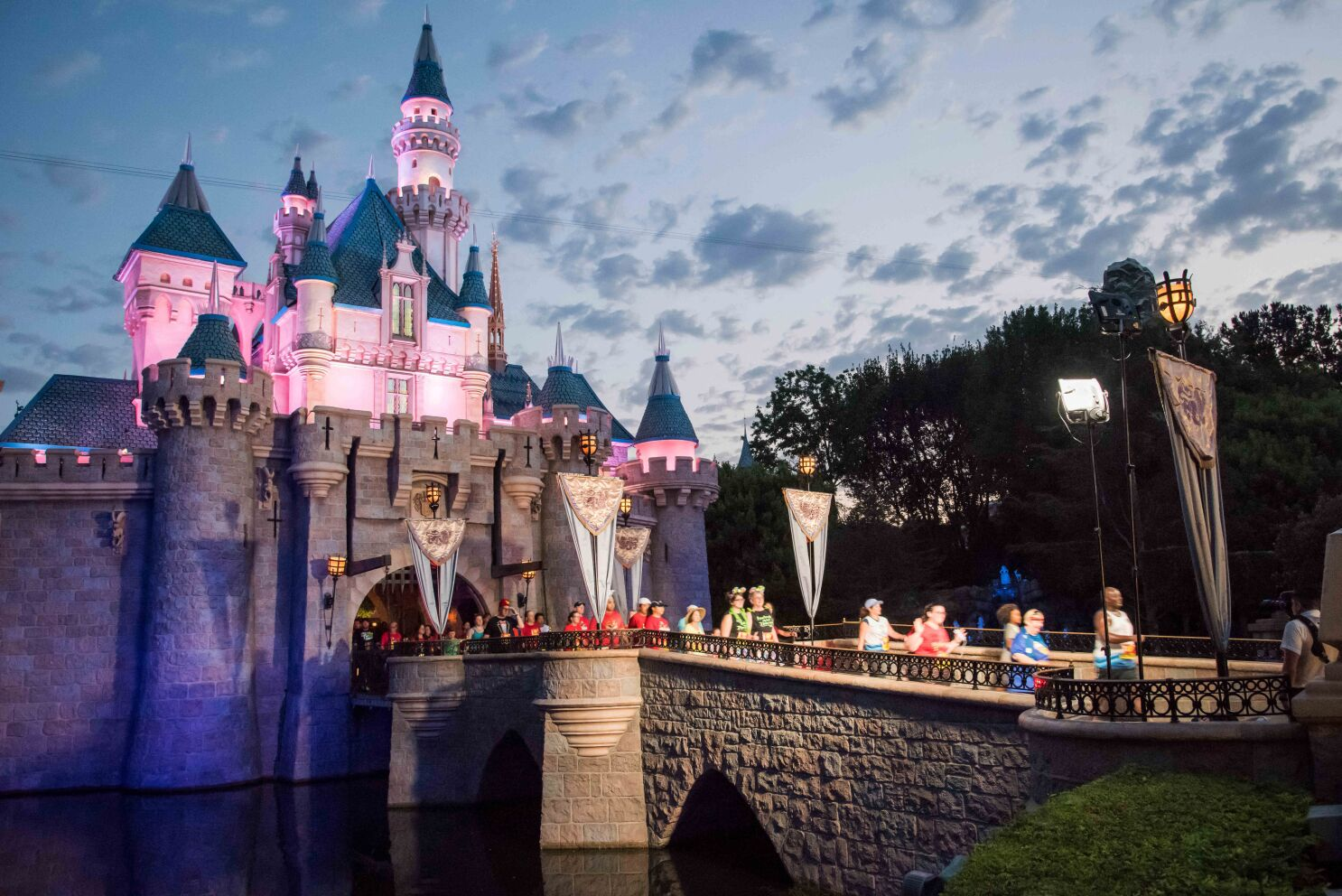 Walt Disney World Marathon in Orlando, Florida
Calling all Disney lovers! If you want to dress up and run alongside your favorite characters, then the Walt Disney World Marathon needs to be on your bucket list. And why not make it your first one? You will get to experience the magic of what diehard fans call "Disney Utopia" by getting to see the park at sunrise, running with a pack of other people on pixie dust highs, and seven hours to complete your 26.2-mile journey. Plus, it's an excuse to go to the parks.
January 7, 2024 | Register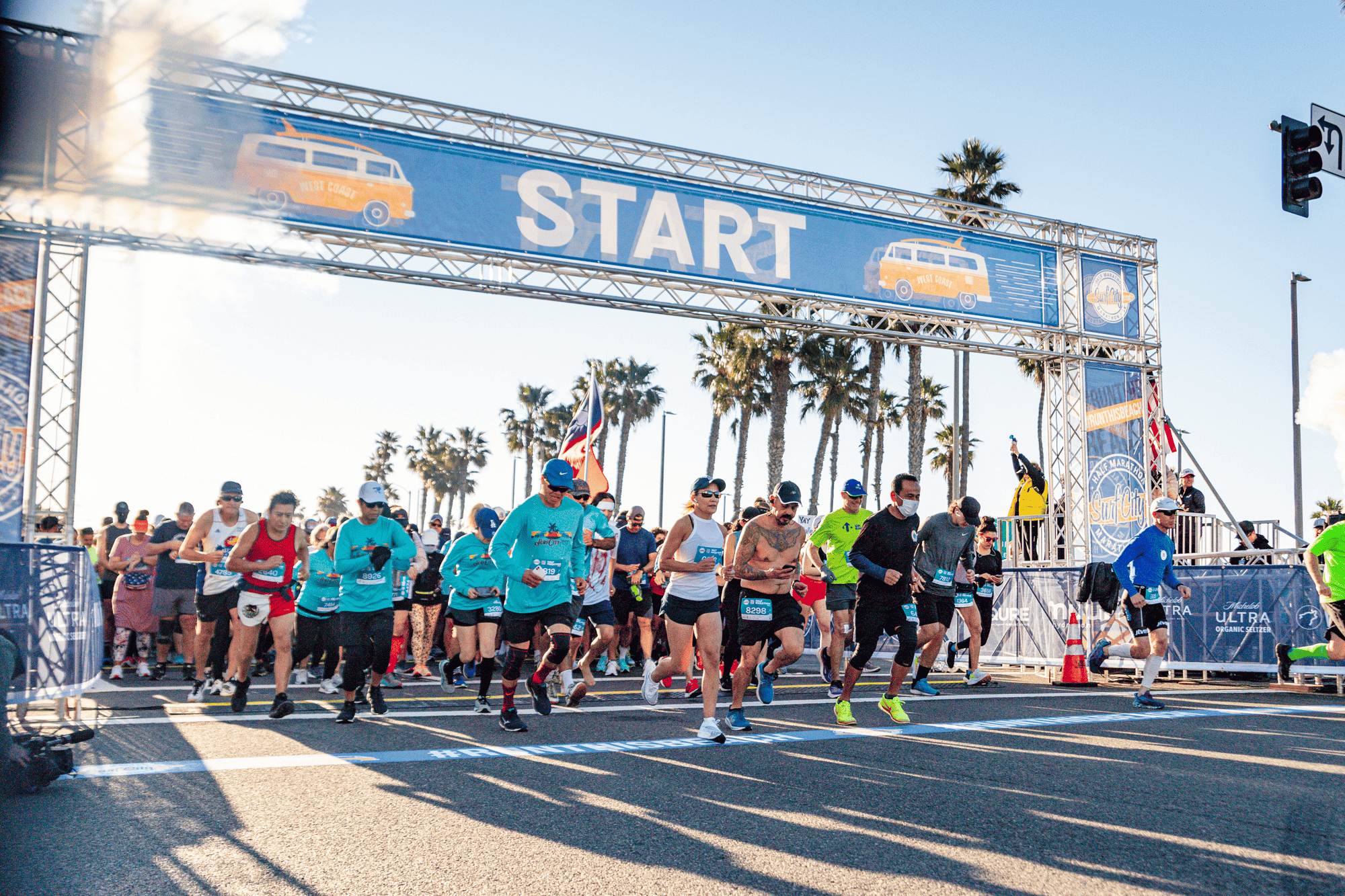 Surf City in Huntington Beach, CA
The L.A. Marathon gets all the love, but just south in Huntington Beach, there's an award-winning course that begins on the Pacific Coast Highway and passes by the Huntington Beach pier. For runners needing a small-race feel with easy parking, low stress, and minimal logistical challenges, Surf City is perfect. The race gives you oceanfront views, perfect for any beach lover looking for a gorgeous and flat first marathon.
Feb. 4, 2024 | Register
Other Popular Marathons for Beginners
Other marathons that are well considered to be some of the best for beginners include The Flying Pig Marathon in Cincinnati, Ohio, the Rock 'n' Roll races which include Las Vegas and San Diego as well as the Honolulu Marathon in Hawaii.