Bad weather shouldn't get in the way of your running. The best running jackets will keep you dry in the rain and warm in the cold through moisture-wicking layers, vents and other modern technical features and fabrics. Find the best jackets for various scenarios and temperatures for the ultimate running comfort.
Quicklook: Best Running Jackets
8 Best Running Jacket Options
Here's your guide to selecting the best jacket to add to your running essentials.
Best Running Jacket For Every Day: Brooks Canopy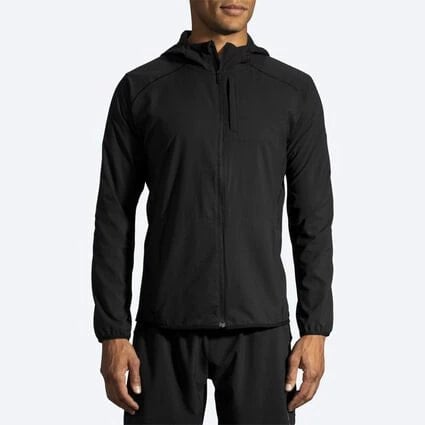 The Brooks Canopy jacket is ideal for everyday running. Use it during wet or dry conditions and enjoy its windproof and water-resistant DriLayer Seal construction. It is lightweight to keep you at your top speeds and breathable to prevent a buildup of sweat that can happen when wearing water-resistant jackets.
If you want to unzip the jacket during runs when the temperature begins to rise, there is a draft flap that will help keep the jacket in place. And don't worry about the pains of zipping the jacket up and hurting your chin thanks to a cover at the top of the zipper meant to protect your face and make the jacket more comfortable.
Done with your run and ready to cool off without the jacket? It folds up inside a built-in mesh pocket for easy storage or carrying. And if you don't plan to use the hood, you can stow it inside the collar.
Keep your belongings secure and close with zippered pockets with plenty of room for your phone.
Accolades:
Best Running Jacket for Cool & Windy Weather of 2022 by Runner's World
Best Jacket for Seriously Bad Weather by Men's Health
Best Bang for the Buck by GearLab
Most Breathable Running Jacket of 2022 by Runner's World
Best Running Jacket for Rain and Snow: Norvan LT Arc'teryx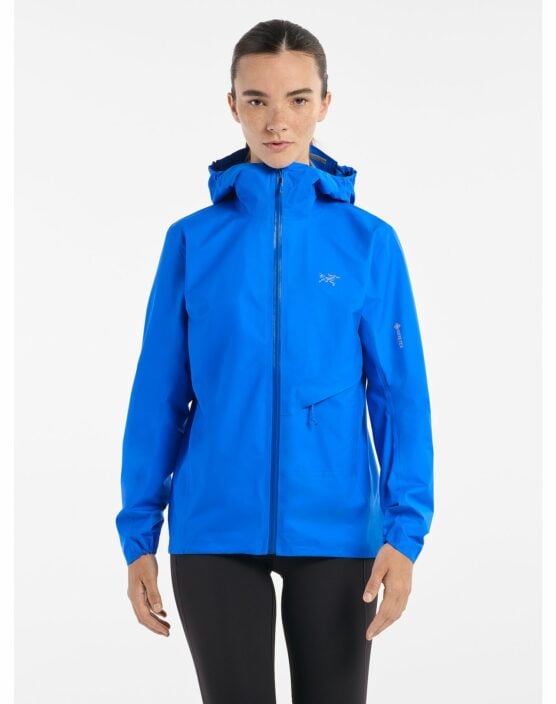 When the elements are especially unfavorable, the best jacket will be the Norvan LT Arc'teryx. The three-layer Gore-Tex jacket is incredibly lightweight at just 7 ounces. And while it offers superb water resistance, it's also super breathable for the ultimate comfort. For breathability, it performs like a windbreaker.
You won't find any crinkly fabric, either. This is a jacket that offers comfort no matter the running conditions. It's a good fit that won't billow while you run or feel like you've donned a sail that slows you down. But don't worry, it isn't so fitted that you can't layer underneath.
Its one drawback is the limited pocket space and odd placement on the left hip, though the location does prevent your phone from moving too much while running. While the jacket folds up into the pocket of the jacket, comparatively it's more challenging to stow than other jackets. But if you're headed out into snow, hail or rain, this is the jacket you want.
Best Running Jacket of 2022 for Harsh Weather Conditions by Outdoor GearLab
Best Running Jacket of 2022 for Wet Weather by Running Warehouse
Best Overall Running Jacket by Gear Patrol
Best Running Jacket for High Winds: Patagonia Storm Racer Jacket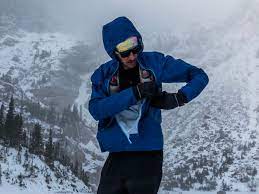 The Patagonia Storm Racer Jacket offers truly waterproof construction. With great weather resistance, it's an ideal outer layer no matter the weather. The design is unique with a double zipper so you can wear it over a running vest or backpack to keep your gear dry.
The adjustable hood offers options for just how covered you want to be based on the elements. Plus, elastic cuffs keep moisture and air out without extra bulk or discomfort.
Ultramarathon runners will appreciate its lightweight waterproof design that fits over anything. But for those who run more casually or are looking for a jacket that will look nice for a trip to town, this jacket might be a bit awkward.
Best Running Jacket for Freezing Temperatures (0° to 32°): Nike Therma-Fit ADV Repel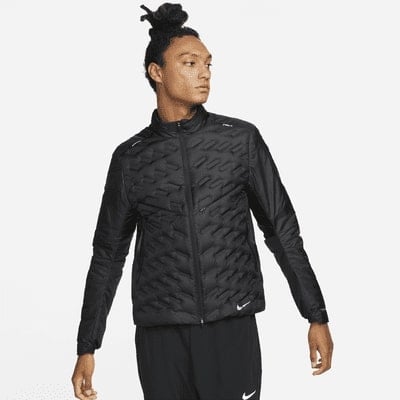 When the weather gets cold, you'll want the Nike Therma-Fit ADV Repel. This is one of the best winter running jackets because of its ultra-light while providing superior warmth. The water-repelling fabric helps you stay dry and comfortable.
As the temperatures warm, you can open the venting system to allow enough air in to stay comfortable. Stow the hood inside the neck when you don't need it. The side pockets feature zippers so you can stash your belongings away without concerns about them falling out while running.
Best Running Jackets for Cold Weather (32° to 49°): Columbia F.K.T. II Windbreaker Jacket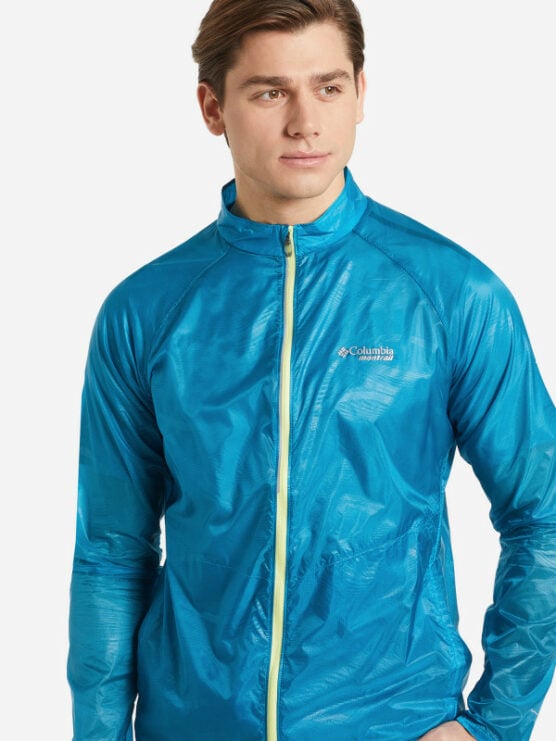 If you're looking for cold-weather running gear, reach for the Columbia F.K.T. Windbreaker. This lightweight windbreaker is easy to pack as it folds up small. With an elastic hem and cuffs, you'll keep cold breezes out as you accomplish your run goals for the day.
The jacket features two side hand pockets as well as a zippered security pocket. You'll have reflective details to help you stay visible no matter when you run. The OmniShield fabric offers advanced water-repelling capabilities to keep you dry.
Best for Running at Night: SAYSKY Universe Luxe Jacket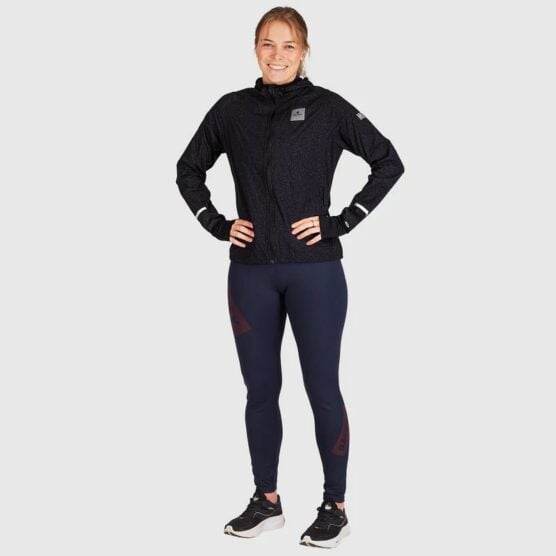 If you're headed out at night, the Saysky Universe Luxe Jacket offers high-quality reflective fabric, labels on the chest, and reflective strips on the sleeves and back make it ideal for high visibility running. The back panel is finished with laser cut holes for extra breathability.
And while you'll have room to layer underneath, the jacket offers a tailored fit ideal for rain or snow. It brings together fashion, usefulness, and comfort. The jacket will move with you thanks to its gentle stretch. Plus, you won't have to worry about swooshing sounds as you run because it is a quiet windproof jacket.
Best Athleisure for Men: Tracksmith NDO
Looking for a jacket with the ultimate running comfort that you won't mind wearing out and about? The Tracksmith NDO is a trendy athleisure-style jacket so you can go from training to relaxing with one jacket in your closet.
The jacket is both water and wind-repellent. The merino wool interior offers moisture-wicking to keep you comfortable throughout your run.
Tracksmith offers a slightly preppy design alongside useful features you'll enjoy. With two spacious pockets and an internal water-resistant pouch for your phone, you can carry everything you need to go from running to relaxing. Reflective detailing will help drivers spot you whether you're in a crosswalk during a morning stroll for coffee or running through your neighborhood in the early morning hours.
Best Athleisure for Women: lululemon Mist Over Windbreaker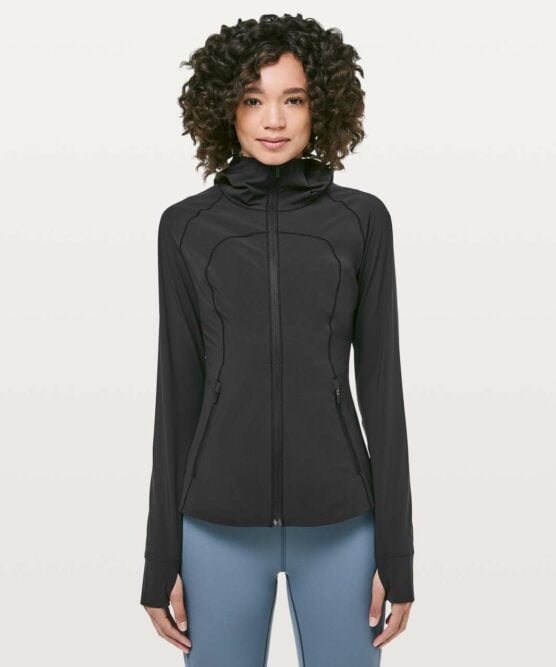 If you're looking for the best running gear for women that seamlessly transitions to a jacket you'll be proud to wear to meet up with friends, the lululemon Mist Over Windbreaker is for you.
This slim-fitting jacket features a drop-tail design to offer the extra coverage women like when wearing leggings or running tights. As the name indicates, this is a great jacket for windy weather, but it also features water-repellent fabric to keep you dry.
Made from polyester and elastane, it also offers some stretch to move with you for optimal comfort while running and relaxing. Just know that this jacket is challenging to layer up with because it is slim fitting. Size up if you want to use it in colder weather with more base layers.
Best Drop-tail Jacket for Women 2022 by Runner's World
What to Look for in a Running Jacket
Before you purchase a running jacket, review this list of top considerations for ultimate comfort and performance.
Materials
When reviewing the materials that the jacket is made from consider moisture-wicking capabilities. Moisture-wicking fabrics are used in both lightweight and heavy running jackets. The materials will also impact how stylish your jacket is. If you want running gear that will seamlessly transition to athleisure wear, look for modern materials like Merino wool.
Breathability
One challenge some waterproof jackets face is that they keep moisture out, but also in. This can create a swampy interior feeling as you begin to sweat. You want a jacket that releases sweat vapors to prevent that interior damp feeling. Some jackets manage this with perforated zones or interior mesh. Zippered vents you can open or close during various weather conditions can also help create airflow and pull moisture away from your body.
Fit
Some jackets offer a more fitted design that isn't ideal for layering but will look great if you transition to wearing it as athleisure. You'll want to weigh the pros and cons of a roomier design that allows for layering but might feel like a parachute during windy runs. Balance appearance with functionality and test the jacket over your favorite base layers to see how well it meets your needs.
Pockets/Storage
Knowing that you can carry essentials with you during your run is important. Look for jackets with zippered pockets to protect your belongings. And as you review the pockets, consider whether they are large enough to store your phone and other large items.
The location of the pockets is another consideration. Depending on where the pockets are located on the jacket, you might be uncomfortable running with heavier items such as a phone in that pocket. Comfort while running depends on the athlete, so test various pocket locations for your phone to see what you like best. You can also rely on an external belt like a Flipbelt if the pockets size and location aren't up to your satisfaction.
Reflection if You're Running at Night
Whether you plan to run in your neighborhood or on a local path, you'll want to ensure your jacket has reflective details so people can see you at night and in the early morning. Many jackets feature reflective fabric along the zipper, shoulders, cuffs, chest and back to improve visibility.
Portability
If you change your mind during a run about needing the jacket, the best running jackets feature easy stowing capability. Many will fold up inside a pocket to become the size of your phone. Some even feature straps so you can avoid the need to tie it around your waist or wear it like a cape.
Lightweight All-Weather Running Protection
Purchasing a running jacket will offer lightweight protection from wind and rain. And when it gets chilly, you can always layer up to stay warm while still experiencing protection from wind and precipitation. Review the list of the best running jackets and select the one that best meets your unique running conditions.
FAQ
Do you need a running jacket?
Most runners need a running jacket regardless of where they live. That's because a jacket offers comfort for athletes during a variety of weather, including rain, wind and snow.
What is the purpose of a running jacket?
A running jacket offers protection from wind, rain and snow while offering moisture-wicking technology to keep your body comfortable.
Why do running jackets have thumb holes?
Running jackets offer thumb holes to prevent the sleeves from bunching or pulling up if you wear something overtop.
–
Everything featured on Half Marathon Guide is independently selected and curated. We may receive a small commission on purchases made from some of our links.