Saturday, May 18, 2024 • Whitefish, MT • Course Map

Set for an early spring running along the rugged single-track trails that wind through the forests just west of Whitefish Lake in the Beaver Lakes Trail Area, this race unfolds along the 25 miles of trails in these woods just south of the Whitefish Mountain ski resort and Glacier National Park off to the east.
The race is hosted by the Whitefish Bike Retreat, whose lodge sits on a 19-acre property surrounded by towering trees.
Runners will start and finish the out-and-back course for all four races there — for runners, there's the half marathon, 10K and 5K, while there's also a family fun run/walk that takes families and children out on a walk along the trails surrounding the retreat.
From the starting line, runners in the half marathon will head north along the single-track, natural-surface trails through the forest, making their way north toward Woods Lake, Dollar Lake and Little Beaver Lake, before heading back down to Rainbow Lake (which they passed in the early miles) to a 3-mile loop close to Beaver Lake.
For directions, you're looking for the starting line at the address 855 Beaver Lake Road, which is the address of the Whitefish Bike Retreat. That will take you to the starting line for the race and the post-race lunch.
Organizers say the half marathon will be "fun and challenging" thanks to all the hills you'll run through the Beaver Lakes region, and you'll likely need to bring water along with you.
Photos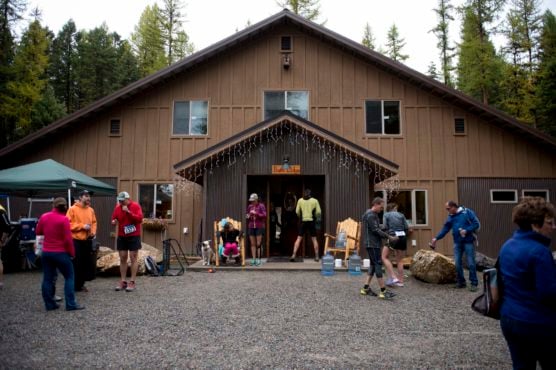 All photos courtesy Whitefish Trail Legacy Run
Race Weather & Climate
Nestled at the southern end of the lake that bears its name in northwestern Montana, about 17 miles north of Kalispell and roughly 130 miles north of Missoula, Whitefish typically sees its lowest rainfall totals of the year in May.
May 18 average low: 32ºF
May 18 average high: 60ºF
Past Results
Course Map
See the race route map for the Whitefish Trail Legacy Run Half Marathon here.
Starting Time
10:00 AM
Fees
$60 – $80 for the half marathon
$30 – $45 for the 10K
$20 – $30 for the 5K
$15 for the family fun run
Registration
To reserve your spot in the 2024 running of the Whitefish Trail Legacy Run Half Marathon, 10K or 5K race, register online at RunSignUp.com here.

Official Race Website
Comments
Ever run in the Whitefish Trail Legacy Run Half Marathon? Share your impressions here, as well as anything you learned about the race that you think other runners/walkers should know.