For most runners just finishing a marathon is a massive accomplishment. For the ambitious, finishing under 4 hours is a good goal. But, there are those over achievers trying to do the unthinkable, run 26.2 miles and with a finish time less than 3 hours. But, running a 3 hour marathon pace is very doable if you're willing to put in the time and effort. This also particularly works well if you're a young, uninjured, and seasoned runner.
Outside reports that only about 4% of marathon finishers break 3 hours. With over a million people finishing full marathons each year, that means roughly 40,000 people finish with a 2 at the front of their time.
Running under 3 is not something that will just happen naturally on your first marathon, but if you set it as a goal and train with that intention in mind, you could join the prestigious sub-3 club.
Even if it is doable, however, there is also the question of why?
Why spend months if not years just trying to run a marathon ridiculously fast?
Well, first there's just the sense of accomplishment that comes from breaking the 3 hour mark, and since marathon running is a sport where you're mostly competing with yourself to see what your body can accomplish, this is an exciting goal to work towards.
Second, if you're a man under 34, you'll need to break 3 hours in order to qualify for the Boston Marathon. And since young men make up a large swath of marathon runners and being a Boston qualifier is a common goal for marathoners, the sub-3 race has become an increasingly popular objective.
Related: The 15 Best Marathons to Qualify for Boston
How do you run a sub 3-hour marathon? I'm glad you asked. Let's dive in.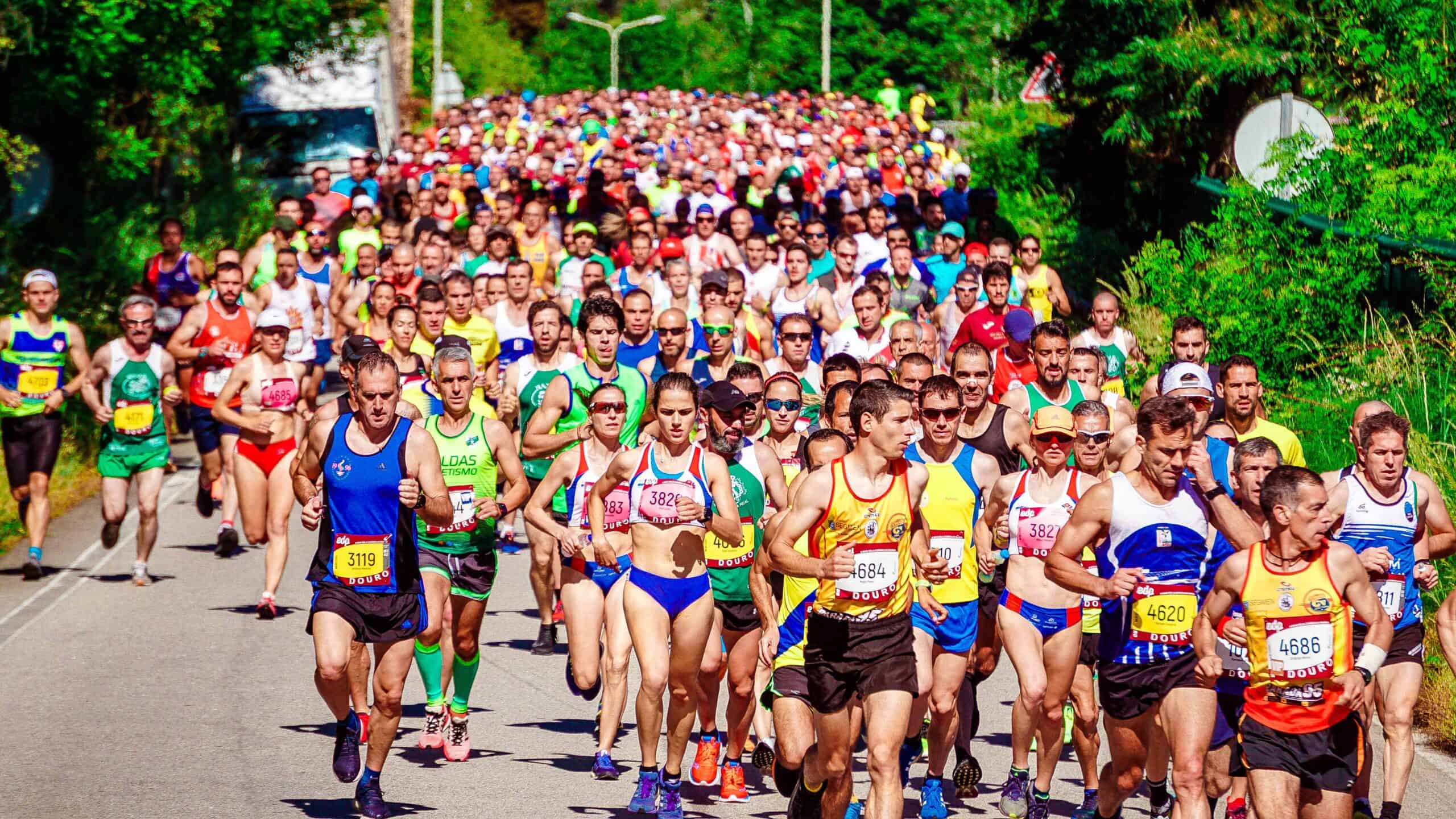 What is a 3 hour marathon pace?
The marathon race pace needed to run a marathon in under 3 hours is 6:50 per mile.
That pace will get you across the finish line in 2 hours, 59 minutes, and 10 seconds. Running a mile in 6 minutes and 50 seconds is certainly not easy to do for 26 straight miles (for many 6:50 is a good 5K or mile pace).
It's also a speed that avid runners can reach for shorter distances, which is a great place to start.
When should you aim for a 3 hour marathon pace?
Marathon running is a hobby made up of repeatedly setting new goals for yourself. If you run long enough, a sub-3 marathon time might be a good goal.
Some first-time marathoners who come from cross country backgrounds may aim for sub-3 on their first go. Runners traditionally have to identify it as a goal and work towards it, and work towards. If you've run a marathon in under 3:30 you can begin ramping up to a sub-3 marathon although it could be a journey that takes a few races to get to.
If you've got a PR that's near 3:15, then you're within striking distance and it's time to pull the trigger on an intense sub-3 training plan.
Related: 2 weeks of free marathon training with Runna using code HALFMARATHON.
How to Run A Sub-4-Hour Marathon
Marathon Training Phases
Depending on your plan, you'll need between 16-22 weeks training specifically for your marathon.
You'll want to book your race early and then determine your training schedule backwards from the race date.
There are four distinct segments of training:
Setting the Stage
During your first few weeks of training, the most important thing is getting your body and mind used to the intense training schedule. You'll be running out six days a week for 4-6 months. Preventing injury comes down to staying consistent and building good keystone running habits.
During this phase, you'll be running a weekly mileage of 40 miles during this stage with long runs a little longer than half marathon distance.
The Build Up: Faster & Longer
In phase two, you'll be increasing your mileage but also increasing your pace.
When you're not caught up on a long run, you'll be incorporating more track workouts like sprints and fartkets to support the improvement of your aerobic fitness.
Full Force Training
At the glorious peak of training, you'll get into running 20+ miles on your long runs.
You'll be tackling your 6:50 per mile race pace head on and generally throwing everything you've got into marathon running.
During this week, you'll be spending the most amount of time in training – not only because you'll be running for 10+ hours per week, but running with a high mileage requires warm ups, recovery runs, and intense nutrition.
Need a training shoe for your upcoming marathon? We've got you covered.
Marathon Taper
The last few weeks before the race is about resting and trusting that you've done the work. It can be easy to second guess yourself and try to squeeze in extra long or extra fast runs to reassure yourself that you can run sub-3, but you've got to trust the process and allow your body to recover so you're in perfect shape for race day.
Related: Master recovery with a half marathon taper
Types of training runs
Marathon Race Pace.
This is exactly what it sounds like. You're running training miles at the 6:50 pace you're planning to run during the marathon. This pace gets your body comfortable with a sustained Zone 3 effort.

The more you train at your race pace, the more psychologically you'll recognize what's required of you.
Intervals.
Interval training is training that alternates periods of full exertion running with periods of recovery running. It's easiest to do on a track, but if you've got a Garmin or COROS, you can accomplish it anywhere.

With this training session, you'll run the same distance repeatedly at a pace faster than your race pace with recovery periods in between. For example you'd run a mile at a 6:00 pace, then a slow mile, with four repetitions. Training like this adapts your body to exertion harder than that you'll need. In the race, the pace will feel easier comparatively.
Hills.
Running hills will of course train you for any hills on your marathon course. Hills will also acclimate your body to increased exertion than is needed in the race. The marathon pace on an incline will not seem as difficult by comparison.
Tempo/Progressive.
Tempo runs are short runs at a pace faster than your marathon pace. These runs are difficult and should be. These runs adapt your pace to faster speeds.

For a 6:50 marathon pace, tempo runs should be at 6:10-6:30 pace. Progressive runs are tempo runs where the pace increases as you progress. The lactic build up leaves you exhausted at the end.
Easy Runs.
An old adage in marathon training is that people don't run their hard runs hard enough or their easy runs easy enough. Pace shouldn't matter here.

Run them nice and slow. The goal is to increase mileage. Slow mileage increases are designed to increase endurance while sustaining a low risk of injury. An 8:00 pace or slower works just fine.
Long Runs.
Each week will culminate with a long run aimed to get your body used to the longer distances. Run these at 30 seconds slower than your marathon pace. This should be around 7:30 minutes per mile. They'll take the most time, but you can celebrate with a rest day afterwards.
Related: How to determine what pace you should run each of your runs.
Weekly Workouts for 3 Hour Marathon Pace Training (Sample)
The typical weekly schedule might look something like this:
Monday: Regular, mid-length easy run.
Tuesday: Speed workout. Practice at race pace with either intervals, hills, or tempo run.
Wednesday: Second easy run
Thursday: At home or gym strength training.
Friday: Rest.
Saturday: Long Run
Sunday: Recovery run.
Some plans have runners sticking to the same order every week whereas others switch things around, but the long run/rest should be consistent even if you change the other aspects.
As you move through the phases of training, you should increase mileage and decrease your splits for the workouts.
The easy runs, however, should remain easy and just get slightly longer week over week.
Sub 3 Hour Marathon Training Plan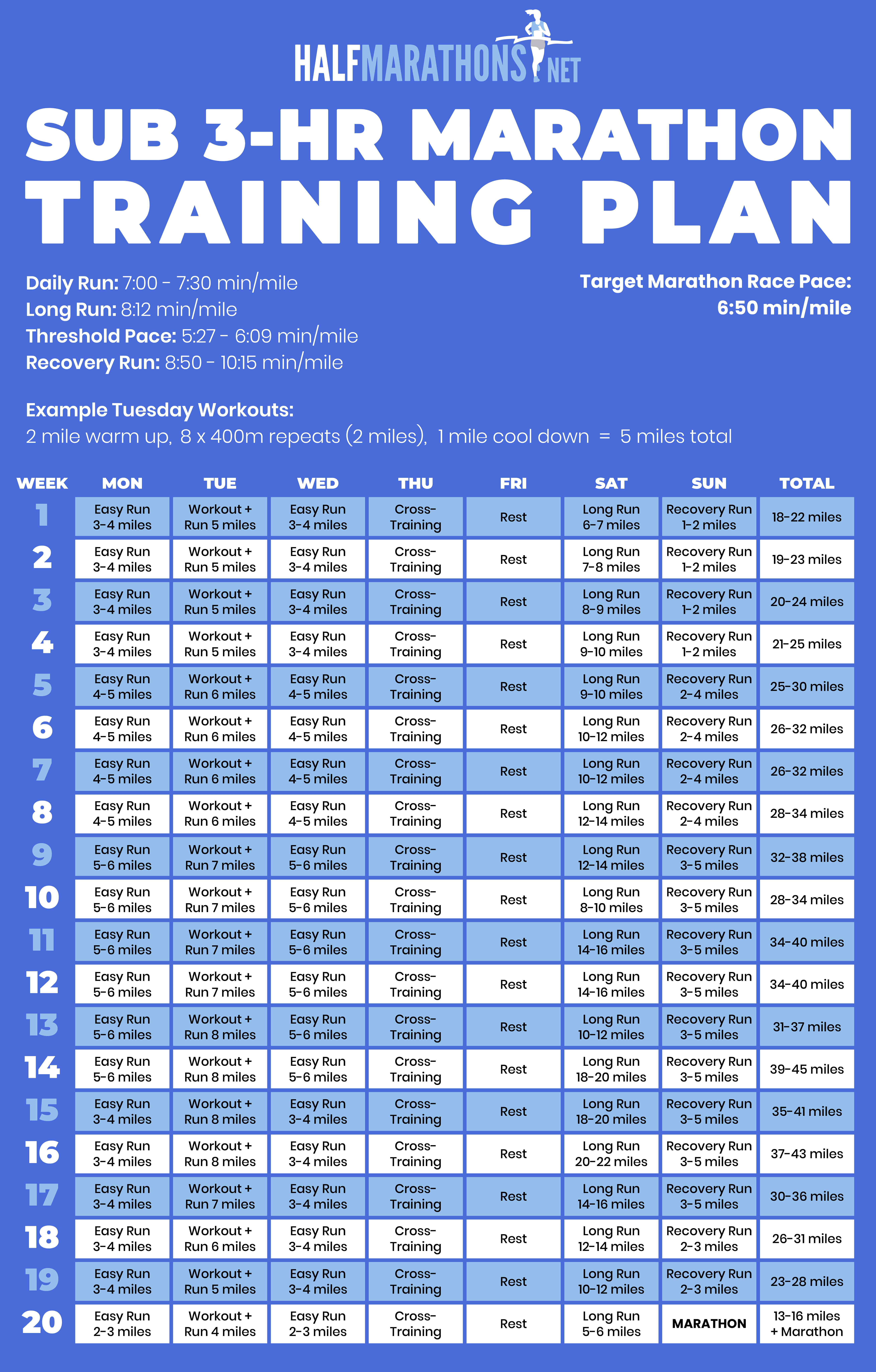 FAQ about 3 Hour Marathon Pace Training
Aside from running, what should you do to train for a 3 hour marathon?
One of the most difficult parts of running a sub-3 marathon is completing the intense training without injuring yourself. One way to avoid injuries is by making sure that your body is strong and can support the wear and tear of running so many miles. As the whole body is connected, lifting weights, especially legs and core, can provide more stability.
Biking and swimming are also recommended by physicians and running coaches as low impact activities that will improve your cardiovascular endurance while removing the impact from running.
Sprinkling cross training into your training plan will be a big help to reducing injury and improving speed.
What are the most important things to do for running a 3 hour marathon?
The three keys to success when it comes to hitting that 3 hour mark are consistency, mileage, and rest.
If you're going to work this hard and aim for such an ambition goal, you have to follow your training plan and consistently show up for your runs. Skipping regularly will not give you the results you want. Continuing to increase your mileage is also important.
The goal is to get your body as used to long distances as possible so the actual marathon isn't a physical shock. Run regularly and make the runs longer as you go.
All that being said, no amount of training will help you if you are injured, and the key to staying healthy is plenty of rest. Take the easy runs easy. Take the rest days off. If you feel something isn't right, skip a day of training and rest. Pushing through an injury might seem like a good idea in the short term but it will hurt you in the long run.
Related: 17 Spring Marathons To Run in 2024, Picked by a Marathon Expert
How to avoid getting injured while training for a 3 hour marathon
The easiest ways to avoid injury while in an intense training plan are to:
Get plenty of rest and allow your body to recover on easy runs or rest days
Cross train and strength train to build supporting and stability muscles
Don't participate in activities that could injure you in other ways like basketball, soccer, or football. Just because your injury isn't a running injury doesn't mean it won't impact your running.
What should you do on race day if you're trying to run a 3 hour marathon?
On race day itself the keys to succeeding are having a well tested fueling plan and knowing your pacing. Practice fueling on your long runs with the same gels, bars, etc. that you'll use on race day. Eat the same things pre-race the morning of and the night before. Don't leave anything up to chance or try out new foods/drinks during the race.
Ensure that you have the proper gear for race day – specifically with marathon racing shoes.
Also make sure you know your race pace and stick with it from the start. There is always an impulse to start fast to "bank time" but if you burn out, you can blow through that banked time ridiculously fast. Stick with your pace no matter what's happening around you. That's what you trained for.
How do you pace a 3 hour marathon?
During the race itself, the easiest way to pace yourself is to use some kind of watch that will tell you your split times. Hopefully by race day, you'll have a good grasp on the 6:50 pace and can fall into it easily, but you can use the splits to correct yourself as you go. Most marathons also have a 3:00 pace group that you can run with which can be helpful especially at the beginning of the race.
How many people can run a sub-3 hour marathon?
As Outside reported, about 4% of marathon runners finish in under 3 hours so that's about 40,000 people a year.
What is the fastest marathon time?
Eliud Kipchoge ran the fastest marathon ever with a time of 1:59:40, the only time ever recorded under 2 hours. However, that doesn't count as an actual world record in marathoning because it was run on a closed course with a number of ideal environmental supports. The world record for a male marathon is also held by Kipchoge at a time of 2:01:09. The women's record is held by Brigid Kosgei with a time of 2:14:04.
–
Everything featured on Half Marathon Guide is independently selected and curated. We may receive a small commission on purchases made from some of our links.