While it may not carry the prestige of a full 26.2-mile marathon or the condensed, explosive speeds of the 100 yard dash, there's something about the half marathon distance that makes the favorite race distance of runners around the world. Firstly, the half marathon distance is the shortest t that an athlete will train and travel for. Secondly, the 13.1 mile distance is challenging and requires serious preparation. But, neither the training nor the race itself will debilitate you quite like the full marathon does. Therefore, you can race half marathons with relative frequency—several times a year, if you're so inclined. They can be fun every time, and you can chase a personal record every time out. Naturally, that will lead you to try to answer (if you've run a few already) how to run a faster half marathon on your next go around?
So, how do you shave off seconds or minutes from your fastest time ever? In this article, I'll offer several pieces of actionable advice for whether it's your first half marathon or one-hundreth.
Throughout I'll also include feedback from Neely Gracey, a four-time U.S. Olympic Trails qualifier, the founder of Get Running Coaching, and the author of Breakthrough Women's Running. The topics we'll cover include:
Half marathon-specific workouts
Serious recovery days
Course and climate preparation
Goal setting and visualization techniques
External support
Effort-based running
Consistency and a process-oriented approach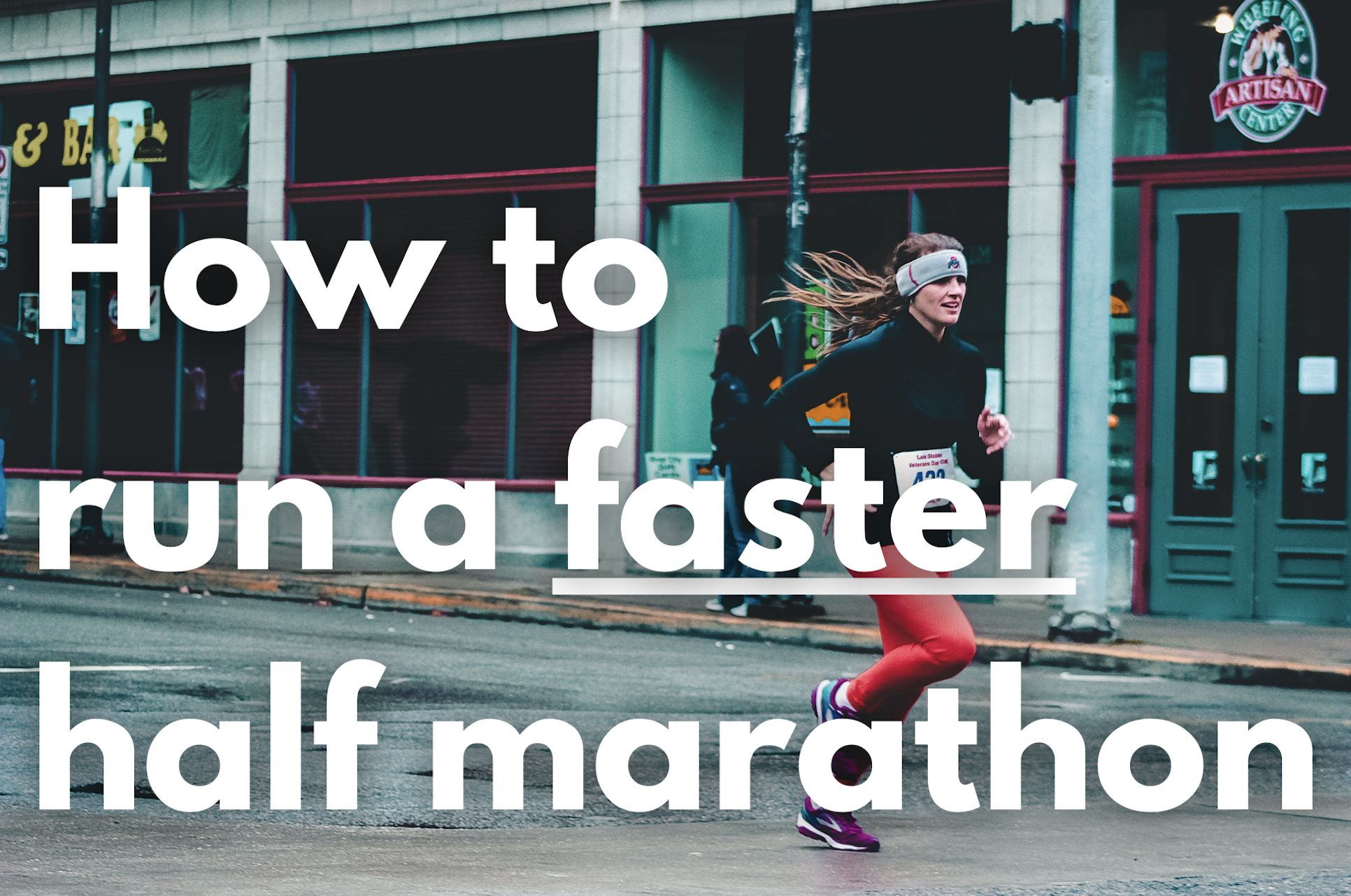 Half marathon training specific workouts
A big part of running a personal best requires two things. First, improving your aerobic strength through speed work. Second, your pacing strategy over 13.1 miles.
One way to achieve both of those is to incorporate workouts specifically for half marathon training. For a more comprehensive plan with build-up to a half marathon, Half Marathon Guide offers several different training plans. They range from 2 to 5 months in length. Or, you can incorporate a training app like Runna.
For individual workouts, anything that callouses your legs, lungs, and mind to run hard for an hour or way longer will serve you well.
Neely Gracey's Favorite Half Marathon Workout
Gracey's "all-time favorite workout" when it comes to half marathon preparation is: mile repeats at half marathon effort with 1- to 2-minute jog recovery. Half marathon effort, simply, is your goal finish time race pace, adjusted for variables such as weather, course, etc.)
How many repeats you do depends on your goals, mileage, and experience. 4 to 8 repeats at goal pace tends to be the ideal range for a half marathon runner.
Gracey recommends this workout anywhere from 6 to 2 weeks out from a half marathon race.
My Favorite Half Marathon Workout
One of my favorite workouts, which was one of my last big ones before running a 95-second half marathon PR (69:40), is: 4 miles hard, 3 miles hard, 2 miles hard, 1 mile hard, with an easy 5-minute jog in between each rep.
I ran that speed workout at high altitude. But, effort-wise, I started a little slower than goal half marathon pace. As the reps got shorter, kept a faster pace until I ended a bit below goal race pace.
Don't forget about extended efforts.
Building your long run up to race distance and beyond will fortify any distance runner to cover the race mileage with confidence.
Another strategy to improve your racing confidence. Challenge yourself with tempo runs roughly averaging the pace you'd like to maintain in the race.
For an experienced runner, 6 to 8 miles is an appropriately challenging distance for a tempo run as part of most training programs.
When you get to the race, your rested legs and adrenaline will allow you to extend that effort in a way that often feels impossible in training.
Take your recovery days seriously
It sounds paradoxical, but one way to increase the quality of your workouts is to run extra easy on your rest days. Rest days are those between training days.
Running slow offers several surprising benefits that you'll miss out on if you push too hard too often. As Malissa Rodenburg points out, slow running increases the energy capacity of your muscle fibers, promotes fat oxidation, and reduces the risk of injury.
Since they're also less mentally taxing than harder runs, easy runs can serve unique purposes. They offer space to think, socialize, vent, problem solve, and dream of those long-awaited personal bests.
To put it simply, the harder you recover, the harder you can run—and improvement lies somewhere in the balance.
To ensure your recovery is a core tenant of your training program, incorporate smart decisions like cross-training on non-running days, warm ups and cool downs before and after training sessions, and foam rolling or heat exposure for injury and running recovery.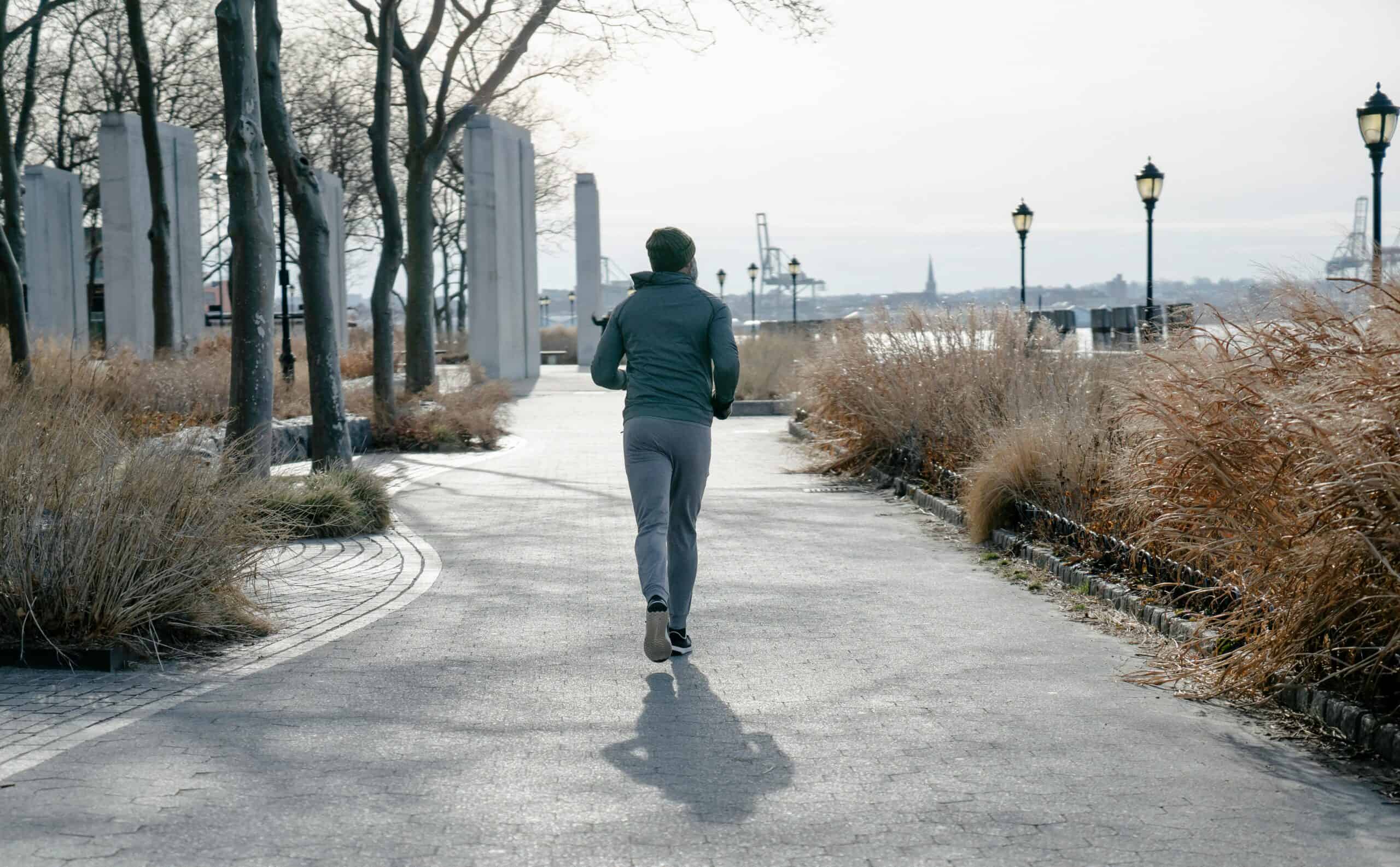 Prepare for the course and climate
It may seem obvious, but if you want to run faster than ever before, it's important to train specifically for the course and expected weather conditions of your race.
First, learn everything you can about the course you'll be running.
If it's local, scout it out by car, foot, or both. Talk to people who have run it. See if there are any more course details available online. If you'll be racing in a different city, do as much research as you can prior to your build-up, both online and through former participants.
Study the elevation profile. Find out if it's an out-and-back or loop course. Identify any landmarks that can help orient you during the race. Investigate the locations of the fluid stations.
Even though there's always a chance that weather will throw you for a loop, it's worth making your best prediction for what you'll get on race day. That could mean anything from stocking up cold weather running gear to buying a new pair of waterproof running shoes.
Look up the last several years of weather data for the city you're racing in and the day of the race, and train accordingly. For example, if it's likely to be a warm race, try to do at least some of your training during the warmer parts of the day. Or, dress in multiple layers if you can't quite replicate the heat. Depending on how warm race day is set to be, may also require a more dialed hydration and fueling strategy)
If it's likely to be chilly, do what you can to get used to running in those conditions. Even it's not on a regular basis. The fewer surprises on race day, the better.
Visualize success—and expect some hiccups
One of Gracey's secret weapons when it comes to racing her best is visualization.
Visualization is a practice she first learned about in a sports psychology class in college. There are two ways to go about it, she says. "The first is through imagery and journaling when still, and the second is through imagery and inner dialogue in motion. I found the latter to be far more effective for me. I use my workouts to practice training the brain and I break down each session. Then, I imagine myself and where I would be at on the course. I imagine how I will feel and the mantras I will repeat, the ability to push through fatigue."
Gracey makes a point to visualize in such a way during her hard workouts every Wednesday. So, when it comes time to race, she knows her mind will be ready for it.
To add to Gracey's tip, some sports psychologists I've worked with taught me to visualize not only executing a smooth and successful race, but to also anticipate facing some possible mid-race challenges. There may be a side stitch, powerful headwind, missed fluid station, or inner-doubt, for example.
Allow those possibilities to enter your mind, and then visualize yourself working through them calmly and confidently. That way, when your race doesn't go 100% according to plan—which rarely happens—you'll be ready to stay positive and engaged all the way through.
This type of mindset is especially important if it's your first time running a race. While you can read everything you can find on first half marathon tips, some of it will just need to come through experience.
Build an all-star support crew
It's true that it's you and you alone out on the course. You'll be ticking off the miles and willing yourself to the finish line.
But, that doesn't mean that you can't be bolstered in training and in races by the support of family, friends, training partners, coaches, and others. Here are some people worth considering adding to your support crew if they aren't part of it already:
Encouragers– friends, family members, neighbors, work colleagues. Also, and anyone else who strategically lines the race course or simply serves as your day-to-day hype man/woman.
Training partners– runners who train alongside you, hold you accountable to your goals, and push you to new heights.
Running coach– a running expert who creates your training schedule and race plans. There's not fitness level of runner that couldn't benefit from working with a running coach.
Strength coach– A person who writes your strength training plan. They will helps you get stronger in ways that are relevant to long-distance road running.
Registered dietitian– A trained and certified expert in nutrition. They can teach you about fueling for performance and offer meals for runners and snacks for runners.
Sports psychologist– A trained and certified expert in sports psychology. They can help you work through mental blocks, build mental strength, and improve your performance.
Physical therapist, masseuse, or chiropractor– Bodywork professionals who help keep your body tuned up and feeling good through manual therapy and/or prescribed exercises and stretches.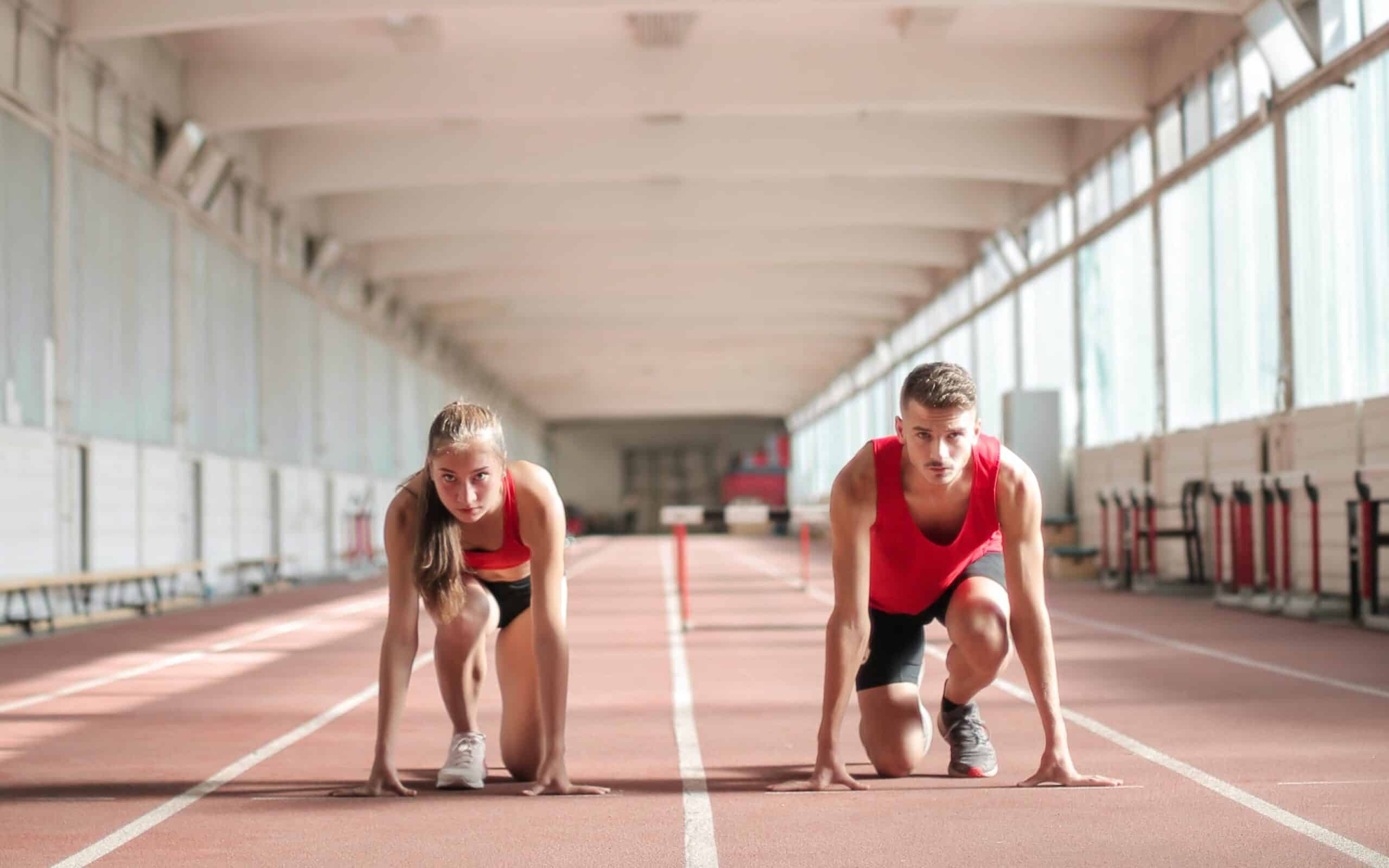 Run by effort rather than by the clock
Especially in recent years, many runners have become so obsessed with and dependent on their watches. Some hardly know how to operate without them.
Gracey, on the other hand, prefers to tune into herself rather than a device when she's trying to get the most out of herself.
In other words, she uses a watch to keep an eye on paces and splits in workouts like her weekly long run to anticipate race times. But, in the races themselves races, she ditches the watch and trusts her effort.
"The stress that splits bring on us can actually hinder our performance, cause us to second guess ourselves, and can hold us back from running our best," she says.
If you feel like you need some sort of data to guide you, Gracey recommends using heart rate monitor instead of pace.
There's so much individual variability when it comes to heart rates. To take this approach, you'll need to train with a heart rate monitor. You'll identify an appropriate range for you during a half marathon.
Chase consistency and joy in the process
Finally, even if you don't make any major changes in your training or lifestyle, know that consistency—over months, years, and possibly even decades—is one of the most powerful tools any runner can have in her toolbox.
Gracey calls consistency "the golden rule" of running.
It's what allowed her to shave more than four minutes off her best marathon time after having two babies, despite running fewer miles and less impressive workouts. Her secret? More intentional recovery. In addition, the years of healthy training Gracey had stacked up didn't simply vanish when she took a break to have kids. Instead, they put her in a position to resume running at a high level when she was ready, and to push her limits even further than before.
In a similar vein, as focused are you are on running your fastest half marathon time ever, don't forget to keep it fun. Invest into your experience by finding a beautiful half marathon, finding running shoes you love running in, or racing for fun like a 10K race to take the edge off your goal race.
Not only will that extend your running lifespan and thus give you more opportunities to chase faster times, it will also take some pressure off the results when just being out there doing what you love to do is a victory in and of itself.
For many runners, a joyful, process-centered approach is where the magic happens.