Everything featured on Half Marathon Guide is independently selected and curated. We may receive a small commission on purchases made from some of our links.
ASICS offers tried-and-true running shoes with a reputation for quality. You've got dozens of models to choose from, which means it might feel overwhelming to discern from all the makes and models to find the best ASICS running shoes for you. To guide you in your search, here's a look at the best options based on various use cases and running types.
Quicklook: Best ASICS Running Shoes
10 Best ASICS Running Shoe Options
ASICS is an acronym for the popular Latin phrase "anima sana in corpore sano," which means "a sound mind in a sound body." The shoe company was founded at the Research Institute for Sports Science in Japan after scientists extensively tested how shoes support the unique movements of runners.
So if you've been wondering are ASICS a good running shoe, know that thousands of hours of research go into each shoe design with focus on supporting a runner's body and movement with the most advanced technology.
ASICS is well known for reliable support, comfort, and speed. There's a shoe for every runner regardless of whether you overpronate, have a unique foot shape, or run short or long distances. Here's a look at our pick of the top 10 ASICS sneakers.
Best Daily Trainer for Neutral Runners: ASICS Novablast 3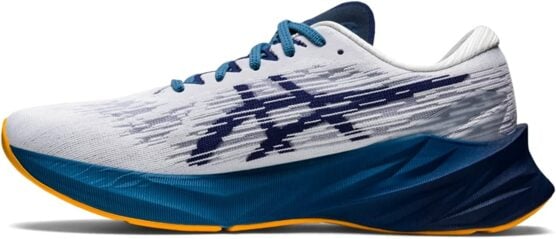 The Novablast 3 is one of ASICS most versatile running shoes. It offers high-cushioned running that holds up over long distances while offering the lightweight flexibility needed for speed work. It features a lightweight FF BLAST PLUS midsole with foam to rebound quickly from each step to avoid fatigue during distance runs.
Each side of the shoe has a stabilizer in the heel meant to reduce side-to-side movement when form starts to break down over long distances.
The upper is made from 75% recycled materials and offers incredible breathability. ASICS Novablast 3 is a great combination of cushion and lightweight speed for neutral runners looking to tackle any distance.
Best ASICS Running Shoe for Neutral Runners by Fleet Feet
Best ASICS Running Shoe by Running Warehouse
One of the Best ASICS Running Shoes by Believe in the Run
Best ASICS Running Shoe for Tempo Runs by Sole Review
Best for Everyday Training: ASICS GEL-Nimbus 24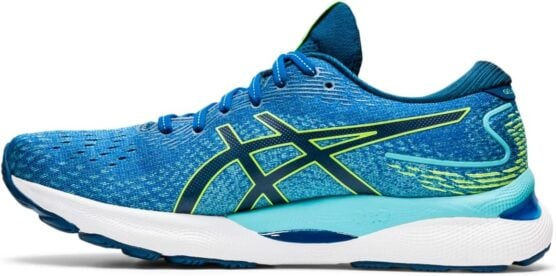 This neutral shoe is an outstanding everyday training shoe. Its strength is in long distances. Version 24 is lighter than its predecessors but still offers incredible support and cushion. The shoe is reliable with a soft, easy ride.
The latest version of this shoe now has the FF BLAST PLUS midsole cushioning like the Novablast, which adds cushion while reducing the weight of the previous model of the shoe. As one of ASICS gel shoes, it offers more shock absorption in the midsole. This feature promotes compression in the heel to create smooth transitions between your heel and toe during your run.
With 20% recycled material in the upper, the shoe provides peace of mind that you're supporting sustainable business practices while still enjoying breathable fabric.
Most Cushioning Asics Running Shoe by Runner's World
Best Everyday Training ASICS Running Shoe by Fleet Feet
Best ASICS Running Shoe for Cushioning and Responsiveness by Road Runner Sports
Best ASICS Running Shoe for Daily Training by Believe in the Run
Best ASICS Running Shoe for Long Runs by Sole Review
Best for Stability: ASICS GEL-Kayano 29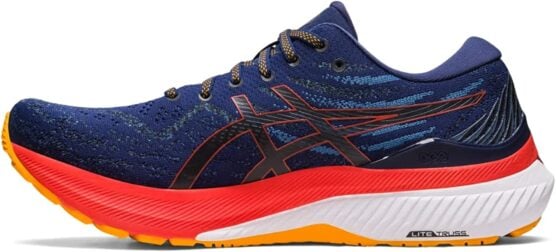 On the market for more than two decades, the ASICS GEL-Kayano 29 offers the best stability shoe from the manufacturer. It also features ASICS's FF BLAST PLUS in the midsole for an energetic, lightweight ride.
ASICS uses its signature LITETRUSS in the midsole to ensure runners who pronate don't roll their foot inward too far. A major concern for stability shoes can be the stiffness of the soles causing a lack of flexibility, but you won't find that in these shoes. The toe of the shoe has been designed with flex in mind to guarantee long-term comfort.
The rubber outsole offers traction so you can feel firmly planted on the pavement even during damp or slippery conditions. Plus, the material holds up to heavy use. The stretchy knit upper is more breathable than previous models.
Best Stability ASICS Running Shoe by Fleet Feet
One of the Best-Selling ASICS Running Shoes according to ASICSBest ASICS Running Shoe for a Smooth Ride by Road Runner Sports
Best ASICS Running Shoe for Overpronators by Sole Review
Best for Beginner Runners: ASICS GEL-Cumulus 24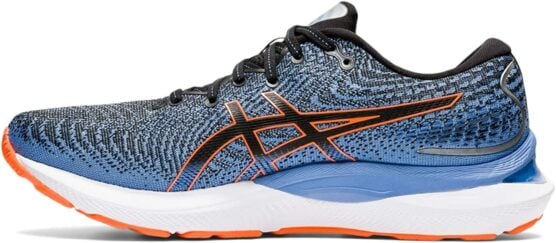 The ASICS GEL-Cumulus 24 is a neutral trainer that is designed for beginners because it has an accommodating fit. Aptly named after a cloud, the shoe offers lightweight support and version 24 is softer than its predecessors because of the addition of the FF BLAST cushioning in the midsole.
FF BLAST is a low-density foam that offers plenty of cushion to reduce the impact you feel when your foot lands and propel into the next step. That cushioning helps create a smooth ride without weighing down the shoe.
The outsole is made from ASICS LITE rubber to keep the shoe lightweight but also offers excellent traction. And because the shoe is part of the ASICS GEL line, it has excellent shock absorption throughout the shoe.
Best ASICS Running Shoe for Beginners by Fleet Feet
Best-Selling ASICS Running Shoes according to ASICS
Most Versatile ASICS Running Shoe by Road Runner Sports
Best ASICS Running Shoe for Beginners by Sole Review
Best for Lightweight Stability: ASICS GT-2000 v11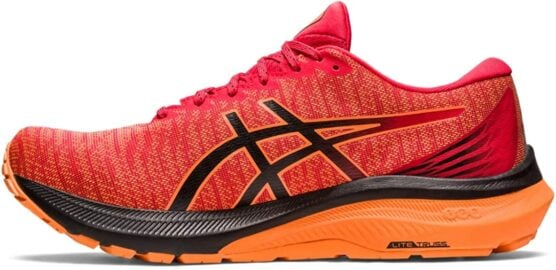 Although the GT-2000 is a stability shoe, you'll hardly be able to tell since it is so lightweight. It uses the ASICS LITETRUSS system. LITETRUSS is firm material on the medial side (the inside arch) that prevents your foot from shifting inward during runs to support runners that overpronate.
Plus, version 11 now features FF BLAST foam in the midsole for the lightest, yet densest cushioning yet. This version also features a beveled heel, which helps smooth out landings for improved heel-to-toe transitions.
As far as stability shoes go, it's incredibly responsive. The upper is made from 50% recycled polyester, yet it's still soft and breathable.
Best Lightweight Stability ASICS Running Shoe by Fleet Feet
Best-Selling ASICS Running Shoes according to ASICS
Best for Lightweight Cushion: ASICS GEL-Nimbus Lite 3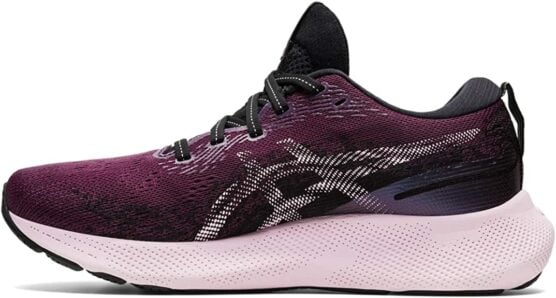 Another great ASICS gel shoe is the Nimbus Lite 3. The soft gel is present in the heel and forefoot to provide soft heel strikes for a lightweight, yet bouncy cushion. You'll get softer landings with this shoe, yet as the name indicates, it is a lightweight shoe coming in at just 9.2 ounces for men and 8.1 ounces for women.
The shoe is made from recycled materials to be in line with ASICS' commitment to sustainability. It has a FlyteFoam midsole and breathable mesh upper. It performs well for long runs and speed workouts. FlyteFoam is made from cellulose nanofiber, which comes from plant biomass.
And while the shoe is lightweight, no one would describe it as flimsy. The shoe performs well in wet conditions to offer the traction every runner wants.
Best Lightweight Cushion for ASICS Running Shoes by Fleet Feet
Best-Selling ASICS Running Shoes according to ASICS
Best ASICS Running Shoe for a Lightweight Ride by Road Runner Sports
One of the best ASICS running shoes by Believe in the Run
Best ASICS running shoe for daily training by Sole Review
Best for Road Racing: ASICS MetaSpeed Sky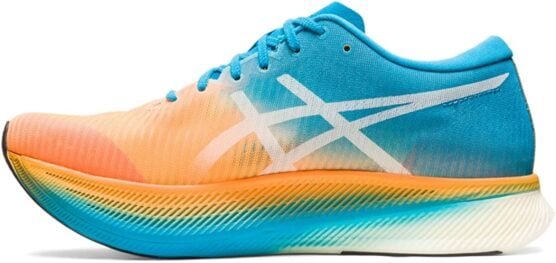 ASICS designed the MetaSpeed Sky for speed by placing a carbon plate inside it. The shoe has a rocker design with FF Blast Turbo cushioning in the midsole. That cushioning combined with the carbon plate offers a responsive and fast ride.
The upper is made from 100% recycled polyester and is nearly weightless. It's one of the lightest shoes ASICS offers at just 7 ounces for men and 5.9 ounces for women. The neutral shoe helps promote forward motion by increasing the midsole's vertical rebound. It comes from research at the ASICS Institute of Sport Science. The goal is to help runners increase their stride length, which helps them run faster.
Premium Racing Shoe from ASICS by Runner's World
Best ASICS Running Shoe for Road Racing by Fleet Feet
Best ASICS Running Shoe for Racing by RunRepeat
Best ASICS Running Shoe for Race Day by Believe in the Run
Best ASICS Running Shoe for Marathons by Sole Review
Best for Distance: ASICS GlideRide 3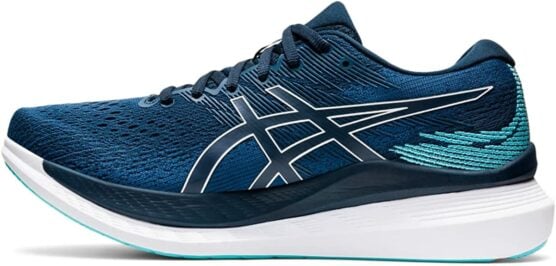 With a rocker shape and FF BLAST PLUS foam, the ASICS GlideRide 3 helps reduce the energy required for long runs. The shoe's design stands out because it has an exaggerated rocker appearance, which helps with the heel-to-toe transition while reducing ankle flexion. This takes some load off your leg muscles when propelling your body forward.
The third iteration of this shoe is even more comfortable and lightweight compared to previous versions thanks to the upgraded FF BLAST PLUS foam. Its design feels good especially for long distances thanks to the rocker design that reduces leg fatigue. If you're looking to run one of the best half marathons in America, these shoes will help you complete your goals.
Best ASICS Running Shoe for distance by Fleet Feet
Best ASICS Running Shoe by Running Warehouse
One of the ASICS Best Shoes for Running by Believe in the Run
Best For Carbon-fiber Plate in the Midsole: ASICS MetaRacer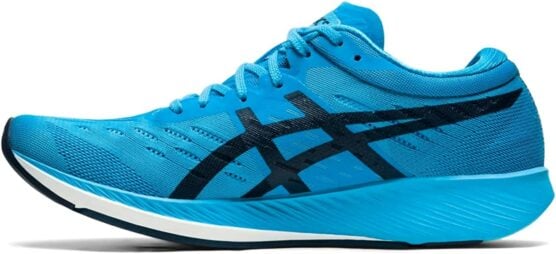 There's a reason why the term race is present in this shoe name. This rocker-style shoe features a carbon-fiber plate in the midsole, which promotes energy rebound with every step.
Unlike some other shoes with a carbon-fiber plate, you won't feel stiffness in the midsole. That's thanks to the thick, soft midsole. So while the plate will be working hard for you, it won't have the clunky feel some shoes with a carbon-fiber plate have.
While the shoe's tread appearance looks semi-slick, it is anything but that. The shoe has great traction even in wet conditions thanks to the special rubber compound the manufacturer uses.
Best ASICS Shoe for Racing by Runner's World
Best For Reducing Ankle Fatigue: ASICS MetaRide
The ASICS MetaRide features a rocker design, which helps reduce the amount of movement required from your ankle joint. Ankle joints require more running energy than you might expect, so taking work off this part of your body produces incredible results.
ASICS has developed the GuideSole, which is a rocker-shaped sole designed to help your body rock forward easily. You'll also find layers of FlyteFoam throughout the shoe, which provides both support and delivers energy return. The one setback to this shoe is that it is heavier than other shoes in this category. And if you aren't used to a rocker-style shoe, the shoe might feel unstable at first.
Best ASICS Shoe for Long Runs by Runner's World
Which ASICS Are Best For Half Marathons?
Preference for each model is up to the individual. But, for half marathon distances, you'd likely want to train in something with cushion and support like the Novablas 3, ASICS Gel-Cumulus or ASICS Gel-Nimbus. For racing, you'd prefer something designed for speed like the MetaSpeed Sky or MetaRacer.
Why Are ASICS Good for Running?
ASICS was founded in 1949 as ONITSUKA and rebranded to its current name in 1977. The shoe manufacturer has a rich history of making high-quality shoes built on the best materials and exercise science.
When designing shoes, the company starts by reviewing the shoe's purpose, including:
Whether they're meant for speed or comfort
What terrain: rocky or paved
Whether they have a roomy or tight fit
Each shoe in its lineup has a purpose. And once the company understands the runner's purpose, it reviews five attributes to design an outstanding shoe specifically for that use case.
Cushion
Support
Ride
Fit
Grip
ASICS are good for running because each shoe design starts with research about how the runner uses the shoe and creates a durable, comfortable shoe designed specifically for that type of running.
Innovative Running Shoe Designs Based on Use
ASICS offers innovative running shoe designs with high-quality materials while committing to sustainability in its shoe manufacturing. Whether you're just getting started as a runner or looking to reduce foot and leg fatigue during running to reach optimal performance, you'll find a shoe that meets your needs from ASICS.
FAQ
Do ASICS make good running shoes?
ASICS is a highly respected running shoe brand. According to Fleet Feet, ASICS is one of the leaders when it comes to high-quality running shoes.
What is ASICS best known for?
ASICS is best known for its GEL technology that it began producing in 1986.
How long should a pair of ASICS last?
A pair of ASICS should last 300-500 miles depending on how you use them and the model you select.