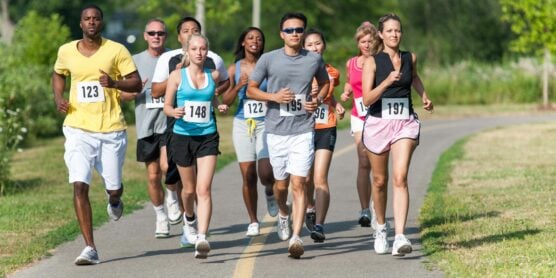 Completing a half marathon is an ambitious goal — 13.1 miles of run, sweat and tears. If you're new to running, you'll need to start with the basics of training for and running long distances. By gathering basic gear and investing in a training plan that works with your experience level and schedule, you'll be striding across a finish line before you know it. In this article, we'll cover insights on what a half marathon is, what you can expect, average finish times and the best ways to train to complete this challenging — and attainable — running goal.
How Long Is a Half Marathon?
A half marathon is 13.1 miles. Or if you want to be specific, it's 13.1094 miles or 21.0975 kilometers. An average person can't go out and run a half marathon without preparation. Most people who plan to run a half marathon take slow and methodical steps to build the strength and endurance necessary to keep moving for that distance.
How Long Do I Have to Train for a Half Marathon?
How long you need to train for a half marathon varies based on your current fitness level and past running experience. The other factor that affects how many weeks of training you'd need is how quickly you'd want to finish the race.
You'll want to select and follow a training plan. Many training plans will start 12 weeks in advance of race day. If you're new to running, consider a plan of up to 20 weeks and vary your training regimen with different types of cardio, like plyometrics or strength training.
Half-marathon training is meant to help runners achieve time goals, avoid injury and build confidence in being able to finish the race without pain or stopping.
What Is a Good Half-Marathon Time?
A good half-marathon time depends on your level of experience.
The most common half-marathon goal is to run the course in under two hours, which is 9:09 minutes per mile. Here are the average half-marathon finish times:
Men: 1:55:26
Women: 2:11:57
Beginners:

Men: 2:25 (11:04 minute-per-mile pace)
Women: 2:43 (12:26 minute-per-mile pace)
You can use a half-marathon pace chart to find a time that's realistic for you.
What Should I Wear During a Half Marathon?
What you wear during a half marathon will differ based on the race city's climate, time of year and your personal preferences.
The most important thing to consider about any running apparel is the material — you should opt for moisture-wicking, even in winter. Moisture-wicking means the material relies on a capillary action, which moves sweat away from the body through tiny spaces in the fabric to prevent chafing.
Another important tip from experienced runners is to not wear something new on race day. Regularly train in the outfit you plan to wear to run the race.
Half-Marathon Apparel
Here's a helpful guideline of what to wear during a half marathon.
Lightweight shirt made from a synthetic moisture-wicking material (our favorite is Nike's Dri-FIT Primary for men and women)
Running shorts, capris or tights
Blister-resistant socks (we like Balega)
Running shoes that have been matched to your running style to prevent shin splints and other injuries (for some ideas, we have a review guide here).
For women, a moisture-wicking running bra that provides medium support
Other items could make the run more comfortable include:
Hydration belt (or a belt that holds hydration like Flipbelt)
Sunglasses if the forecast calls for a sunny day
Waterproof sunscreen to prevent sunburn
Hat to keep the sun or rain out of your eyes
Jacket in case the temps look chilly or rain is in the forecast (you can read our guide here)
Gloves for cold-weather running as your hands are often the first part of your body to get uncomfortable during low temps
Running watch to monitor pace (we wear the Coros)
Half-Marathon Shoes
The right shoes can make or break a half marathon. It's a mistake to ask your friends what shoes they wear or look on running store shelves for the most attractive shoes. A visit to your local running shoe store for a running-style analysis and fitting for the right running shoe is worth the time. There are thousands of different running shoe permutations — from stability soles to breathable uppers — so it's best to work with a specialist about exactly when you're training and what you're looking for. 
How to Fuel Up on Race Day
You should test various racing fuel strategies during training to see what affects your performance and mood. Most races take place in the morning, so experiment most with breakfast. Try to focus on foods that contain 30 to 60 grams of carbs alongside healthy fats and protein.
You'll also want to carry additional fuel during the run. On-the-run nutrition traditionally comes in the form of a gel and is meant to be consumed every 40 minutes or so. If you don't like energy gels, half a banana or jelly beans can be a solid alternative. Eat shortly before a water station so that you can wash the food down with water or a sports drink.
When it comes to hydration, get better at listening to your body. How much water you require will depend on the conditions. Learn what your body thrives on during a longer race by focusing on hydration throughout your training to balance staying hydrated with not needing a porta potty until after the run.
Considerations for Your Training Routine
The training routine that is best for you will vary based on your fitness level, goals and number of days until the race. Here are a few other important activities that supplement a good training plan:
Get 7 to 9 hours of sleep each night
Eat whole foods and lean protein with fruits and vegetables most meals
Stay hydrated by drinking 80 to 160 ounces of water per day
Increase mileage slowly to prevent injury — the best rule is not to increase last week's mileage by more than 10%
Take rest days to help your body recover
Build your strength by engaging in cross-training
Rely on a sustainable half-marathon training plan that gets you ready for the race and fits your schedule using these half-marathon tips.
Which Half Marathon Should I Run?
You can find over 2,500 half marathons in the United States. Some are themed fun races; others run through stunning parts of the country you'll love seeing and exploring. Whether you're looking to run with a friend or travel somewhere you've never been, review the half marathons in the U.S. to find one that fits your needs and interests.
Making it to Your First Half-Marathon Finish Line
The experience of crossing the finish line of a half marathon is unlike anything else. You'll feel accomplished, invigorated and excited about running. With the right training plan, you can complete a half marathon even if you're a beginner runner. Follow these tips and guidelines to set your training on the path to success.
FAQ
How long does it take a beginner to run a half marathon?
Beginners often finish a half marathon between 2 hours and 20 minutes and 3 hours. The best time for you will depend on your fitness level and training.
How hard is a half marathon for beginners?
A half marathon requires time, attention and dedication whether you're a beginner or an experienced runner. But a beginner can complete a half marathon.
Is it OK to walk during a half marathon?
Yes, you can walk during a half marathon as long as your pace keeps you in line with finishing before the cutoff time or time when the finish line closes. This information will be published on the race website.