Set for its 9th annual running this spring, Roanoke's Foot Levelers Blue Ridge Marathon, Half Marathon & 10K takes runners on an out-and-back loop course that starts and finishes in downtown Roanoke and features towering (and oh-so-challenging) hills through the city's Mill Mountain Park.
Runners will make their way just north of the Blue Ridge Parkway, the nearly 470-mile highway that unfolds along the Blue Ridge Mountains and through some of the most scenic parts of Virginia and North Carolina.
Filled with some challenging uphill and downhill stretches, especially in its first six miles, the half marathon (like the full marathon) starts in downtown Roanoke next to Elmwood Park. From there, runners follow the route west along Salem Avenue and then southward along Jefferson Street, toward Mill Mountain Park.
After roughly the first mile, runners turn left from Jefferson onto Walnut Avenue, and begin making their way around Mill Mountain Park.
(MORE: 16 Photos of the Blue Ridge Marathon & Half, America's Toughest Road Marathon)
Here's where the race's hills really begin, rising more than 300 feet in elevation as runners make their way along the Fishburn Parkway that winds its way around the park, and then into the park, past the Mill Mountain Zoo on the roads that zig-zag back and forth through the park.
Runners then follow the winding trails downhill through the park and then head out back into the city for stretches that wind through residential neighborhoods, before the course climbs again in the second half, this time along Peakwood Drive near Fern Park.
The half marathon features a 6-hour course time limit, and the full marathon has a time limit of 7.5 hours, which makes it possible for the race to welcome both runners and walkers in both distances.
The total elevation gain for the half marathon is just shy of 1,900 feet, organizers note, and the course is USATF-certified.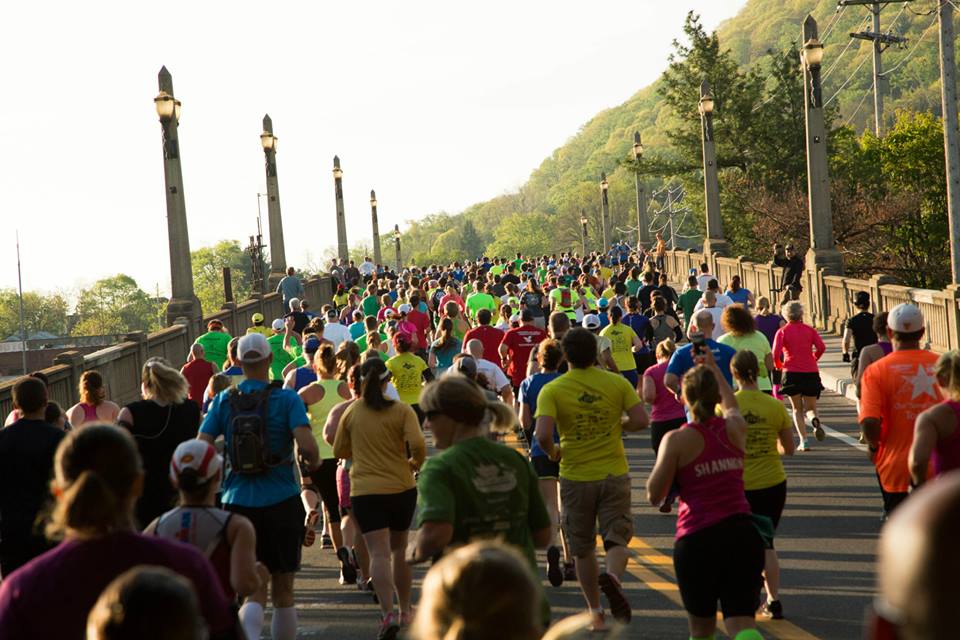 Photos courtesy Blue Ridge Marathon & Half Marathon
Race Weather & Climate
Located in the southwestern part of the state, just a short drive from the state border with West Virginia, the city of Roanoke typically experiences mild to moderately cool weather in April, which has brought record temperatures here as low as 15ºF (in 1923) and as high as 95ºF (in 1957).
On race day (April 21), the average low is 47ºF and the average high is 70ºF.
Past Results
Course Map
See the race route map for the Blue Ridge Half Marathon here.
Starting Time
7:35 AM
Course Time Limit
Half marathon: 6 hours
Full marathon: 7 1/2 hours
Fees
See race website
Registration
To reserve your spot in the 2018 running of Roanoke's Foot Levelers Blue Ridge Marathon, Half Marathon or 10K race, register online at Active.com here.

Official Race Website
Facebook Conversations
Ever run in the Blue Ridge Half Marathon? Share your impressions here, or post your review in the Comments below.