If you're reading this, maybe you wound up here because feeling inspired by a friend, child, colleague, or neighbor who maintains a regular running habit. Maybe you still feel a twinge of regret about not going out for your high school cross country team. Or, maybe you caught a glimpse of your hometown marathon or half marathon and wondered if running 13 to 26 miles was in the realm of possibility for you, too. But, especially if you haven't been a lifelong runner, you might be doing research on how to start running at 50…or older!
However your interest in running came to be, the first thing to know is that it's not too late to get started (or resume running after a long hiatus).
In fact, you'll be in good company when you do; according to the 2022 Annual Industry Report by RunSignup, in 2022, 2021, and 2022, 34% of virtual running challenge participants and 24% of in-person race participants were over 50.
In this article you'll learn how to build a safe and sustainable running routine, with input from Rochelle Basil, a high performance coach with Lift. Run. Perform. who has raced internationally on behalf of her native New Zealand.
In this article, we'll cover all elements of how to start running at 50 including:
Why it's a good idea to get a doctor's approval
Where to find inspiration and instruction
What gear you'll need and where to get it
How to connect with other runners
Whether you need a coach, and how to find one
Why a slow and gradual approach is the way to go
How to support your running with cross training and strength training
What health benefits running at any age has to offer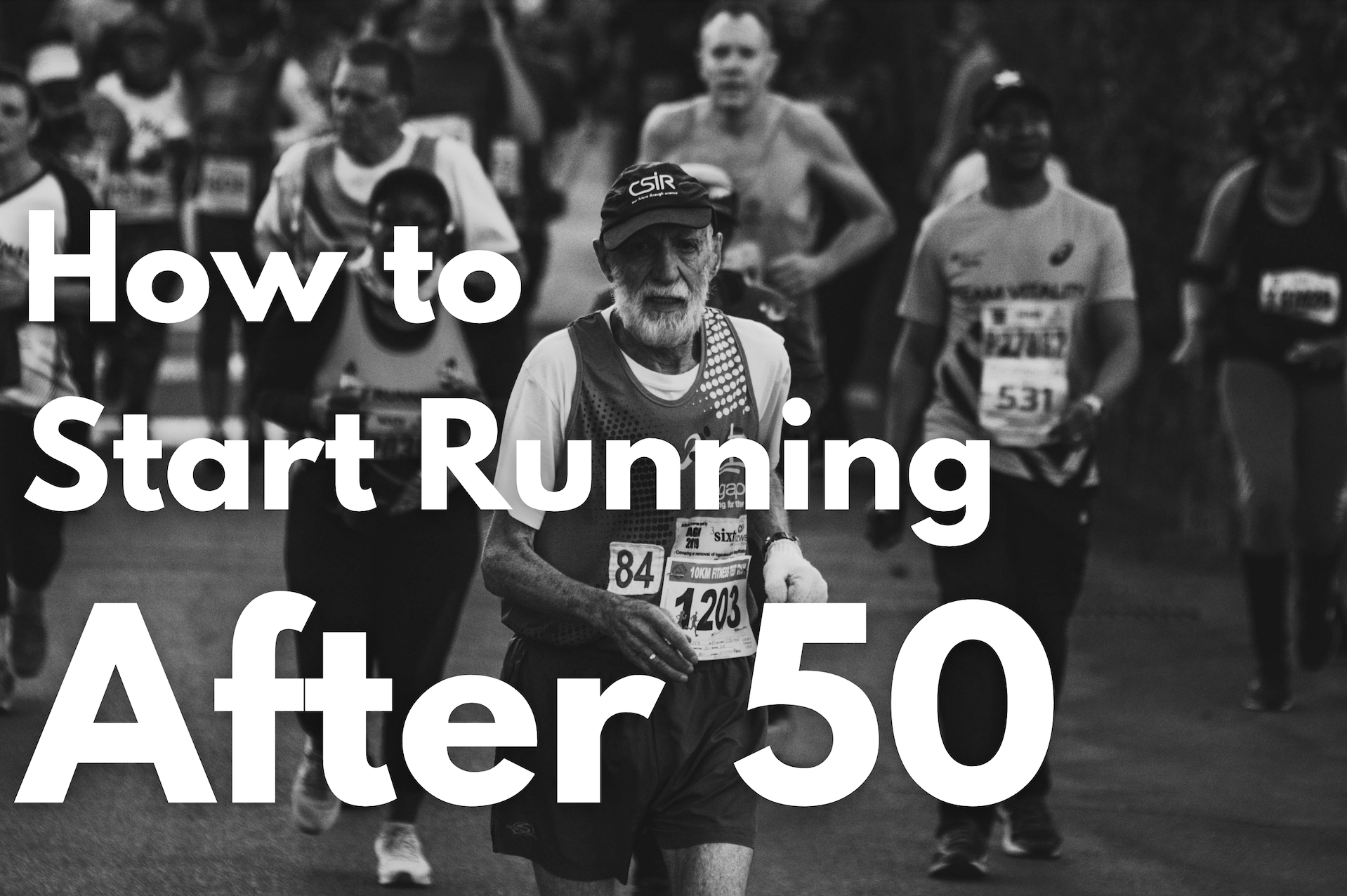 Consult a healthcare professional
When considering how to start running at 50, the responsible first step of any new physical endeavor is a consultation with a healthcare professional.
This is especially important if you're an older athlete who's starting with a baseline of little to no exercise, Basil says. Through a physical exam, the provider can assess your overall health through metrics such as height, weight, and vital signs, and ask questions pertaining to your personal and family medical history. A physician can assess general well being metrics to determine your current fitness level and aptitude for running.
If he or she doesn't observe any significant risk factors, you should be cleared to begin running. (And if they do, you definitely want to know about them!)
The physical will also give you a baseline for several important measurements of your health, which will allow you to keep an eye on the physical changes you undergo as you build your running habit.
Commonly over the age of 50, runners should assess the status of physiological factors tied to running like bone density, cholesterol, blood pressure, and risk of injury.
Do your research
Running is one of the least complicated activities that exists, described by many as "putting one foot in front of the other." But, simultaneously, one of the easiest to cause injury (37 – 50% of recreational runners are injured annually). When considering how to start running at 50, the right information is key.
Every runner in any age group will benefit from learning proper technique, training philosophies, supplemental exercises, and more.
In addition to the many resources offered here at halfmarathons.net, you could build a whole library of books about running—some that are more inspiring than instructive (see our full list of best running books), and others that are specifically written for older runners.
Some suggestions from that latter category include: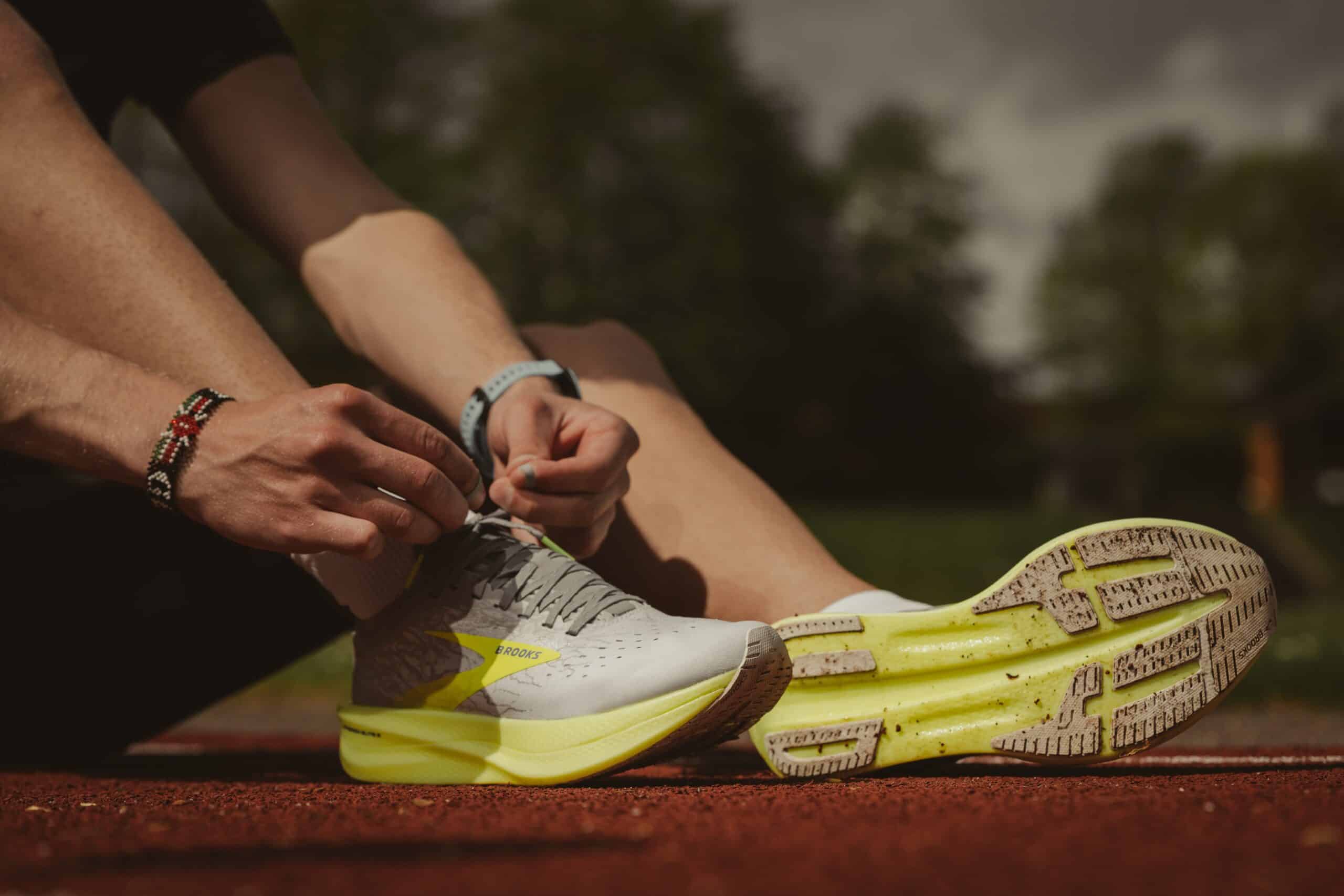 Invest in good running shoes
You don't need much to start running, but Basil emphasizes the importance of getting fit for high-quality shoes from a run specialty store.
At a specialty running store, employees are trained to evaluate physical elements like arch height, overstepping, pronation, and other mechanical elements of running form. They'll be able to explain the difference between brands, high-cushioning versus structured shoes, and make recommendations based on your running and fitness goals.
Ideally you'll be shown a handful of different models from at least a few different brands. We find HOKA, ASICS, and Brooks to be the most popular for a good pair of trainers amongst new runners.
Take your time testing each one out, making sure the fit is good and either walking around the store or, better yet, running on an in-store treadmill or down the sidewalk outside if it's allowed.
Go with the pair that feels most natural on your feet.
Round out your gear
Beyond shoes, there are few other pieces of gear that will make running more enjoyable and comfortable, and thus sustainable.
First up is a watch, which allows you to keep track of the time you spend running at a minimum, and to compare runs from one day to the next. You can go simple, as with a Timex, or more high-tech, as with a GPS-equipped COROS Pace.
You'll also want several pairs of moisture-wicking socks, and a few running tops and bottoms that are breathable and make sense for the climate you live in.
If you're in between seasons, a thin jacket or windbreaker that you can easily tie around your waist if you get too warm can go a long way.
The less essential, but potentially handy, gear list includes a pair of athletic sunglasses, a running hat, and a hydration vest or pack (especially if you're planning on running long distances such as marathons or ultras).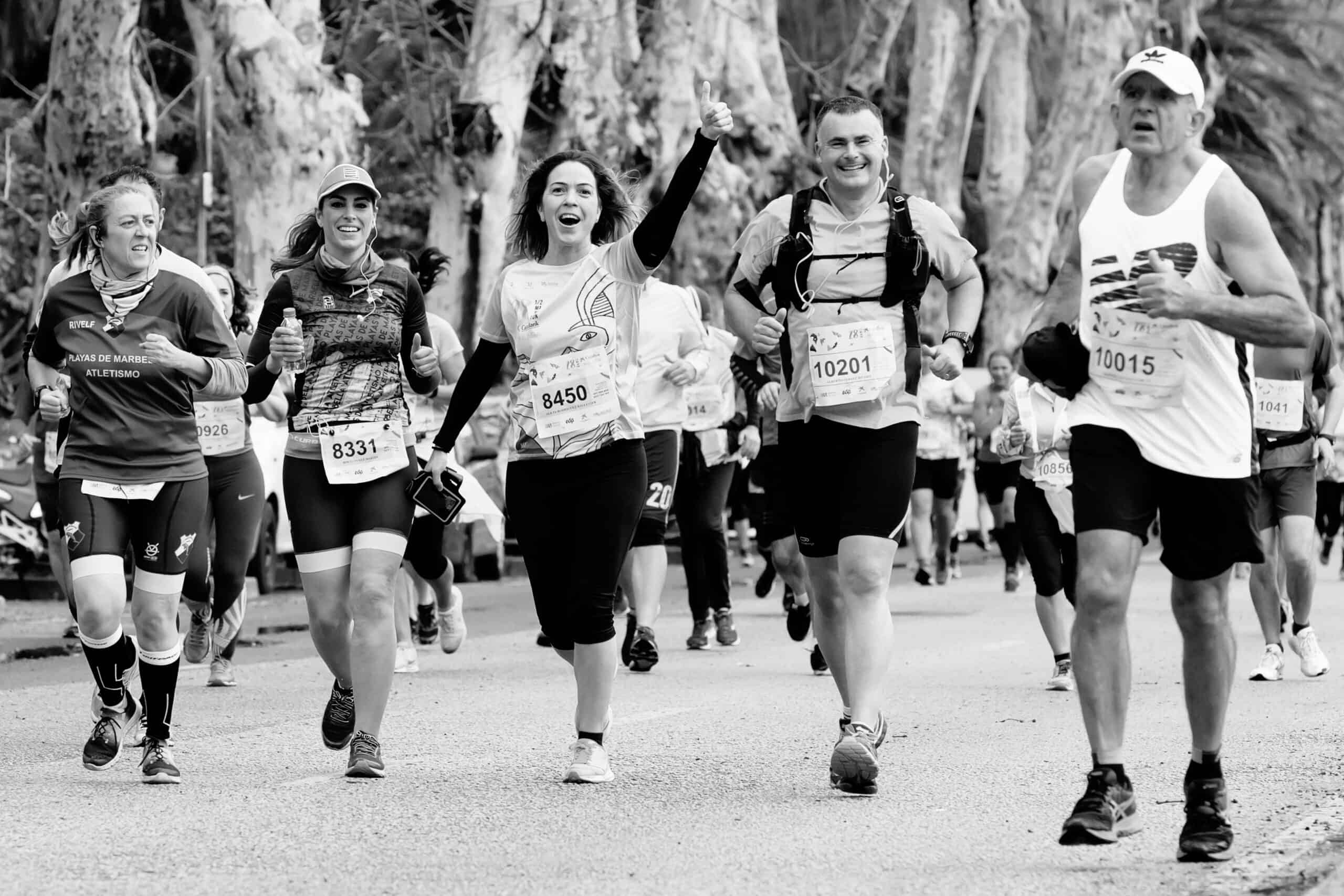 Consider a running group
Some people prefer running solo, free to let their minds wander in tandem with their feet. Others are in it for the friendships, social opportunities, and community, less likely to run on their own than when they've made plans with a training partner or group. And still others fall somewhere in the middle, most content with a combination of solo and group runs. But, the only way to get more running experience is to run. Consistency is key when you start to get deeper into how to start running at 50.
If you're interested in linking up with other runners but aren't sure how to connect, you may be surprised to learn how many running groups operate in your area.
A good place to start is the Road Runners Club of America running club database, which isn't exhaustive, but which does list all RRCA member clubs in each state.
You can also ask around at any running specialty store, which may stay in the loop about club happenings. Try to find a group that's beginner-friendly since, as Basil warns, it's probably not a good idea to "just hop in with your (more experienced) peers," especially for your first time.
Decide whether to hire a coach or coach yourself
You may be wondering whether you, as a beginner runner, need a coach. The short answer is no. If you're some combination of self-motivated, attentive to your body, and averse to rigidity, you're a good candidate to design your own running program. But, that doesn't mean that you should just wing your runs on a day-to-day basis.
Books abound that can give you ideas about structuring your days, weeks, and months, toggling between hard and easy runs, and working your way towards race-specific goals, whether for 3.1 miles (Fast 5K: 25 Crucial Keys and 4 Training Plans by Pete Magill or a Couch to 5K Training Plan) or 26.2 marathon training miles (Marathon: The Ultimate Training Guide by Hal Higdon or a training app like Runna).
If, on the other hand, you crave frequent feedback, tend to over- or underdo things when left to your own devices, or simply want to outsource all of your running decisions and your running plans – a coach can be a great investment.
There are a number of ways to find a running coach. If face-to-face interaction is important to you, two good places to search based on location are the USA Track & Field Coaches Registry List and the Road Runners Club of America Coaches Directory. Both USATF and RRCA vet the coaches they include in their lists so you can feel good about the person you go with.
If you're open to virtual coaching, you can also try the CoachUp app or look into any number of other online coaching businesses (such as Lift. Run. Perform., Run Free Training and Runna).
Start slowly and progress gradually
Especially if it's been a while since you've exercised regularly, Basil recommends building up time on your feet through walking before diving straight into running.
"Our ability to recover from load decreases over time," she says. From walking, Basil typically helps her newer masters runners (40 and older) work up to four to five days a week of running, with a focus for most on "easier/aerobic efforts to build up muscle/tendon/bone health and resilience."
While some runners can train with high intensity for years on end, beginner and older runners are better off taking a slow and steady approach as their body acclimates to the training load. Be sure to include warm ups of dynamic stretching and cool downs of static stretching after every training session.
However your running routine evolves, Basil encourages you to "be super flexible" and to "build in plenty of recovery time and rest days" to stave off injury, soreness, and discouragement.
Incorporate cross training and strength training
Most dedicated runners don't just run. They also carve out time for supplementary activities like cross training and strength training that build strength, running efficiency, and durability. As Basil puts it, "Cross training and weight training are your friends!" Strength and cross training can't be recommended high enough when considering how to start running at 50.
According to the American Academy of Orthopaedic Surgeons, "cross training is a way to vary your fitness program by combining different types of exercise activities." When runners cross train, they typically opt for low- or no-impact activities such as swimming, pilates, cycling, or hiking that promote full body conditioning and give the body a break from the pounding of running.
The purpose of strength training, according to the Mayo Clinic, is to "preserve and enhance your muscle mass." Whether you primarily use your own bodyweight, resistance bands, free weights, weight machines, or a combination, targeting specific areas of your body two or three times a week can complement your running by fine-tuning your form and making you less likely to break down at the end of runs.
Our two favorite strength training exercises? Squats and lunges.
Stay mindful of running's many benefits
It's hard to capture all the benefits of running and just how life-enhancing a running habit can be. In a general sense, Basil sees that running offers many older athletes a fulfilling social outlet, a healthy way of aging, a reason to build and maintain good habits, opportunities to get outside, and a chance to explore new areas, whether near home or while traveling.
In terms of proven physical benefits, the Centers for Disease Control and Prevention states, "Being physically active can improve your brain health, help manage weight, reduce the risk of disease, strengthen bones and muscles, and improve your ability to do everyday activities." Older populations stand to benefit from an active lifestyle in unique ways, too. Physical activity can decrease one's risk of falling or getting injured from a fall; lower one's risk for developing heart disease, type 2 diabetes and metabolic syndrome, and several common cancers; counteract the body's natural tendency to lose muscle mass and strength with age; help individuals manage existing chronic conditions and disabilities; and increase one's lifespan.
It's easy to get lost in the nuts and bolts of a brand-new athletic journey. But amid the decisions about gear, groups, coaches, and more, try not to lose sight of the many wonderful benefits that running has to offer—whether you're eight or eighty years old.
This is a great guide when thinking about how to start running at 50, 60, and beyond!
–
Everything featured on Half Marathon Guide is independently selected and curated. We may receive a small commission on purchases made from some of our links.